CityDev - Stock Analyst Research
| | |
| --- | --- |
| Target Price* | 8.86 |
| Recommendation | ACCUMULATE |
| Market Cap* | - |
| Publication Date | 24 Aug 2022 |
*At the time of publication
City Developments Limited - Lifted by hospitality and divestment gains
1H22 revenue of S$1.47bn (+23.5% YoY) in line at 46% of our forecast. PATMI exceeded at 107% due to divestment gains from Millennium Hilton Seoul of $526.2mn and $94mn gains from deconsolidation of CDLHT, excluding which, performance would have been in line.
All three core segments improved. Strong residential sales (712 units sold, in line) and recovery in the hospitality segment (RevPAR +110% YoY), which has turned EBITDA positive. Investment properties portfolio recovered with office and retail above expectations.
639-unit JV EC project, Copen Grand set to be launched in 4Q22; demand for project expected to be robust. Hotel operations to also benefit from reduction of Covid-19 restrictions, M&A and divestment opportunities.
Downgrade to ACCUMULATE and lower RNAV-derived TP of $8.86 (prev. $9.19). We view CDL as a proxy for the Singapore residential market and hospitality recovery. CDL is trading at an attractive 40% discount to our RNAV/share of S$13.64. Asset monetisation, unlocking value through AEIs and redevelopments, and faster-than-expected recovery in hospitality portfolio are potential catalyst for CDL, which could help narrow the discount between CDL's share price and RNAV. However, TP is reduced to $8.86 as we incorporate higher borrowing costs for FY22e/FY23e along with slower profit recognition for its residential properties.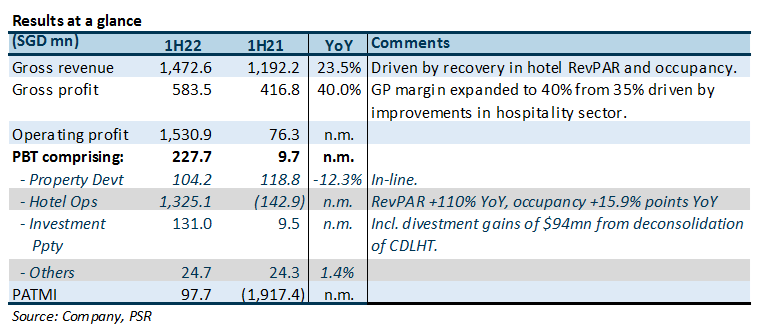 The Positives
All three core segments improved. Residential sales remained robust in 1H22 despite cooling measures imposed at the end of the year. CDL sold 712 units with total sales value of $1.6bn vs. $1.7bn in 1H21. Sales value is comparable with 1H21 despite 27% less units sold as the Group's existing inventory has been substantially sold. Its hotel operations globally improved with the easing of travel restrictions and the divestment of Millennium Hilton Seoul. Investment properties remained resilient with its office and retail portfolio recording strong occupancy in 1H22.
Hotel segment 1H22 PATMI ahead, at 60% FY22e. RevPAR surged 110% YoY, driven by a 53% increase in the average room rate and 16% points (58.5% from 42.6%) increase in occupancy. Hotels in US and Europe continued to recover faster than those in Asia, though average room rates increased across all regions, signalling a strong recovery momentum.
On-track for AUM target of US$5bn in 2023. Fund management remains an integral part of the Group's transformational strategy and the Group will drive AUM growth via investment opportunities in both listed (IREIT and CDLHT) and unlisted platforms. It has an AUM of US$2.9bn, and management remains confident of hitting the Group's US$5bn target by 2023. We believe one way it could boost its AUM is to pivot the proposed listing of its UK commercial REIT into a private fund.
12 cents special dividend a surprise, share buyback under consideration. A special dividend of 12 cents was declared vs. 3 cents in the same period last year and 6 cents pre-Covid. We revise our FY22e dividend payout to 24 cents on the back of management's optimistic outlook for rest of 2022. Management is considering adopting share buybacks due to the current significant discount to its RNAV.
The Negative
Replenishment of landbank to slow as land costs have surged. The management will be selective with the replenishment of its landbank. Management remains confident of replenishing its landbank as it believes that property prices will continue to trend up on the back of higher costs, though it expects volumes to slow.
Outlook
Healthy inventory levels allow for more conservative bidding
Cumulative launch pipeline of 1,931 units with the next launch Copen Grand (Tengah Garden Walk EC, 639 units) targeted for 4Q22. CDL also picked up three more sites which will add ~1,458 units to the pipeline. CDL's inventory levels are healthy, allowing it to be more selective and conservative when bidding for new sites. The site at Upper Bukit Timah Road was purchased in an off-market deal from Tan Chong Realty for S$126.3mn or S$603 psf, and could yield 603 units. On 26 Jan 2022, CDL won the tender for the Jalan Tembusu GLS with a bid of S$589.9mn or S$1,302 psf, adding 640 units to the pipeline. Given the higher land prices and cost of construction, CDL is aiming for margins of at least 10% for new projects.
Strategic review of global hospitality portfolio
CDL has launched a strategic review of its global hospitality portfolio that should help narrow the discount to its RNAV. Its restructuring plans for its hotel business, Millennium & Copthorne, in the next few years should help the Group crystalise value for its assets. These restructuring plans may include asset divestments, portfolio optimisation as well as a rebranding of its hotels to improve earnings and drive upside to NAV.
About the author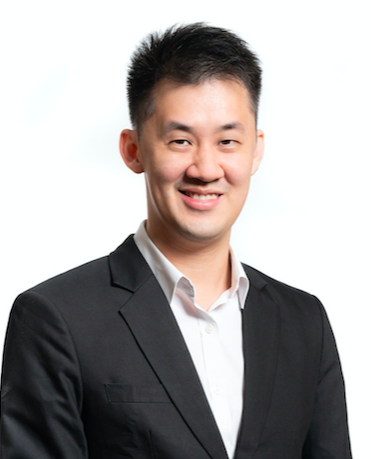 Terence Chua
Senior Research Analyst
Phillip Securities Research
Terence specialises in the consumer, conglomerate and industrials sector. He has over five years of experience as an analyst in the buy- and sell-side. As an institutional fund management analyst, he sat on the China-Hong Kong desk. Terence was ranked top 3 for Best Analyst under the small caps and energy category in the Asia Money poll 2018.

He graduated from the Singapore Management University with a major in Finance (Honours), and is the honoured recipient of the CFA scholarship.