Sembcorp Industries Ltd: Renewing portfolio and a spark in India
21 Sep 2018
Singapore runs an integrated utilities facility with stable earning despite general weakness from the power
An additional source of income from the sale of renewable credit to Facebook
Utilities' China benefited from seasonality in 1H18.
Utilities' India is turning around due to improvement in the power
Singapore
Utilities' Singapore integrated facilities offer stability away from weak power market. The landscape of Singapore power market remains competitive due to excess supply (reserve margin ~90%). Uniform Singapore Energy Price (USEP) has bottomed out since 2Q16. But any recovery is aligned with the recovery of sulphur fuel oil (HSFO) price which is pegged to crude oil prices, see Figure 1. Our barometer for spark spreads suggest (FX adjusted ratio of USEP/Oil price), intense competition is still squeezing margins, as shown in Figure 2. The current margin is still below the 5-year average level. Singapore integrated operations can deliver more stable operational performance because gas, steam and on-site logistics segment will help offset sluggishness from the power sector. As the main utility provider in Jurong Island, SCI can offer four integrated energy sources to customers, namely power, gas, industrial wastewater treatment and gas. For instance, the group has the flexibility to sell excess gas or utilise power from the spot market when rates are low. In addition, SCI could also monetise the pipelines (steam, water, and gas) by renting our parts of the transmission capacity.    
Figure 1: Improving USEP driven by rising oil prices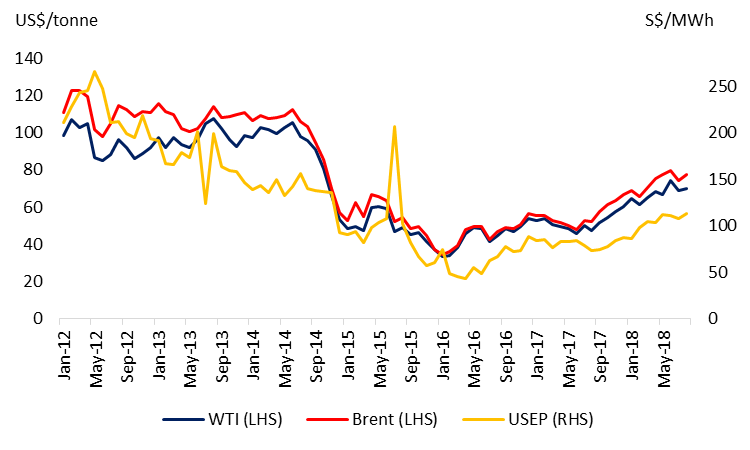 Source: Bloomberg, EMA, PSR
Figure 2: FX adjusted ratios (USEP/Oil price) remain low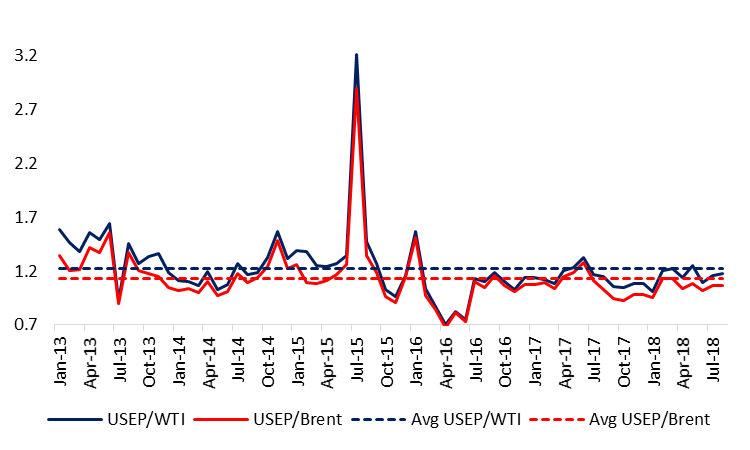 Source: Bloomberg, EMA, PSR
Additional source of income* from the sale of green certificates to Facebook. Following the recent announcement that Facebook will establish a 170,000 square meter data center in Singapore with US$1.4bn investment, SCI announced a 20-year deal of renewable energy credit to Facebook.  The capacity of supply totals at 50MWp. As of now, there are more than 100MW of capacity under operation and development. The supply will be in the form of renewable energy credit which is at the discrepancy of Facebook. At the moment, the majority of the solar power generated is supplied to the grid. Moving forward, the group aims to secure a long-term contract that is similar to the deal.
*Based on the latest greenhouse gas (GHG) emissions intensity shown in the FY17 annual report, we can derive 14,500 tonnes of CO2 equivalent emissions for the 50MW capacity, assuming daily three working hours and 50% of total volume of power generated supplied to Facebook. According to the adjusted average China/India carbon emission allowance of $10/tonne, we estimate the annual revenue of the deal to be c.S$145k.
China
Utilities' China benefited from seasonality in 1H18. The Chongqing Songzao plant is the primary revenue and profit contributor for power segment in China. Due to the abnormal weather conditions over the past three quarters, the demand for power was strong, translating into longer servicing hours. There is also some seasonality because thermal enjoys higher loads when hydro is not running. The plant is subject to annual power purchase agreement (PPA) which is renewed by the local government. Generally, the PPA will guarantee profits over long terms but also cap the margin. Hence, the volume of demand is the key driver. It is expected that the ongoing power demand and will grow at a stable pace.  
India
Utilities' India is turning around due to improvement in power market. In India, thermal plants with long-term PPAs not only guarantee a stable tariff which is higher than the spot rate but also gains access to domestic coal supply whose prices are lower and more stable than imported ones. As shown in Figure 3, the spot tariff in the S1 area where both SCI thermal plants are located fluctuate violently compared to the steadily growing domestic coal prices. Hence, long-term PPAs provide more visibility for plants in profitability. On the other hand, plants under short-term PPAs suffer from thin or even negative spark spread over the past two years, see Figure 4, since the rally of imported coal price outpaced improvement of spot tariff.
The market situation has reversed recently. Highlighted in the red circle on both charts, the gaps are narrowing. The trending spot rate will incentivise power purchasers to lock in the price by signing long-term PPAs with thermal plants. In retrospect, TPCIL,  the first thermal plant with 1,320MW capacity, has been operating under long-term PPA over the years. SGPL, the second thermal plant with the same capacity, recently secured 250MW under long-term PPAs. SGIL, wind and solar power provider, secured 90% of 927MW under long-term PPAs and is developing the 800MW capacity that is expected to be completed by 2019. As per Figure 4, 3Q18 should see some weakness in revenue at SGPL as power prices trend lower. More encouraging has been the recent sharp in power prices due to decline in hydro and renewables output.
Figure 3: Narrowing gap between spot tariff and domestic thermal coal price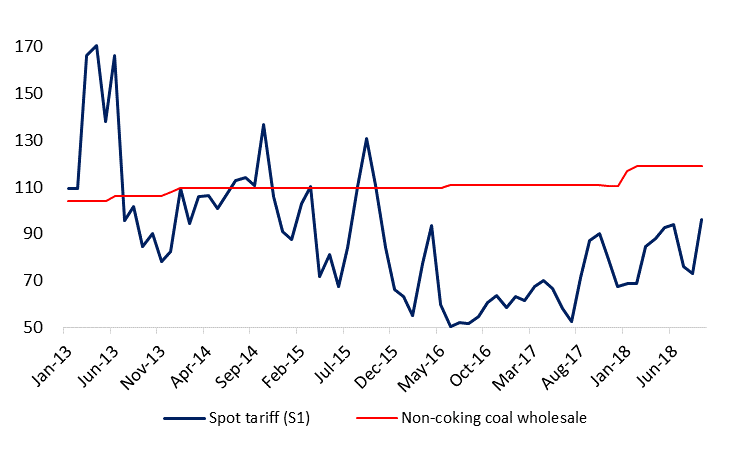 Source: IEX, CEIC, PSR
Figure 4: Narrowing gap between spot tariff and imported coal price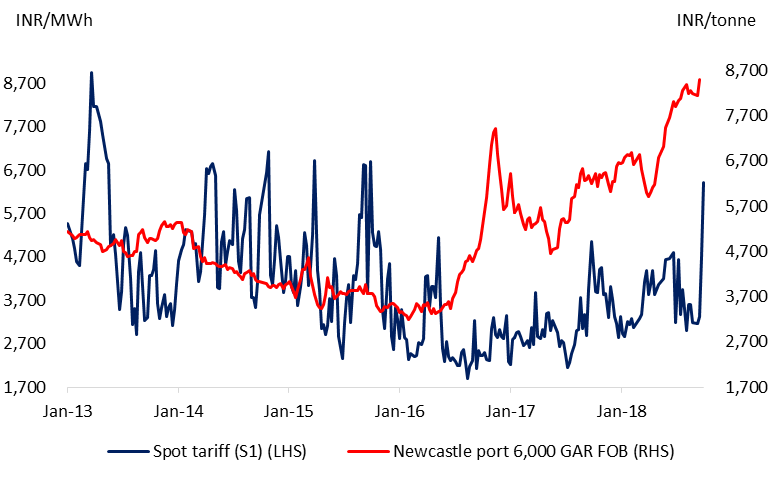 *Newcastle port 6,000 GAR FOB is the benchmark for imported coal to India
Source: IEX, Bloomberg, PSR
United Kingdom (UK)
Fast ramping power plants, the future next to renewables. UK Power Reserve is the largest flexible energy player in the UK. It can supplement the decline in renewable energy especially during winter months with its gas fuelled rapid response (2 to 5 minutes) small-scale power plants. As renewables make up a larger part of the electricity supply, such types of power plants will become more relevant in the energy mix, especially if cost-effective batteries are available.
About the author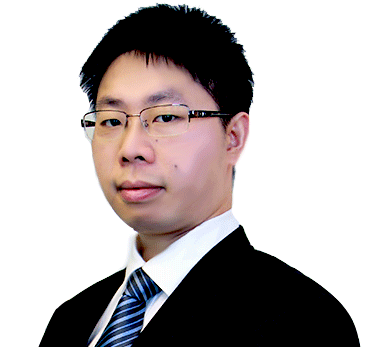 Chen Guangzhi
Investment Analyst
Phillip Securities Research Pte Ltd
Guangzhi graduated from Singapore Management University with a Master degree in Applied Finance and from South China University of Technology with a Bachelor degree in Electronic Commerce.

The current sector coverages include Energy, Utilities, and Mining sectors. He has 3 years experience in equity research in both Hong Kong and Singapore market. He is the mandarin spokesperson for Phillip Securities Research in relation to China-related projects and all mandarin seminars and client events.