Uni-Asia Grp - Stock Analyst Research
| | |
| --- | --- |
| Target Price* | 1.260 |
| Recommendation | BUY |
| Market Cap* | - |
| Publication Date | 19 Aug 2022 |
*At the time of publication
Uni-Asia Group Ltd - Earnings spike in 1H22
1H22 revenue and PATMI were 64%/68% respectively of our FY22e forecast. Results were above expectations due to a surge in charter rates. 1H22 PATMI spiked 128% to U$16.4mn. The interim dividend more than tripled to 6.5 cents.
Average charter rate per day in 1H22 jumped 78% YoY to US$19.4k. This is above our modelled US$18.k assumption. Vessel operating days declined 5% YoY due to dry docking.
Despite the earnings beat, we are maintaining our FY22e forecast. The Baltic Exchange handysize index in July and August has slipped around 25% against the 1H22 average. It points to a much weaker charter rate in 3Q222. Another drag in 2H22 will be the 110 days of dry docking for 4 of the 10 dry bulk vessels. There was a 6% decline in operating days. Our BUY recommendation and target price of S$1.26 is unchanged. The target price is pegged to 3x P/E FY22e, in line with industry peers. Supply of dry bulk vessels remains constrained with new orders at only 7% of fleet capacity, a 30-year low.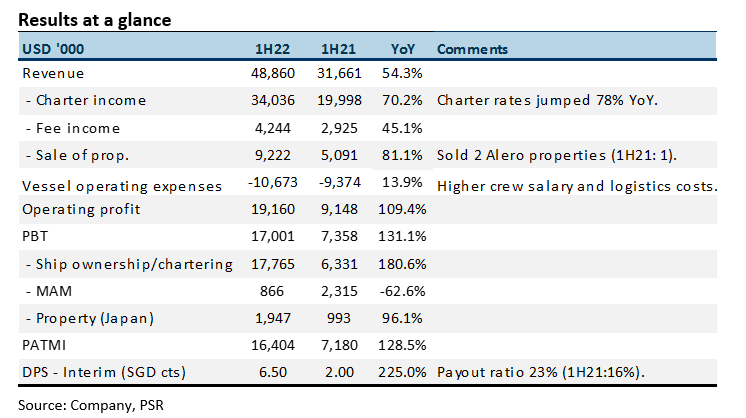 The Positives
+ Surge in charter rates. Charter revenue rose 70% YoY to US$34mn, driven by a 78% jump in average daily charter hire rates to US$19.4k. Vessel operating days were 5% YoY lower due to a containership that was disposed of in  1Q21. Margins expanded as vessel operating expenses rose only 14% YoY to US$10.6mn. Higher cost was from crew salary, crew logistics and other expenses. Fuel cost is borne by the shipping company, not Uni-Asia.
+ Returning spike in cash flow to shareholders. FCF in 1H22 tripled to US$20.9mn  (1H21: US$7.2mn). There are no current plans to order vessels. Net debt has halved to US$31mn (1H22: US$61mn) from a year ago. Uni-Asia announced an interim dividend of 6.5 SGD cents per share, a payout ratio of 23% (or S$5mn).  
The Negative
– Lower pipeline of properties in Japan. In 1H22, Uni-Asia sold 2 units of its residential projects (i.e. Alero) located in Tokyo. The pipeline or ongoing projects is down to 8 from 13 a year ago. This implies fewer available projects to lease or for sale in the coming quarters.
Phillip Securities Research has received monetary compensation for the production of the report from the entity mentioned in the report.
About the author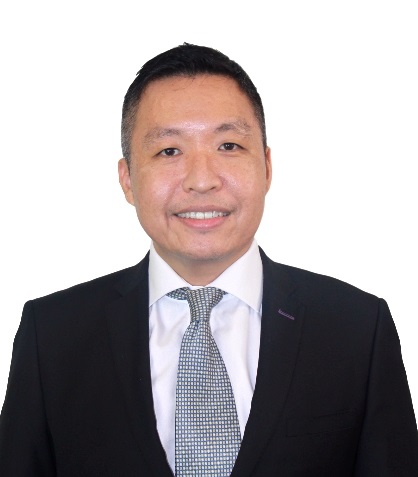 Paul Chew
Head of Research
Phillip Securities Research Pte Ltd
Paul has 20 years of experience as a fund manager and sell-side analyst. During his time as fund manager, he has managed multiple funds and mandates including capital guaranteed, dividend income, renewable energy, single country and regionally focused funds.

He graduated from Monash University and had completed both his Chartered Financial Analyst and Australian CPA programme.