Koda Ltd - Waiting for resumption
30 Aug 2021
2H21 results beat, with FY21 revenue and PATMI at 116%/107% of our forecasts. The outperformance came from higher-than-expected manufacturing sales.
2H21 revenue grew 65% YoY while PATMI jumped 20x, from higher export sales, increased contributions from retail and distribution and improved gross margins.
Maintain BUY with lower TP of S$1.10, down from S$1.32 as we roll over our 7x ex-cash P/E to FY22e. This is at the higher end of its historical 5-year ex-cash P/E. We lower FY22e PATMI by 29% to US$7.0mn. FY22e revenue estimate is largely unchanged but we cut gross margins from 32.0% to 29.5% for Covid-19 production disruptions at Koda's plants in Vietnam and Malaysia. Catalysts still expected from higher exports to US and increase in production capacity.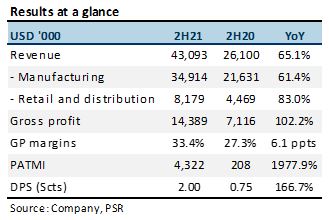 The Positives
+ 2H21 revenue and PATMI increased. Higher revenue was led by higher export sales to all regions, especially North America, where sales surged 81% YoY to US$26.9mn. Retail and distribution sales also improved. The segment turned around from a net loss of US$835k in 2H20 to a net profit of US$217k in 2H21.
+ Improved margins. Gross margins increased 6.1 ppts YoY to 33.4%, following improved factory efficiency with higher production volume, which lowered unit production costs.
The Negative
– FY21 operating cash flow decreased 11.7% YoY to US$7.6mn. Both operating and free cash flow declined, the former due to higher working capital as inventories increased 72.5% to US$19.6mn and the latter due to capex which increased more than 2.5x to US$3.5mn, with the acquisition of a land use right and factory building in Vietnam for US$4.5mn.
Outlook
US furniture imports. Year to June 2021, US furniture imports increased 46.1% YoY to US$30.2bn. Even though imports in June 2021 dipped 1.5% MoM, they increased 55.6% YoY to US$5.3bn and were still above pre-Covid levels. We expect export sales to continue growing on the back of work-from-home with renewed virus-containment efforts.
About the author