Thai Beverage PLC - Lockdown hangover continues
29 Nov 2021
Results were below results expectations. FY21 revenue and PATMI were 90%/91% of our FY21e forecasts. 4Q21 EBITDA was down 34% YoY to Bt7.6bn.
Spirit volumes declined 19% YoY in 4Q21. Weakness was due to promo sales a year ago and dampening consumer sentiment in Thailand.
We lower FY22e EPS by 10% to 4.25 cents as we reduce PATMI on expectations of slower recovery in consumer spending. Forex assumptions have also been cut following the weakness in the Thai baht. We downgrade our recommendation from BUY to ACCUMULATE with a lower target price of S$0.765 (prev. S$0.86). Target price is based on 18x FY22e earnings, its 5-year average. The recovery post-lockdown is underway, but the pace may be slower than expected. Reopening of nightlife entertainment venues in Thailand will occur only in mid-January 2022. Consumer sentiment and income levels remain fragile after months of lockdown. ThaiBev has lifted the selling price of spirits to offset the higher material costs. Plans for beerco IPO are intact.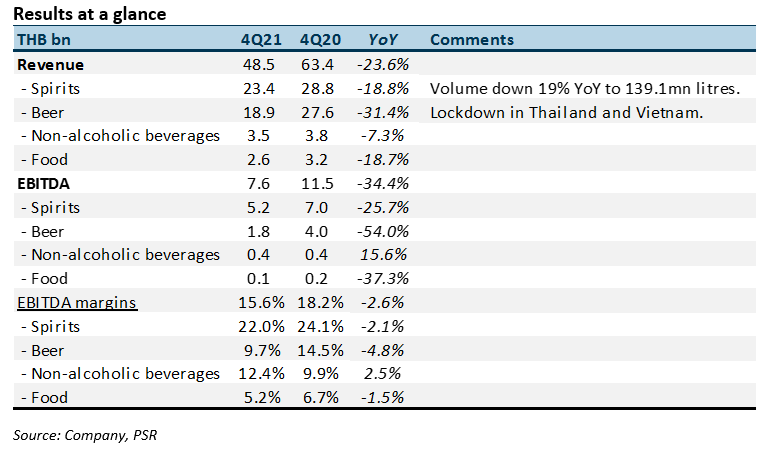 The Positive
+ Healthy cash flows and higher dividend. Despite the tough operating conditions, ThaiBev generated free cash flow of Bt28.7bn (S$1.17bn). The final dividend was Bt0.35. FY21 dividend per share was Bt0.50 (FY20: Bt0.46), a 51% payout ratio.
The Negative
– Plunge in spirit sales. 4Q21 spirit volumes declined 19% YoY to 139.3mn litres. It was a surprise as volumes in the prior quarter were a strong 161.6mn litres. Reasons for the decline were softer consumer sentiment and a trade promo for white spirits in July 2020. The promotion was not repeated this year.
Outlook
Recovery is underway but the pace may remain tepid in the near term. The lockdown is taking a toll on consumer sentiment and income. The impact of the re-opening of the borders and nightlife entertainment and economic recovery may be more material only in 2H22. ThaiBev offset higher cost pressure with a price increase for white spirits,  in October this year. Due to the high market share, the price elasticity of white spirits is not high.
About the author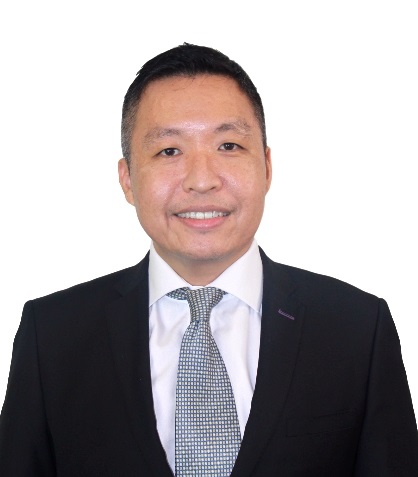 Paul Chew
Head of Research
Phillip Securities Research Pte Ltd
Paul has 20 years of experience as a fund manager and sell-side analyst. During his time as fund manager, he has managed multiple funds and mandates including capital guaranteed, dividend income, renewable energy, single country and regionally focused funds.

He graduated from Monash University and had completed both his Chartered Financial Analyst and Australian CPA programme.