Thai Beverage PLC - Still in good spirits
23 Aug 2021
Results in line, with 9M21 revenue and EBITDA at 72%/75% of our FY21e forecasts.
Spirits stole the limelight with a 21% YoY EBITDA surge, as volume recovered and costs were contained.
Maintain BUY and target price of S$0.86, at 18x FY21e earnings, its 5-year average. Restricted on-premise consumption of beer and closure of F&B outlets to be compensated by resilience of spirit business together with aggressive cost-control. Spirits account for around 90% of PATMI. Catalysts expected from removal of lockdown measures in Thailand and Vietnam.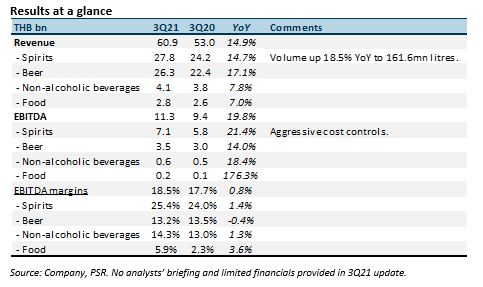 The Positive
+ Resilient spirits. Volumes rebounded  18.5% YoY to 161mn litres. The comparable period last year was weaker due to a 1-month alcohol ban in Thailand. QoQ, volumes declined 2.2%. Volume resilience can be explained by typical off-premise consumption for spirits, workers returning to villages from cities and white spirits' better affordability than other alcohols. Margins expanded from lower selling expenses.
The Negative
– Sluggish food sales. While food earnings rebounded sharply from a year ago, food's THB163mn EBITDA was substantially below its pre-pandemic quarterly run rate of THB470mn. Dine-in restrictions curbed revenue growth and kept the division in net losses.
Outlook
The ongoing closure of entertainment venues and restaurants in Thailand will continue to affect beer and food outlets, in our view. Beer is mainly consumed on-premises, unlike spirits. The upside surprise is ThaiBev's ability to control costs aggressively to adapt to the current environment.
Maintain BUY with unchanged TP of S$0.86
Our target price stays at S$0.86, based on 18x FY21e earnings, its 5-year average.
About the author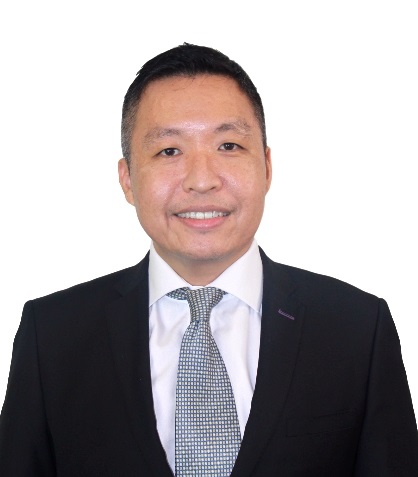 Paul Chew
Head of Research
Phillip Securities Research Pte Ltd
Paul has 20 years of experience as a fund manager and sell-side analyst. During his time as fund manager, he has managed multiple funds and mandates including capital guaranteed, dividend income, renewable energy, single country and regionally focused funds.

He graduated from Monash University and had completed both his Chartered Financial Analyst and Australian CPA programme.