Airbnb Inc - Record earnings as travel demand persists
4 Nov 2022
3Q22 results beat expectations. 9M22 Revenue/PATMI was at 79/115% of our FY22e forecasts. In 3Q22, revenue grew by 29% YoY despite FX headwinds. PATMI jumped 46% YoY driven by continued strong travel demand and higher operating leverage.
Gross bookings value (GBV) grew 31% YoY to US$15.6bn supported by higher average daily rates (ADRs). Revenue guidance for 4Q22 is a growth of 17-23%.
We upgrade to BUY from NEUTRAL after the recent fall in its stock price. We also increased our DCF target price to US$128.00 (prev. US$119.00) with a WACC of 7% and terminal growth of 4%. We increased our FY22e Revenue/PATMI by 1%/26% due to a slightly higher revenue take rate and lower expenses. While inflation and rising interest rates could weigh on discretionary demand for travel in the near term, we believe Airbnb is well-positioned as the platform offers better non-urban location listings versus hotels, benefits from travelers looking for long-term stays, and is more family and group travel-friendly.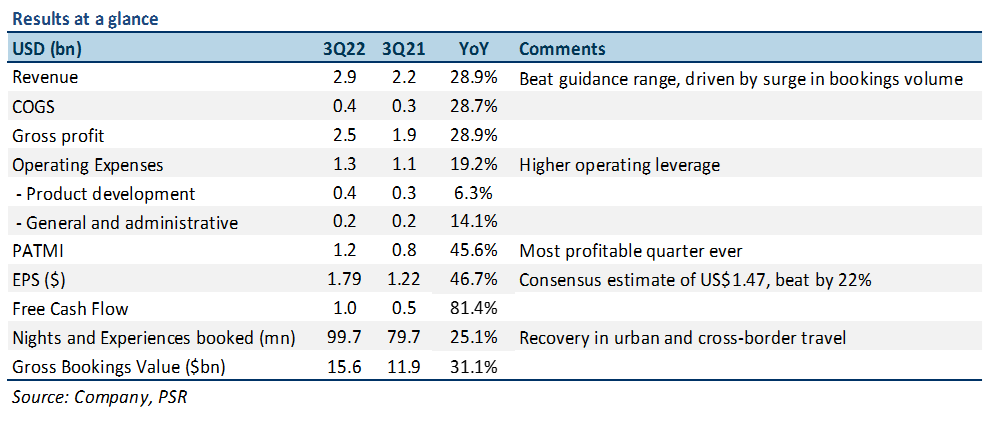 The Positives
+ Strong travel demand continued. Airbnb posted revenue of US$2.9bn for the quarter, representing a 29% YoY increase (36% YoY in constant currency). This is mainly because gross bookings value (GBV) rose 31% YoY to US$15.6bn driven by a surge in nights and experiences booked and continued strength in average daily rates (ADRs). Bookings volume jumped 25% YoY to 99.7mn driven by a recovery in urban (up 27% YoY) and cross-border (up 58% YoY) travel. Non-urban areas represented 52% of gross nights booked in 3Q22.
+ Demand for long-term stays remained resilient. Long-term stays (28+ days) accounted for 20% of gross bookings volume in 3Q22, in line with the year-ago quarter. This was mainly driven by flexibility granted by hybrid/remote work. Stays of at least 7 nights accounted for 45% of gross nights booked in the quarter.
+ Supply on the platform accelerates. In 3Q22, Airbnb said that its active listings on the platform increased by 15% YoY across all market types, including urban and non-urban areas. We believe that the supply growth is mainly due to the company's initiatives to attract new hosts to its platform like AirCover for Hosts and Ask a Superhost along with solid demand for alternative accommodation.
The Negatives
– ADR growth to moderate in 4Q22. In 3Q22, ADRs increased by 5% YoY to US$156 driven by price appreciation, offset by negative impact from a shift back towards urban markets. In 4Q22, management expects daily rates to be under pressure and could see a modest decline due to adverse FX impact and business mix shift towards urban destinations, which typically have lower rates due to smaller-sized accommodations. Despite moderation, the management said that ADR headwinds on EBITDA/FCF margins could be offset by higher operating leverage.
About the author
Ambrish Shah
US Technology Analyst (Software/Services)
PSR
About the author
Ambrish Shah
US Technology Analyst (Software/Services)
PSR