Adobe Inc - Big Figma acquisition
21 Sep 2022
3Q22 results were in line with expectations. 9M22 revenue/PATMI was at 74%/75% of our FY22e forecasts. Total revenue grew 13% YoY to US$4.4bn, driven by 13%/14% YoY increases in Digital Media and Digital Experience revenues.
Adobe agreed to acquire collaborative design software firm Figma in a cash-and-stock deal worth US$20bn. The company is acquiring Figma for 50x its FY22e annual recurring revenue (ARR) of US$400mn. The transaction is expected to close in FY23e and aims to expand tools for creative professionals. We believe that the deal would take out an emerging competitor as Figma poses a potential threat standalone.
We nudge lower our FY22e revenue/PATMI by 1% due to macroeconomic uncertainty and FX headwinds. On a standalone basis, we maintain a BUY recommendation on ADBE with a lowered DCF target price of US$420.00 (prev. US$549.00), with an increased WACC of 7.1% and unchanged terminal growth rate of 4.0%. Overall, we believe that Adobe's long-term secular tailwinds remain intact, including paperless workflows, explosion in digital content creation and continued shift to the cloud. Completion of the Figma transaction will cause a 7% downgrade to our target price due to operating margin dilution and additional shares in the diluted share count.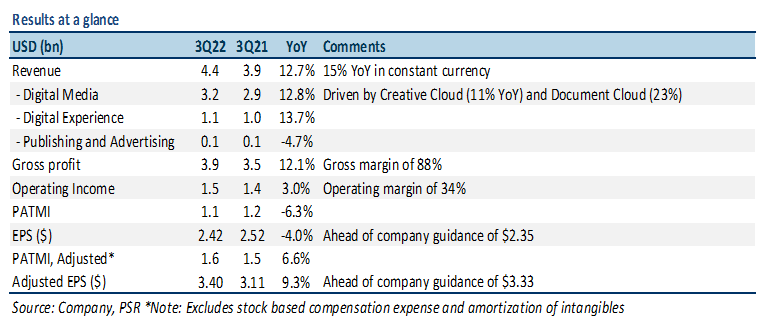 The Positives
+ Document Cloud strength continues. Document Cloud revenue grew 23% YoY to US$607mn and Document Cloud annual recurring revenue (ARR) grew 26% YoY to US$2.2bn. The main growth drivers include strong demand for PDF solutions across computing devices and momentum in AdobeSign. Key customer wins in 3Q22 include Amazon, Boeing, and ServiceNow. Document Cloud is accelerating document productivity and workflows with over 300bn PDFs opened and nearly 8bn e-signatures processed each year. Adobe also announced enhancements to Acrobat web experience such as High Contrast and Read Out Loud.
+ Demand for Creative Cloud remains robust. Creative Cloud revenue was US$2.6bn, up 11% YoY. Adobe added US$330mn of net new Creative Cloud ARR in 3Q22. Much of the Creative Cloud revenue growth was supported by significant growth in new users (particularly in Creative Cloud Express) and continued momentum in growth initiatives such as Frame.io and Substance. The demand for its photography, imaging and video applications was strong due to the surge in digital content creation.
+ Resilient Digital Experience. Digital Experience revenue grew 14% YoY to US$1.1bn driven by strength in the enterprise segment with large deal wins and continued momentum for Adobe Experience Platform applications. Workfront remained strong as well with revenue growing above 35% YoY. Key customer wins include T-Mobile, Morgan Stanley, and Qualcomm.
The Negatives
– Acquisition of Figma is expensive and dilutive. Adobe has signed a definitive merger agreement to acquire collaborative design software firm Figma for US$20bn. The deal values Figma at almost 50x its FY22e ARR of US$400mn. Adobe noted it could lower margins by 100-200 bps over the next two years. Management also expects the deal to be accretive to adjusted EPS only at the end of year three (FY26). The transaction will be funded by 50% cash and 50% stock, and is expected to close in FY23, subject to regulatory and shareholder approval.
Outlook
For 4Q22e, Adobe expects GAAP EPS of US$2.44 (adj. EPS of US$3.50) on total revenue of US$4.52bn. Adobe also expects Digital Media net new ARR of US$550mn for 4Q22e driven by price increases at renewals in both Creative and Document Cloud segments. Additionally, the company expects revenue growth of 10%/13% YoY in the Digital Media and Digital Experience segments. While acquiring fast-growing Figma may boost Adobe's growth rate and give it a competitive advantage, the huge acquisition price is expected to have an impact on profitability.
About the author
Ambrish Shah
US Technology Analyst (Software/Services)
PSR
About the author
Ambrish Shah
US Technology Analyst (Software/Services)
PSR