Adobe - Stock Analyst Research
Target Price*
USD 441.00
Recommendation
REDUCE

›

REDUCE

Market Cap*
-
Publication Date
22 Sep 2023
*At the time of publication
Adobe Inc - Priced at a premium
9M23 revenue/PATMI was in line with expectations at 74%/76% of our FY23e forecasts. In 3Q23, revenue grew 10% YoY to US$4.9bn led by higher subscription sales of its creative software applications. PATMI rose 24% YoY to US$1.4bn driven by higher operating leverage and lower tax rate.
For 4Q23e, Adobe expects GAAP EPS of US$3.12 on revenue of US$5bn (up 10% YoY). Net new Digital Media annualized recurring revenue is expected to be US$520mn with a modest contribution from generative AI tools. Adobe plans to hike pricing for some Creative Cloud products (Photoshop and Premiere Pro) by about 10% starting Nov. 1.
We maintain a REDUCE recommendation with a higher DCF target price of US$441 (WACC 7.3%, g 4%), up from US$435. Our FY24e revenue/PATMI has increased by 1%/2% to account for new pricing and AI-related tailwinds. However, we believe ADBE is priced at a premium as its market cap is up about 43% or US$74bn over the last four months on an annual incremental profit opportunity of US$4bn assuming Creative Cloud revenue doubles with Firefly.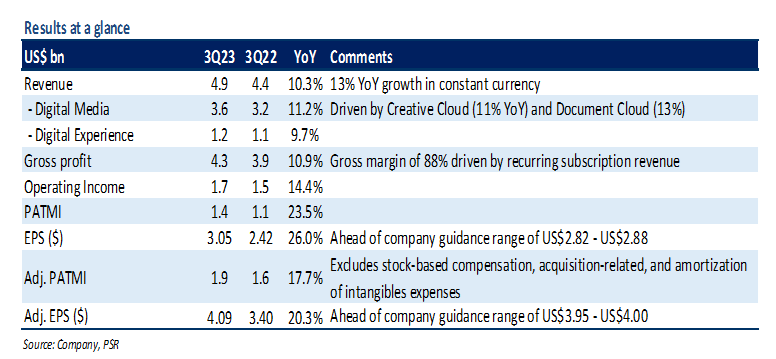 The Positives
+ Creative Cloud momentum remained robust. Adobe's Creative Cloud business comprises 81% of Digital Media segment revenues. Creative Cloud revenue grew 11% YoY to US$2.9bn (14% YoY in constant currency). Net New Creative Cloud annualized recurring revenue, or ARR, was US$332mn during the quarter, with a total Creative Cloud ARR of US$12bn. The growth was mainly led by strong demand for its photography and video editing applications due to a surge in both the creation and consumption of digital media. Management highlighted that the company has integrated its generative AI offering Firefly into flagship products Photoshop and Illustrator, with more than 3mn beta release downloads. Key customer wins for Creative Cloud in 3Q23 include Amazon, SAP, and Take-Two Interactive.
+ Continued strength in Document Cloud. Document Cloud sales grew 13% YoY to US$685mn, accounting for 19% of Digital Media revenues. Net new Document Cloud ARR was US$132mn, exiting the quarter with Document Cloud ARR of US$2.6bn. The growth was primarily driven by continued demand for Acrobat PDF solutions across computing devices and e-signature capabilities. Management highlighted that Acrobat Web monthly active users spiked by 70% YoY led by growth in documents opened through Chrome and Edge extensions. Key customer wins in 3Q23 include Citibank, GlaxoSmithKline, and Morgan Stanley.
The Negative
– FX impacted revenue growth. Adobe generates 40% of its total revenue from international markets. The company's revenue was negatively impacted by the strengthening of the US dollar relative to most other currencies, including the Euro, British pound, and Japanese yen. In 3Q23, FX headwind to revenue was about US$125mn (~10% of PATMI).
About the author
Ambrish Shah
US Technology Analyst (Software/Services)
PSR
About the author
Ambrish Shah
US Technology Analyst (Software/Services)
PSR