Adobe Inc - Digital content creation remains resilient
21 Mar 2023
1Q23 revenue/PATMI was within expectation at 24% of our FY23e forecasts. Total revenue grew 9% YoY to US$4.7bn, primarily driven by a 9% rise in digital media and 11% increase in the digital experience divisions. Adj. PATMI, which excludes its stock-based compensation and acquisition-related expenses, grew 9% YoY to US$1.7bn.
For FY23e, Adobe raised its EPS forecast to US$11.00 (vs US$10.90 prior) and maintained its revenue guidance of US$19.2bn at the midpoint. The guidance was slightly below our initial forecast of EPS of US$11.38 on revenue of US$19.3bn.
We downgrade to ACCUMULATE from BUY with a reduced DCF target price of US$402 (prev. US$408), a WACC of 7.5%, and a terminal growth rate of 4.0%. Our FY23e revenue was nudged lower by 0.4% to reflect ongoing macro challenges as cost-cutting customers delay software license purchases, while PATMI was cut by 3% due to higher expenses. Overall, Adobe enjoys long-term tailwinds from digital transformation of paper-based processes, explosion in digital content creation and continued shift to the cloud.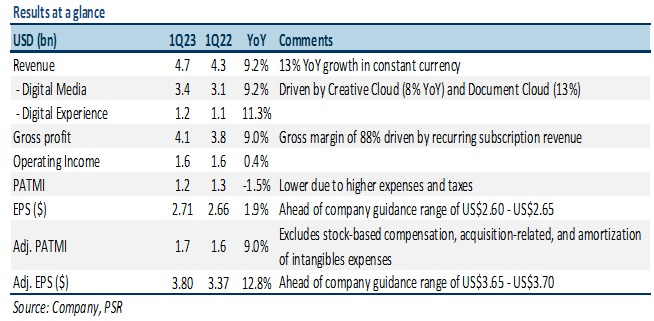 The Positives
+ Demand for Creative Cloud remains resilient. Creative Cloud revenue was US$2.8bn, up 8% YoY (13% YoY in constant currency). Creative Cloud annualized recurring revenue (ARR) grew by 8% YoY to US$11.3bn, adding US$307mn during the quarter. The growth was primarily driven by continued demand for its photography, imaging and video applications due to the surge in digital content creation. Key customer wins in 1Q23 include Accenture, Disney, BBC, and Nintendo.
+ Document Cloud strength continues. Document Cloud sales grew 13% YoY to US$634mn (16% YoY in constant currency) – the fastest growth of any segment in the quarter. Net new Document Cloud ARR was US$103mn, exiting the quarter with Document Cloud ARR of US$2.4bn. The growth was mainly due to its PDF capabilities and growth in e-signature transactions within Acrobat. Management noted that Acrobat is now the default PDF viewer in Microsoft Edge, which has an estimated 1bn users. Key customer wins in 1Q23 include HP, JPMorgan Chase, Samsung, and Verizon.
The Negative
– Pressure from foreign exchange rates. Adobe's revenue was negatively impacted due to the strengthening of the dollar against several key foreign currencies, including the Euro, British pound, and Japanese yen. In 1Q23, the unfavorable foreign exchange rate movement negatively impacted revenue by approximately US$200mn (or ~16% of PATMI).
About the author
Ambrish Shah
US Technology Analyst (Software/Services)
PSR
About the author
Ambrish Shah
US Technology Analyst (Software/Services)
PSR