Adobe Inc - Pricing too much for AI
21 Jun 2023
1H23 revenue/PATMI was in line with expectations at 49%/50% of our FY23e forecasts. In 2Q23, revenue grew 10% YoY to US$4.8bn led by higher subscription sales associated with its Digital Media and Digital Experience offerings. Adj. PATMI, which primarily excludes stock-based compensation expense, grew 13% YoY to US$1.8bn.
For FY23e, Adobe raised its revenue guidance to US$19.3bn (vs US$19.2bn prior) and GAAP EPS guidance to US$11.20 (vs US$11.00 prior) taking the midpoint. The management raised its outlook on optimism that generative AI tools (Firefly) will increase demand for its creative software.
Market cap is up about 30% or US$52bn over the last month on an annual incremental profit opportunity of US$3bn assuming Creative Cloud revenue doubles with Firefly. We downgrade to REDUCE from ACCUMULATE recommendation after the recent jump in its stock price. We increase our DCF target price to US$435.00 (prev. US$402.00) with a WACC of 7.3% and terminal growth of 4%. Our FY23e revenue/PATMI is increased by 1%/2% due to rising digital content creation and a shift to electronic document processes.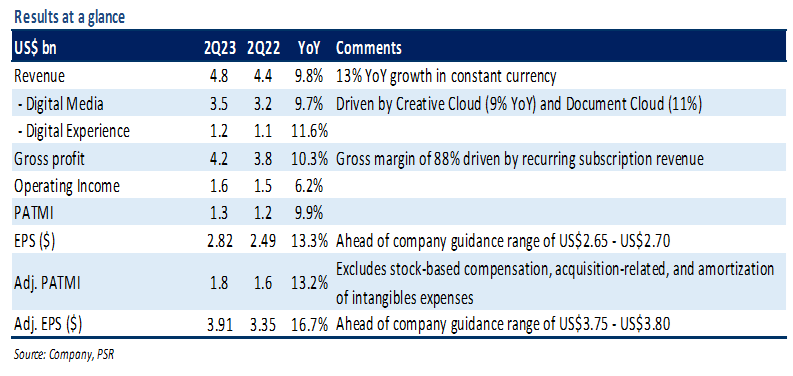 The Positives
+ Firefly beta adoption was robust. Creative Cloud sales grew 9% YoY to US$2.9bn (14% YoY in constant currency) led by booming content demand. Net new Creative Cloud annualized recurring revenue (ARR) was US$354mn, exiting the quarter with Creative Cloud ARR of US$11.6bn. In 2Q23, Adobe released a beta version of Firefly, its generative AI offering for creating content using text prompts. Management noted that Firefly-powered capabilities integrated into Photoshop and Illustrator have generated 500mn digital assets so far. While the focus remains on driving broad-based adoption, Adobe plans to publish additional information regarding AI monetization later this year. Key customer wins for Creative Cloud in 2Q23 include NVIDIA and Ernst & Young.
+ Strong momentum in Document Cloud. Document Cloud revenue was US$659mn, up 11% YoY (14% YoY in constant currency). Document Cloud ARR grew by 17% YoY to US$2.5bn, adding US$116mn during the quarter. The growth was mainly due to strong demand for Acrobat with integrated Sign capabilities across the web, desktop and mobile. Management noted that Acrobat web monthly active users grew by 50% YoY driven by an explosion of PDF consumption through Chrome and Edge extensions. Key customer wins in 2Q23 include Boston Consulting Group, Novartis, and T-Mobile.
The Negative
– Negative impact of FX. Adobe's revenue was negatively impacted due to the strengthening of the dollar against several key foreign currencies, including the Euro, British pound, and Japanese yen. In 2Q23, FX headwind to revenue was about US$150mn (~12% of PATMI).
Outlook
For FY23e, Adobe now expects GAAP EPS of US$11.20 on total revenue of US$19.3bn (prev. GAAP EPS of US$11.00 on revenue of US$19.2bn) taking the midpoint (Figure 1). The company also bumped its net new Digital Media ARR forecast to US$1.75bn from US$1.70bn driven by product-led growth initiatives, including Adobe Express and generative AI tools. Notably, we expect AI-driven revenues to be modest in 2H23e given they are still in the early stages. Meanwhile, the company lowered its Digital Experience segment revenue forecast to US$4.88bn (prev. US$4.98bn) due to cautious enterprise buying behaviour resulting in an elongated sales cycle, additional deal approval layers and deal size compression.
For 3Q23e, Adobe is guiding for revenue of US$4.85bn, up 10% YoY, and GAAP EPS of US$2.85, both at the midpoint of its guidance. Management also guided Digital Media and Digital Experience segment revenues to be US$3.56bn and US$1.22bn, respectively.
Adobe reiterated its belief that its pending US$20bn acquisition deal of design startup Figma should close by the end of FY23e. Cash flow generation continues to be strong, with the company generating about US$2bn in Free Cash Flow in 2Q23, ending the quarter with US$5.5bn in cash and cash equivalents.
About the author
Ambrish Shah
US Technology Analyst (Software/Services)
PSR
About the author
Ambrish Shah
US Technology Analyst (Software/Services)
PSR