Asian Pay Television Trust Dividends maintained for FY21
16 Nov 2020
3Q20 revenue and EBITDA were within our expectations, at 76%/78% of our FY20e forecasts.
Revenue rose 4% YoY and EBITDA, 5%. FX contributed 6.3% points to the improvements.
Cable subscribers contracted 5,000 QoQ to 716,000. Offset by higher premium digital TV (+10,000) and broadband (+2,000) subscribers.
Management guided that DPS of 0.25 cent/quarter will be maintained for FY21. Our forecasts are largely unchanged. Maintain BUY and target price of S$0.15. Our valuation is benchmarked to 9x EV/EBITDA, a discount to Taiwanese peers. Dividend yield of 8.5% is attractive and sustainable.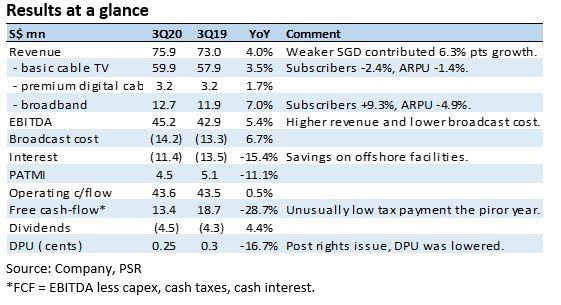 The Positive
+ Lower capex from FY20. YTD capex is down almost S$10mn. APTT is guiding for lower capex from 2020 onwards. Hefty investments to increase fibre capacity are slowing down. These investments were made to raise the bandwidth of its broadband offerings and in preparation for its 5G data backhaul business from mobile operators.
The Negative
– Cable TV still softening. Cable TV subscribers were down 5,000 this quarter (2Q20: -4,000). The churn was due to piracy and competitively-priced IPTV. Mitigating the decline is the growth in both premium digital TV and broadband. Total subscriber base is up 2% YoY to 1.19mn.
Outlook
Financials this year have been lifted by a strong Taiwan dollar, by around 6%. Operationally, we are incorporating lower revenue and EBITDA for FY21e, to factor in lower cable TV revenue.  However, FCF should rise with lower capex. APTT reiterates that 5G data backhaul will be an opportunity and the key component of its broadband business in the next few years.
Maintain BUY and TP of S$0.15
Our BUY remains premised on a yield of 8.5% and sustainable operating cash flows. Annual FCF of S$45mn is expected to cover dividend payouts of S$18mn, with upside potentially from 5G data backhaul revenue. We have not modelled 5G in our numbers pending more data points from APTT.
About the author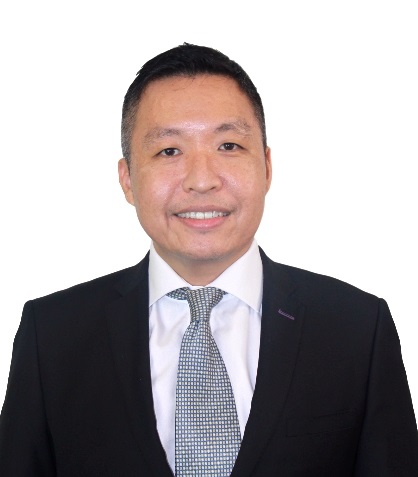 Paul Chew
Head of Research
Phillip Securities Research Pte Ltd
Paul has 20 years of experience as a fund manager and sell-side analyst. During his time as fund manager, he has managed multiple funds and mandates including capital guaranteed, dividend income, renewable energy, single country and regionally focused funds.

He graduated from Monash University and had completed both his Chartered Financial Analyst and Australian CPA programme.