BRC Asia Stronger order fulfillment
26 Aug 2021
3Q21 earnings of S$10.2mn in-line, at 24.4% of our estimates. 1H is seasonally weaker.
Stronger order fulfillment lifted sales QoQ. The pipeline remains healthy with order book steady at S$1.1bn. Half could be fulfilled within the next 12-15 months.
Credit situation stable. Provisions for receivables impairment better than expected at 1.7% of total receivables for 9M21, lower than the 3% we imputed.
Net gearing rose 4x to 1.1x for working capital needs. As steel prices remain elevated, we expect inventory costs and net gearing to remain high in FY21e-FY22e.
Maintain BUY with lower target price of S$1.79, from S$1.87. FY21e-FY22e earnings reduced by 9.2% and 10.8% as we incorporate higher finance costs from the increased debt load. We roll forward our valuation to 11x FY22e P/E, still a 15% discount to its 10-year historical average on account of the uncertain environment. Catalysts expected from higher foreign-worker inflows to Singapore.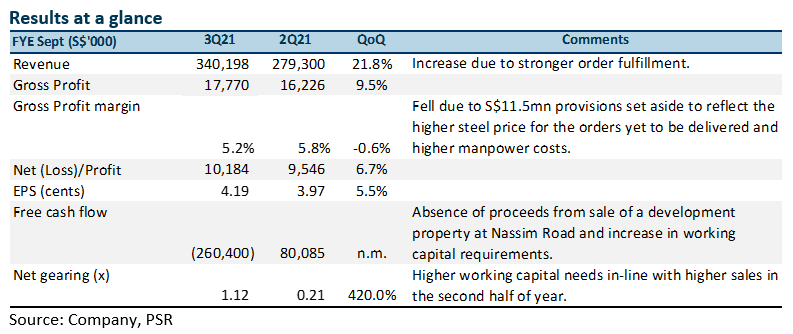 The Positives
+ Stronger order fulfillment QoQ. In spite of tighter movement controls from mid-May to end-June in Singapore, order deliveries went up. Movement controls were tightened further from early July to mid-August as COVID-19 infection cases surged. This slowed down the import of foreign labour. With vaccinations nearing 80%, Singapore is close to achieving herd immunity, which could alleviate some of its labour constraints. BRC has a sizeable amount of projects in the pipeline, with order book steady at about S$1.1bn. We estimate that half will be fulfilled within the next 12-15 months.
+ Dividend guidance maintained for FY21e. Despite challenging circumstances in the construction sector, dividend guidance for FY21e is unchanged. In the last two years, payouts averaged 65%, beating its dividend policy of about 30%. We keep our FY21e estimate of 8 cents per share as the outlook is expected to be stable for the rest of FY21.
+ Provision for receivables impairment better than expected. Provisions for impairment loss on trade receivables were S$0.5mn in 3Q21, bringing 9M21 total provisions to S$3.0mn or 1.7% of total receivables. This was lower than our 3% estimates. We are however, keeping our FY21e provisions unchanged as the recent lockdown in Malaysia and the tightening of foreign labour supply in Singapore are expected to put some stress on the construction industry.
The Negative
– Gross margins contracted 60bps as manpower costs rise. Manpower costs in 3Q21 rose as the cost of providing for its foreign labour force increase. The company also provided for another S$11.5mn in 3Q21 bringing total provisions to date S$43.4mn. The provisions reflect a continued escalation of international steel prices. Still, management guided that none of the contracts in the books are onerous as contracts are signed at a profit and hedged. As the company hedges its steel prices, some provisions will be progressively reversed as deliveries are made. Provisions for onerous contracts are made for sales contracts under which costs to meet obligations are expected to exceed their sales value. These provisions are reversed when the contractual obligations are met or no longer exist or when the costs to meet the obligations no longer exceed the sales value.
– Net gearing rose 4x to 1.1x as working capital needs increased due to higher inventory costs and sales. Total borrowings increased by S$260.3mn in 3Q21 as higher sales necessitated higher working capital. Net gearing rose to 1.1x from 0.2x in the previous quarter in preparation for a seasonally stronger second half. As steel prices remain elevated, we expect inventory costs and net gearing to remain high in FY21-22e.
About the author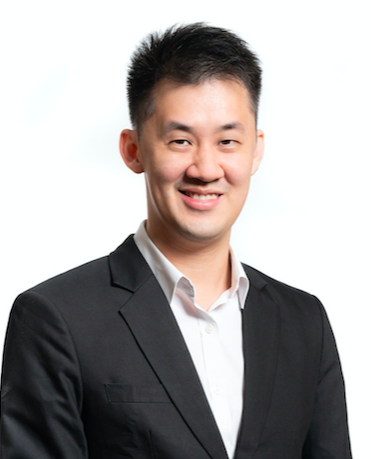 Terence Chua
Senior Research Analyst
Phillip Securities Research
Terence specialises in the consumer, conglomerate and industrials sector. He has over five years of experience as an analyst in the buy- and sell-side. As an institutional fund management analyst, he sat on the China-Hong Kong desk. Terence was ranked top 3 for Best Analyst under the small caps and energy category in the Asia Money poll 2018.

He graduated from the Singapore Management University with a major in Finance (Honours), and is the honoured recipient of the CFA scholarship.