DBS Group Holdings Ltd - Non-interest income provides relief to short-term woes
11 Aug 2020
Reported 2Q20 earnings of S$1.25bn was higher 21% than previous estimate of S$1.03bn. The 22% decline in earnings YoY was a result of lower NII and higher provisions due to the poor economic outlook amidst COVID-19.
NII fell 5% YoY in 2Q20 from a 29 bps fall in NIM from 2Q19 (1.91%) partially offset by loans growth of 7% YoY.
Other non-interest income increased 45% YoY on gains from investment holdings.
DBS continues to shore up allowances, adding S$560mn in GP to bring total GP buffer up from S$2.5bn a year ago to S$3.8bn.
Announced quarterly dividend of S$0.18 per share, which will be capped at the same level for the next 1 year as stipulated by MAS.
Maintain ACCUMULATE with a upward revision in TP to S$21.00 (prev. S$20.60). We revise 2H20 earnings upwards by 5% with resilience from expected strength in non-interest income.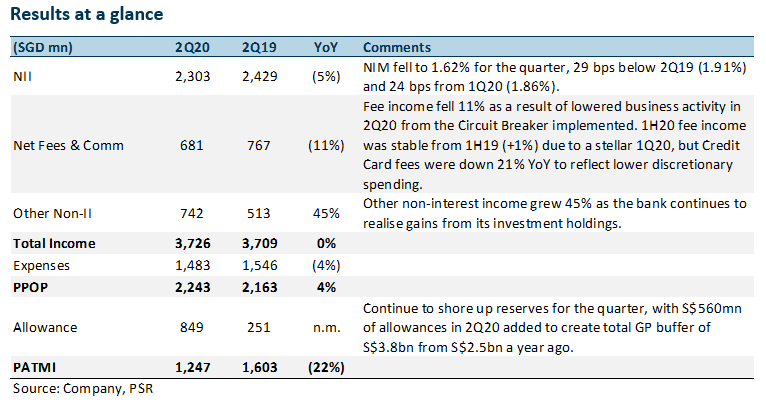 The Positives
+ Gains on investment holdings continue stave off slower business momentum.
Other non-interest income jumped 45% YoY in 2Q20 due to profit realisation from fixed income securities. This contributed to a 3.6x jump in net income from investment securities in 1H20 to S$663mn from S$184mn in 1H19.
The bank has noted that it is currently holding S$1.5bn of unrealised mark-to-market gains in investment securities. This may allow the bank to provide income buffer against the weakness observed across other income sources.
The Negatives
– NII fell 5% YoY in 2Q20 as NIM was compressed 29 bps from 1.91% in 2Q19 to 1.62%.
The quarter saw full impact of the double interest rate cuts in March. However, loans growth of 7% YoY muted the impact of NIM compression on NII. NIM for 1H20 was held up by a resilient 1Q20, coming in at 1.74%, 16 bps lower than 1H19 of 1.90%.
With asset pricing adjustments lagging loans pricing, we expect NIM to stabilise at current levels, which will see NIM coming in at 1.68% for the entire FY20.
– Fee income fell 11% YoY in 2Q20 due to lower business activity in the quarter from Circuit Breaker measures.
However, 1H20 fee income came relatively stable (+1%) at S$1.75bn from 1H19 as fee income from 1Q20 was up 14% YoY. Brokerage fees were up 25% YoY from S$59mn in 1H19 to $74mn in 1H20, but was offset by lower investment banking fee and credit card fees of S$63mn (-19%) and S$304mn (-21%) respectively from S$78mn and S$387mn in 1H19. Business momentum should return gradually as economic activities resume, with wealth management fee looking to benefit with face-to-face interactions between the bank and its customers.
Outlook
Quarterly dividend was cut to S$0.18 per share from S$0.33 QoQ with 60% cap stipulated by MAS.
Under MAS guidance to cap dividends for FY20, dividends will be capped at S$0.18 for the next 4 quarters to 1Q20, bringing FY20e distribution to $0.87, down 30% from FY19 distribution of $1.23. We expect dividends to go back to previous levels of S$0.33 per quarter by 3Q21, which will bring FY21 distribution to S$1.02.
Option for scrip dividend will be available through the next four quarters but without any discount as the bank sees no need to further conserve capital.
Reserves build-up well underway and expected to taper in FY21.
For 1Q20, DBS has set aside an additional S$560mn in GP allowances, bringing YTD GP allowances to S$1.26bn. This is in line with management guidance of 80 – 130 bps in credit costs amounting to S$3 –  5bn to be booked by end of FY21. 
We expect book-building to occur and similar rate for the next 2 quarters and taper slightly to S$0.5bn per quarter in FY21.
Investment Actions
We maintain our ACCUMULATE recommendation with a revised TP of S$21.00 (prev. S$20.60). We have revised income upwards with resilience observed from non-interest income providing buffer to weakness from NII. CET-1 ratio for DBS remains healthy at 13.7% in 2Q20 compared to 13.6% a year ago.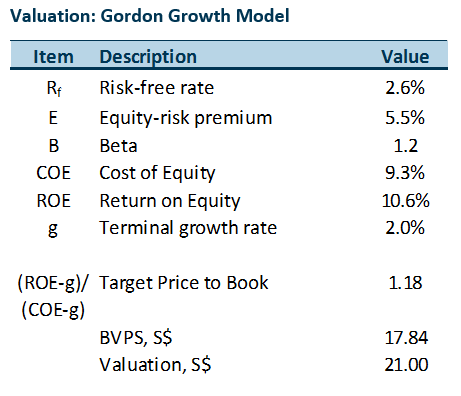 About the author