Salesforce Inc - Stock Analyst Research
Target Price*
242.00
Recommendation
ACCUMULATE

›

ACCUMULATE

Market Cap*
-
Publication Date
4 Sep 2023
*At the time of publication
Salesforce Inc - Profit outlook raised
2Q24 revenue was in line with our expectations, while earnings exceeded expectations. 1H24 revenue/PATMI was at 49%/55% of our FY24e forecasts. In 2Q24, PATMI spiked by 19-fold YoY driven by higher operating leverage.
For FY24e, Salesforce boosted its revenue outlook to US$34.75bn from the prev. US$34.6bn as it benefits from AI-related demand and a recent price hike of 9% across its cloud products. The company also raised its GAAP EPS outlook to US$3.51 from US$2.68 led by cost containment efforts.
We maintain ACCUMULATE with a raised DCF target price of US$242.00 (prev. US$226.00), with a WACC of 7% and terminal growth of 4%. We increase our FY24e revenue/PATMI estimates by 1%/30% to reflect benefits from the price hike and lower expenses. We believe Salesforce is well-positioned to benefit from cloud-based digital transformation trends as companies look to form a more holistic view of their customer data to provide better customer experiences.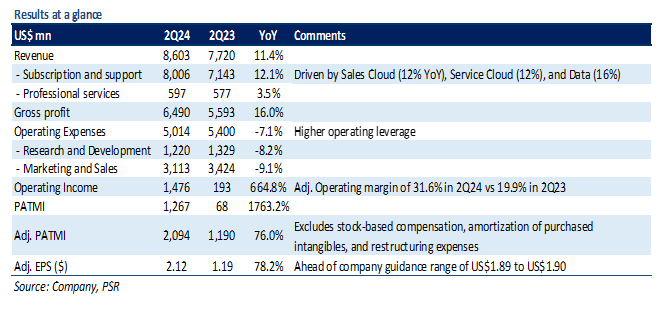 The Positives
+ Demand remains robust. 2Q24 total revenue grew 11% YoY to US$8.6bn, 1% above the top end of company guidance, driven by resilient demand for its cloud and business software offerings. Revenues from core products Sales Cloud and Service Cloud grew 12% YoY to US$1.9bn and US$2.1bn, respectively. Data Cloud remained the fastest growing segment, increasing by 16% YoY to US$1.2bn, with MuleSoft and Tableau offerings being the largest contributors.
+ cRPO growth beats guidance. Remaining performance obligation (RPO), which represents future revenue that is under contract but hasn't been recognized, grew by 12% YoY to US$46.6bn. The current portion of RPO (cRPO), which the company expects to be recognized in the following 12 months, increased by 12% YoY to US$24.1bn. The cRPO growth came ahead of the company's guidance of 10% YoY growth, and was largely driven by momentum in MuleSoft. The company also benefited from multi-cloud adoption strategy, with 6 of the top 10 deals in the quarter included five or more of its cloud products. Additionally, the number of customers whose annual contract value (ACV) exceeds US$10mn reached 450 (growth of 3x over 5 years).
+ Focused on improving profitability. In 2Q24, Salesforce's operating expenses fell by 7% YoY to US$5bn resulting in an operating margin of 17% (vs. 3% in 2Q23). The improvement was mainly driven by higher operating leverage across all cost items, including job cuts (headcount dropped 11% YoY) and careful sales and marketing spend.
The Negative
– NIL
Outlook
For 3Q24e, Salesforce expects total revenue to be in the range of US$8.70bn to US$8.72bn, representing growth of about 11% YoY. The revenue guidance includes a US$100mn FX headwind. Management also guided GAAP EPS/adj. EPS to be in the range of US$1.02 to US$1.03 and US$2.05 to US$2.06, respectively.
Salesforce lifted its annual earnings/margin forecast despite the company witnessing an elongated sales cycle, additional deal approval layers, and deal size compression. For FY24e, the company now expects GAAP EPS of US$3.51 on total revenue of US$34.75bn (prev. GAAP EPS of US$2.68 on revenue of US$34.6bn) taking the midpoint (Figure 1). This implies total revenue growth of 11% YoY led by continued demand for its cloud products, particularly MuleSoft, Sales Cloud, and Service Cloud. Salesforce also raised its operating margin guidance to 13% from the prior guidance of 11% (up from 3% in FY23) driven by higher operating leverage.
In August, Salesforce hiked prices of its cloud products by an average of 9%. The company also plans to boost demand by introducing a generative AI-based tool named Einstein GPT for salespeople, customer service agents, and marketers. Management noted that the price increase will not have a material impact in FY24e as it is expected to hit the existing customer base over the next 1-3 years at renewals.
Salesforce generated about US$628mn (up 379% YoY) in Free Cash Flow in 2Q24, ending the quarter with US$6.8bn in cash and cash equivalents. The company returned US$1.9bn to shareholders in 2Q24 in the form of share repurchases.
About the author
Ambrish Shah
US Technology Analyst (Software/Services)
PSR
About the author
Ambrish Shah
US Technology Analyst (Software/Services)
PSR