Salesforce Inc - Stock Analyst Research
| | |
| --- | --- |
| Target Price* | 219 |
| Recommendation | BUY |
| Market Cap* | - |
| Publication Date | 7 Mar 2023 |
*At the time of publication
Salesforce Inc - Cost-cutting efforts boost earnings
FY23 revenue was in line with expectations at 101% of our forecasts, but Adj. PATMI was higher than expected at 106% of our FY23 forecasts due to higher operating leverage. 4Q23 revenue grew 17% YoY in constant currency to US$8.4bn driven by reignited MuleSoft and Tableau licenses sales.
operating margin was a record high 29.2% in part due to recent job cuts. Future contracted revenue or remaining performance obligations (RPO) grew by 11% YoY to US$48.6bn.
We maintain a BUY recommendation with a higher DCF target price of US$219 (WACC 7%, g 4%), up from US$205. Our FY24e revenue is nudged lower by 2% as many corporations continue to scrutinize their IT spending; while we have increased our Adj. PATMI by 24% due to lower expenses. Salesforce enjoys tailwinds from digital transformation trends as companies seek to have a single view of their customer data.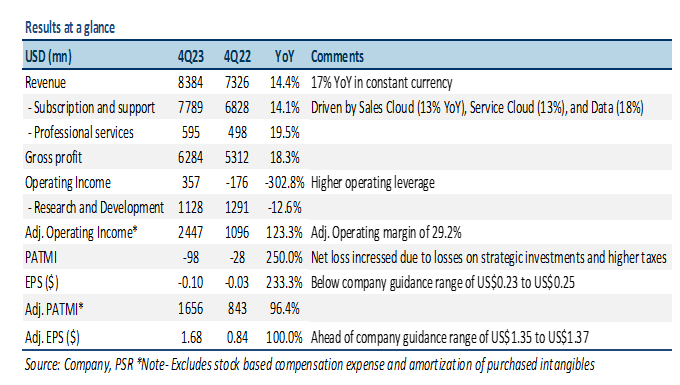 The Positives
+ Strength in MuleSoft and Tableau products drive growth. Salesforce recorded revenue of US$8.4bn for 4Q23, ahead of the company's guidance of US$8.0bn, and representing a 14% YoY growth (17% YoY in constant currency). Data, which includes MuleSoft and Tableau license sales, rose 18% YoY to US$1.3bn – the highest YoY revenue increase in 4Q23. Salesforce's other core businesses also performed well, with Sales and Service cloud revenues growing 13% YoY to US$1.8bn and US$1.9bn in 4Q23, respectively. Remaining performance obligations (RPO), which represent future revenue under contract, grew by 11% YoY to US$48.6bn. The current portion of RPO (cRPO), which the company expects to be recognized in the next 12 months, increased by 12% YoY to US$24.6bn. This was driven by the strength of its Customer 360 platform, multi-cloud adoption, and record low customer attrition rate of below 7.5%.
+ Cost cuts are paying off. In 4Q23, Salesforce reported a record high adj. operating margin of 29.2% compared with 15% in 4Q22 driven by higher operating leverage across all cost segments (particularly Research and Development). In 4Q23, Salesforce benefited about 6 percentage points from one-time items, including 1.5 points from restructuring. In Jan 23, the company announced that it would lay off 10% of its workforce (~7,000 employees).
The Negative
– Pressure from foreign exchange rates. Salesforce's revenue was negatively impacted due to the strengthening of the dollar against several key foreign currencies, including the Euro, British pound, and Japanese yen. In 4Q23, the unfavorable foreign exchange rate movement negatively impacted revenue by about US$250mn (or 3% of total revenue). The foreign exchange impact was guided to decrease revenue growth in 1Q24e by US$150mn.
About the author
Ambrish Shah
US Technology Analyst (Software/Services)
PSR
About the author
Ambrish Shah
US Technology Analyst (Software/Services)
PSR