DBS Group Holdings Ltd - Recovery underway as allowances tapered off
9 Nov 2020
3Q20 earnings of S$1,297mn brought 9M profit to S$3.7bn. At 79% of our FY21e estimate, results were in line with consensus as well, with allowances lower than expected.
NII fell 12% YoY as NIM was down 37bps to 1.53%. Weakness could sustain into 4Q20.
Fees and commissions were up 17% QoQ on recovery in wealth-management and credit-card fees.
Maintained 18-cent quarterly dividend. Scrip dividend will also be available for 3Q20.
Maintain NEUTRAL with higher GGM TP of S$22.60, from S$21.00. No change to earnings estimates but we peg our valuation at a higher 1.26x FY21e P/BV on lower allowances from a better credit outlook. For sector exposure, prefer UOB (SGX: U11, Accumulate, TP: S$21.10).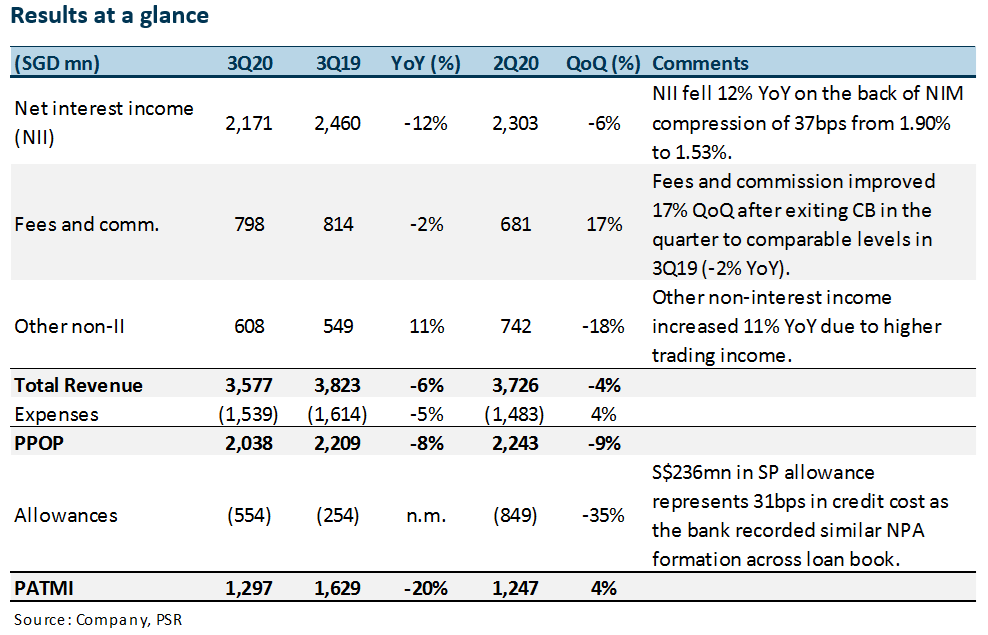 The Positives
+ Recovery in non-interest income
Fees and commissions were down 2% YoY from S$814mn to S$798mn but up 17% QoQ as wealth-management and credit-card fees recovered. Wealth-management fees grew 25% QoQ and 6% YoY, a strong recovery. Credit-card fees of S$160mn were up 22% QoQ, though still down 20% YoY as consumer spending on big tickets such as travel remained subdued.
Trading income grew 11% YoY to S$608mn as the bank continued to realise profits on investment securities. QoQ, it was down 18% from a high base. Altogether, non-interest income offset the weakness in NII.
+ Allowances tapering off
Allowances of S$554mn were 35% lower than the S$849mn recorded in 2Q20. They are expected to stabilise as the bank comes off front-loaded provisions of S$1.94bn in 1H20. This is expected to lift pressure on profits in subsequent quarters.
The Negatives
– NII fell 12% YoY as NIM was compressed 37bps to 1.53%
NIM further tightened 9bps QoQ from 1.62% to 1.53%, chipping NII by 6%. The low NIM was a result of low interest rates, loan contraction of 1% and an increase in deposits of 1%.
Outlook
Asia embarks on swift recovery
The bank expects a strong economic rebound in Asia in 2021 to support mid-single-digit loan growth in FY21. However, as Singapore loan growth remains tepid, we are hesitant to revise our loan-growth assumptions of 2-3%. A strong fee-income recovery to pre-COVID level is expected to support its income recovery in 2021.
Investment Action
Maintain NEUTRAL with higher target price of S$22.60, up from S$21.00
We hold our FY21e earnings estimate and peg our GGM valuation to a higher FY21e ROE of 11.4%. The higher ROE comes from improved income and lower allowances that are expected to increase profits by 16% in FY21e.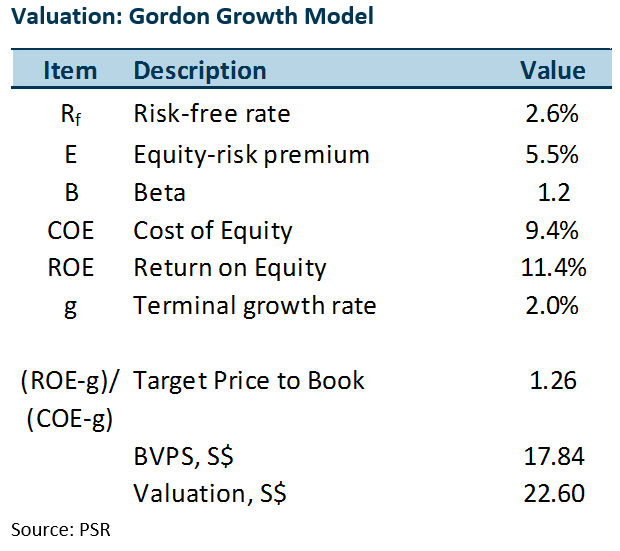 About the author