FIRST SPONSOR GROUP LIMITED - Property development, the growth driver
28 Oct 2020
4% YoY growth in 3Q20 gross profit largely attributable to 246% YoY growth in property development revenue. 9M20 PATMI up 33.4% YoY
Unrecognised development revenue of S$599mn. S$1.93bn of gross development value (GDV) for unlocking, equivalent to six years of sales.
Enlarged share base from 1:4 bonus issue. Maintain BUY with revised target price of S$1.56, from S$1.65 previously; Valuation is based on a 90% diluted basis (previously 100%)

The Positives
+ Robust 3Q20, notwithstanding Covid-19. 3Q20 revenue rose 34.7% YoY, led by more carpark lots sold at its Millennium Waterfront project (Plot A: 1091; Plot C: 882) which have zero carrying book costs. 9M20 topline held up, largely due to a 41.8% YoY increase in property financing revenue. The increase was aided by one-off loan restructuring income of S$15.5mn and establishment fees from its new development venture in Australia.
+ Better-than-expected property holdings. Its two Wenjiang hotels made a combined gross operating profit of RMB6.7m during the quarter, up 39% YoY. European hotels were mixed. While most of its non-core-city Bilderberg hotels and Bilderberg Bellevue Hotel Dresden in Germany benefited from local leisure demand during summer, its two core-city Bilderberg hotels in Amsterdam and Rotterdam were hit by low corporate demand. Nevertheless, the European hotels made a gross operating profit of €3.9 mn for 3Q20 vis-à-vis -€3.6mn in 1H20.
+ 14.8% YoY DPS growth registered in FY20e. In lieu of a final dividend, FSG has announced a second interim cash DPS of 2.0c for FY20, bringing total DPS declared YTD to 3.1c. This is 14.8% higher than the FY19 full year DPS of 2.7 cents. FSG will work towards a stable dividend payout with a steady growth when appropriate, subject to prevailing market conditions.
The Negatives
–  Financial subsidies from governments which cushioned hotel losses to taper off. FSG's European hotels are being supported by subsidies from the German and Dutch governments, which provided a €4.9mn cushion to the hotels' gross operating profits. The Dutch government recently announced Temporary Emergency Measure for the Preservation of Jobs (NOW) 3, which is less generous than NOW 1 and 2. NOW 1 and 2 allowed claims of up to 90% of a company's wage bill, depending on loss of turnover. Under NOW 3, the wage claim is capped at 80% and will be decreased every three months: from 80% to 70% and to 60%.
Mixed outlook due to European hotels
Dongguan still vibrant. The Dongguan property market continues to see overwhelming demand for the residential properties and unwavering strength in the selling prices. Most inventories at FSG's existing projects that were eligible for presales – Star of East River, Emerald of the Orient and the Pinnacle – were sold as of 3Q20. Some properties that are ineligible for presales have also been pre-booked 2-5 years in advance with upfront cash deposits. According to FSG, over 7,000 interested applicants have registered for the presales of 830 units at its upcoming Skyline Garden project. Presales are expected to commence next month. FSG is confident that the units at Skyline Garden will see good buying interest.
Humen TOD project to be the key project from FY21 onwards. Construction work has begun for the first sector of its newly-acquired Humen transit-oriented development project. Sector 1 has a land area of c.46,300 sqm and constitutes c.231,500 sqm of the 1mn sqm GFA project. We are expecting completion of this sector to bring in c.S$220-230mn of gross development value upon handover in 2022/2023 as the progressive launch of this project is expected to commence in the second half of 2021.
Possible Plot E Sale. The company announced it has been approached by an independent third party with regard to Plot E of the Chengdu Millennium Waterfront project. Plot E is expected to
comprise three blocks of approximately 2,900 SOHO units and an elder care centre of total 304,300 sq m (includes a hospital building of 69,500 sqm), 91,800 sqm of commercial / retail space
and 3,200 underground carpark lots. Upon completion, we are expecting the handover to bring in c.S$630-640mn of gross development value.
Property financing is stable. With regards to FSG's property financing business, its PRC loan book remained steady at RMB2295.3mn. While FSG continues to receive requests for loans, it remains selective as it is looking to pace its loan growth with its property development business.
Hotel woes. As the number of Covid-19 cases in Europe continues to spike, we are less optimistic on its European hotels, even for the ones located away from cities. 3Q20 occupancy at its Bilderberg Bellevue Hotel Dresden was in the mid-70s to high 90s everyday, as it benefitted from being in the countryside. These numbers have since tumbled to the low 60s-70s. At its key Amsterdam and Rotterdam hotels, occupancy was low teens on good days and low single digits on other days. These hotels would be affected when subsidies from the government dwindle in the coming months. We expect some mark-downs in the fair value of the hotels at year end. A 3% decline in hotel investment properties implies a c.S$1.8mn impact on revenue (FY19 hotel revenue: S$60.8m).
Covid-19 has driven more hotels into liquidation. Some lessees are also looking to return their operating leases. With cash of S$474.9mn and low net gearing of 0.12x, FSG has the balance-sheet strength to pursue opportunities. In October, it successfully refinanced S$50.5mn worth of debt and upsized its revolving credit facilities by S$124.5mn. Coupled with undrawn facilities and potential equity infusions from the exercise of outstanding warrants, FSG is exploring new business opportunities.
Maintain BUY with revised TP of S$1.56. Our target price implies a total potential return of 24.3% and dividend yield of 2.4%. It remains based on a 30% discount to FSG's diluted RNAV per share. Our new TP is based on its enlarged share base after its 1:4 bonus warrant issue announced on 23 July, factored on a 90% diluted basis (1196mn) from 100% previously. Unexercised warrants total 416mn, which increase issued ordinary shares to 1,329mn on a fully diluted basis (1H20: 1,102mn). Based on its current 912mn shares, our TP is S$2.04.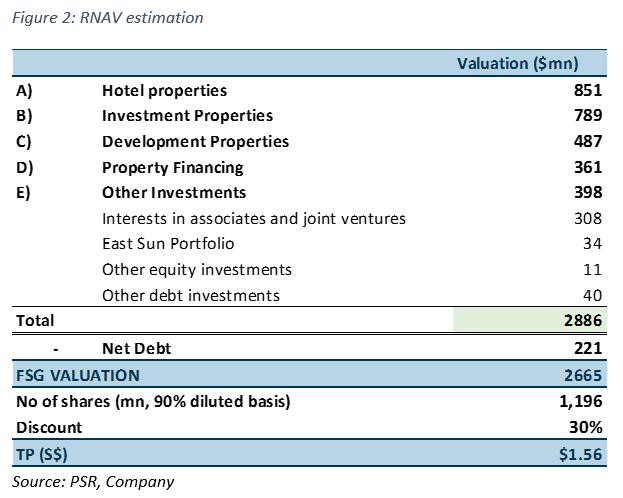 About the author