Hyphens Pharma International Ltd - Shaking off COVID-19 woes with expanded portfolio
20 Aug 2020
Earnings of S$4.28mn make up 64% of our FY20e estimates.
Revenue growth of 10% YoY in 1H20 was held up by an all-around stronger 1Q20 result as well as a 24% growth YoY in revenue from proprietary brands in 2Q20.
Cash flow for 1H20 was down S$1.7mn as inventory levels were elevated in anticipation of disruptions arising from product license renewals in Vietnam.
Group continues to invest into building its proprietary brands portfolio with acquisition of haircare product CG 210® and new product launches across its Ceradan® and Ocean Health® brand portfolio.
Maintain ACCUMULATE with upward revision in TP to S$0.495 (prev S$0.435). We revise FY20e earnings upwards by 25% to reflect strong revenue growth and income recognised from Job Support Scheme in 2H20.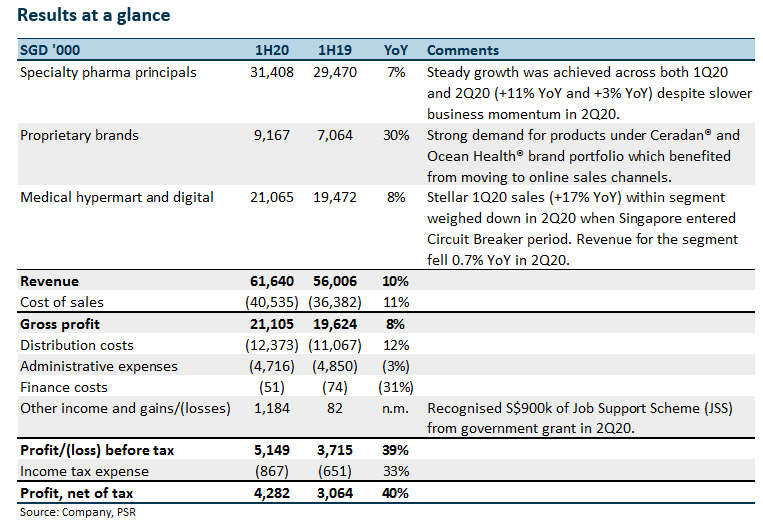 The Positives
+ Proprietary brands revenue benefited (+24% YoY) from online sales channel during Circuit Breaker period in the second quarter.
Strong revenue growth within the proprietary brands segment was sustained throughout 1H20 with 1Q20 growth of 36% YoY and 2Q20 growth of 24% YoY. Demand across Ceradan® and Ocean Health® brand portfolio in 1H20 benefited from the Group's move towards online sales channels in late FY19.
+ Underlying revenue growth intact despite slower second quarter.
Specialty pharma principals as well as medical hypermart and digital saw modest growth of 7% and 8% YoY in 1H20 respectively despite business slowdown during the second quarter as a result of disruption from COVID-19 across various geographies.
The medical hypermart and digital segment fell 0.7% YoY in the second quarter due to the nationwide Circuit Breaker implemented which saw dampened demand for medical supplies and prohibition of face-to-face interactions.
The Negatives
– Inventory stock-up in anticipation of product license renewals weigh on cash flows.
Due to expected delays in product license renewals typically observed in Vietnam operations, the company has started building up inventory to ensure supply in Vietnam is not disrupted. Inventory levels increased by S$4.7mn in the quarter as a result. This was partially offset by a strong set of operating performance to see the group record a net cash outflow of S$1.7mn for 2Q20.
Nevertheless, inventory levels should normalize in FY21 and the Group continues to maintain a healthy cash balance of S$26mn despite the tougher operating environment in 1H20.
Outlook
Active expansion of product portfolio continues to provide growth catalysts.
During the quarter, the Group acquired hair growth product brand CG 210® to strengthen its proprietary brands portfolio. CG 210® will be sold through medical channels in Singapore and retail channels in Malaysia at the onset with plans to shift sales to retail channels for the Singapore market. New product launches across existing brand portfolios Ceradan® and Ocean Health® also provides the Group with new revenue streams.
Expanded product portfolio will contribute positively to the Group's top line from FY20 but the impact of contribution will be contingent on the uptake of new products.
Ocean Health® enters Hong Kong market with the inking of partnership deal with SUTL.
Hyphens Pharma enters the US$722mn vitamins and dietary supplements market in Hong Kong with the inking of a Distribution Agreement of Ocean Health® products with lifestyle group SUTL.
SUTL is known for its extensive distribution network of Fast-Moving Consumer Goods (FMCG) brands across 14 markets in Asia and Ocean Health® is the first health supplement product to be distributed under the Company.
The deal will provide the Group with an established retail sales channel for its Ocean Health® products to enter a competitive market.
Investment Actions
We maintain our ACCUMULATE recommendation with a revised TP of S$0.495 (prev S$0.435). FY20e earnings was adjusted upwards by 25% to reflect strong top-line growth and income recognised from the Job Support Scheme in Singapore. We also adjusted terminal growth rate from 1.5% to 2.0% to represent the plentiful organic and inorganic growth opportunities in the long term within the fragmented industry.
About the author