Keppel Corporation -1Q22 see drag from Urban Development
27 Apr 2022
1Q22 revenue of $2.1bn was below of our forecasts, at 23.5% of FY22e. The drag came from the Urban Development business.
The update mentioned 1Q22 net profit was higher YoY, with improved performance from all its business segments except Urban Development. Keppel Offshore & Marine's (KOM) recorded a significantly reduced net loss and was EBITDA positive.
Significant progress made on advancing the sale of KOM legacy rigs and associated receivables, working towards definitive agreements by 30 April 2022.
Maintain BUY with unchanged SOTP TP of S$7.07. We valued the Group based on the four new segments unveiled during Vision 2030 to better reflect the Group's reporting segments going forward. Our TP translates to about 1.0x FY22e book value, in-line with its 5-year average. Catalysts expected from a successful resolution of its O&M unit.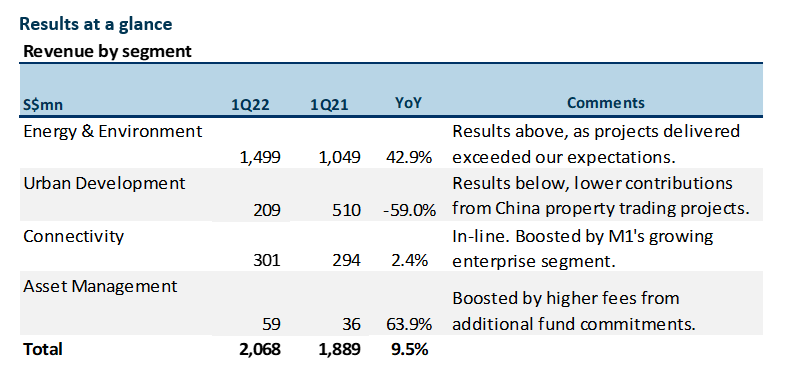 Positives
+ 1Q22 net profit was higher YoY, with improved performance from all its business segments except Urban Development. In its 1Q22 voluntary business update, Keppel reported improvements in its profits driven by improved performance from its segments. The net profit was not provided in this voluntary business update.
Energy & Environment: KOM recorded significantly reduced net loss YoY and was positive on the EBITDA level due to higher levels of activity. Op Co was also profitable for 1Q22 as the Group's streamling of its operations begins to pay off. In 1Q22, KOM secured new orders worth $76mn. In view of improving conditions, management is confident of substantially monetising KOM's legacy rigs in the next 3-5 years.
Urban Development: Revenue from this segment was below our expectation as sentiment in China has turned cautious after the debt crisis affecting developers. The recent lockdowns have also caused some short-term disruptions to operations in affected cities. Keppel Land sold 540 homes in 1Q22, compared with 1,360 homes sold a year ago, due mainly to the timing of new project launches, a number of which management guided are slated for launch later in 2022.
Connectivity: Revenue from M1 increased to $260mn from $254mn driven by its enterprise segment.
Asset Management: Increase driven by new funds raised, as well as acquisition fees for new acquisitions done, such as the deal that Keppel Infrastructure Trust did, namely the Aramco deal.
+ Significant progress made on advancing the sale of KOM's legacy rigs and associated receivables, working toward definitive agreement by 30 April 2022. Keppel had previously announced that it will be transferring its legacy completed and uncompleted rigs and associated receivables to a separate company (Asset Co) that would be majority owned by external investors. This Asset Co transaction and the proposed combination between KOM and SembMarine will be inter-conditional, and they are being pursued concurrently.
Should the proposed transaction be successfully completed, external investors will provide capital for completing these uncompleted rigs, which would reduce Keppel's capital requirement. Keppel's economic exposure in Asset Co is also expected to be reduced over time, as the rigs or Asset Co are sold or securitised when conditions in the rig chartering market improve.
Negatives
– Uncertainty in China market cause drag on property sales. The debt crisis last year along with the recent lockdowns has caused sentiment to weaken in China. With a few property projects slated for launch in the 2H22, we will be watching this closely to gauge the home buyer sentiment.
Outlook
With the chapter on Singapore Press Holdings (SPH SP, Non-rated) now closed, we turn our attention to the proposed merger of KOM and Sembmarine (SMM SP, Non-rated). Management is working towards signing definitive agreements by end-April 2022. The outlook of the industry is also improving, underpinned by firmer oil prices. Modern jackup rig utilisation and day rates are expected to improve as oil prices continue to rise. We expect KOM's legacy rigs to be substantially monetised in the next three to five years on the back of the improving industry outlook. While nothing has been firmed up, we view the developments positively as it provides better clarity on the fate of its O&M unit. With the overhang removed, along with the divestment of its logistics unit, we believe Keppel will be re-rated.
About the author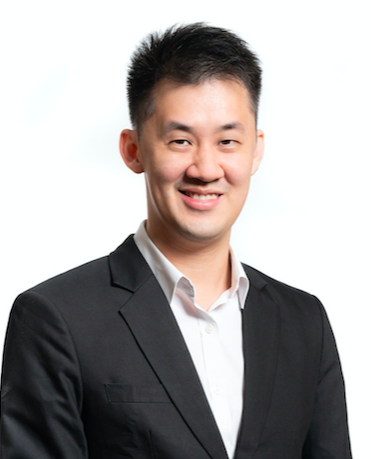 Terence Chua
Senior Research Analyst
Phillip Securities Research
Terence specialises in the consumer, conglomerate and industrials sector. He has over five years of experience as an analyst in the buy- and sell-side. As an institutional fund management analyst, he sat on the China-Hong Kong desk. Terence was ranked top 3 for Best Analyst under the small caps and energy category in the Asia Money poll 2018.

He graduated from the Singapore Management University with a major in Finance (Honours), and is the honoured recipient of the CFA scholarship.