Global X Lithium & Battery Tech ETF - Stock Analyst Research
| | |
| --- | --- |
| Target Price* | - |
| Recommendation | REDUCE |
| Market Cap* | - |
| Publication Date | 4 Jan 2022 |
*At the time of publication
Title: 5 things to know about the first Electric Vehicles (EV) ETF on SGX
These days when you speak to friends on investment and trading, there is bound to be some discussion on Electric Vehicle (EV) counters such as Tesla, Nio, Xpeng or even ETFs like the Global X Lithium & Battery Tech ETF, LIT. And today almost every active investor or trader has invested in one of these major EV companies.
The EV trend
The number of electric cars has jumped 5 fold from 2 million in 2016 to cross 10 million in 2020 according to data compiled by International Energy Agency (IEA)1. And despite the COVID-19 pandemic fallout, the number of electric car registrations in 2020 continues to increase in major markets. The development of the battery-powered electric vehicles is one of the main catalysts driving the expansion. Battery-powered electric vehicles accounted for two-thirds of the new electric car registrations in 2020, with China having the largest fleet of 4.5 million electric cars.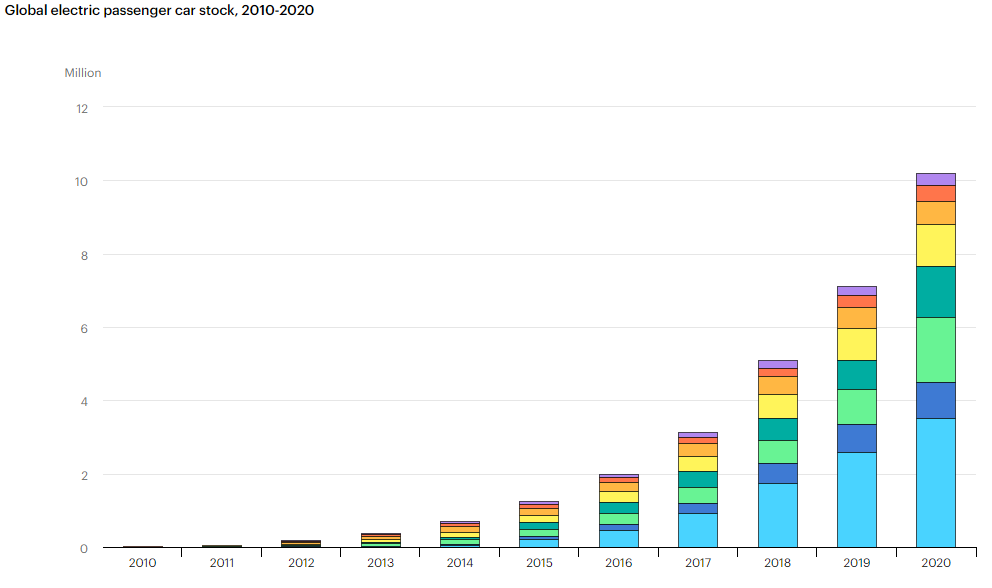 Source: IEA
What are the prospects for EVs?
Based on one scenario projected by the IEA, the global EV stock across all transport modes (excluding two/three-wheelers) will expand from about 10 million in 2020 to almost 145 million vehicles by 2030. This is an annual average growth rate of nearly 30%. In this scenario, EVs will account for about 7% of the road vehicle fleet by 2030. In China, EV sales shares across all modes (excluding two/three-wheelers) is forecasted to reach over 30% in 2030 in this scenario.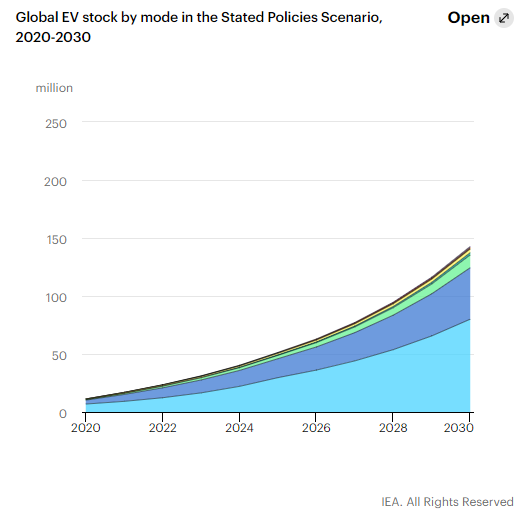 Source: IEA
How does this impact you as an investor?
With the rise in EV car sales, more global listed companies including traditional automotive companies are getting onto the bandwagon. So the decisions that an investor has to make have become a bit more challenging.
As a result, not only does one have to use his analytical and forecasting skills to pick the next "Tesla" from a range of companies involved in autonomous vehicle manufacturing, but one also needs to consider the other parts of the EV "ecosystem", such as raw materials mining and battery production.
Here is material on the different segments, which include the names of ETFs and counters. With the growth of several connected industries, we see that there is an increase in the number of ETFs that track the autonomous vehicle segment. This is not only happening on US exchanges, and exchanges like HK and Australia, but is now happening on the Singapore Exchange (SGX).
What is the ETF and its underlying index?
Come 20 Jan, 2022, Singapore Exchange (SGX) will commence trading of the Nikko-AM StraitsTrading MSCI China Electric Vehicles and Mobility ETF on SGX. The underlying index "MSCI China All Shares IMI Future Mobility Top 50 Index" tracks the performance of Chinese companies that are expected to derive significant revenues from energy storage technologies (including electric vehicles), autonomous vehicles, shared mobility and new transportation methods.
According to the Product Info Sheet, this ETF will be trading with SGD as the main traded currency, and investors have the option to trade in USD as the secondary currency. The trading lot size is 1, in line with the change by SGX to reduce the board lot size of all SGX-listed ETFs to 1 unit. This initiative will help investors to use ETFs as a building block for your investment portfolio and adopt dollar cost averaging. The index historical return for 3 years is 72.1% and there is no dividend distribution policy as stated in the Info Sheet.

 What are the top 10 constituents?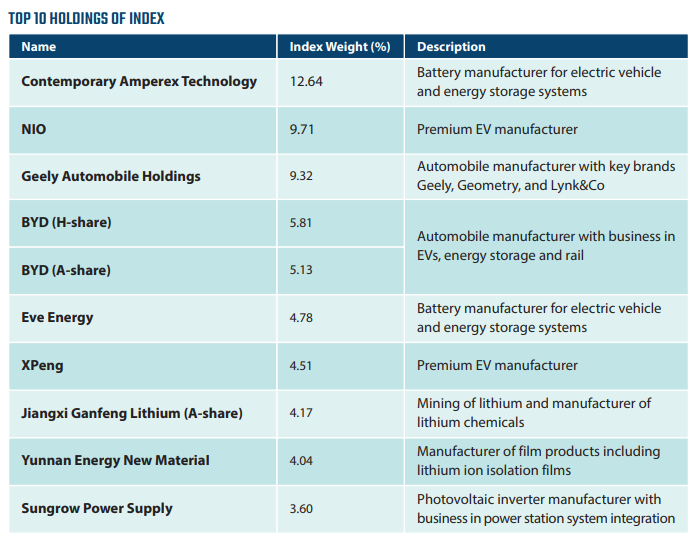 Source: Nikko Asset Management3, MSCI, 29 October 2021
Among the top 10 constituents of the index, investors will be familiar with companies like Nio, Geely, BYD and Xpeng.  However, the top constituent is Contemporary Amperex Technology Limited which is a Shenzhen Exchange listed company (SHE: 300750). It has revenues of US$7.76 Billion in 2020 and the number of employees exceed 20,000. Its primary industry is in battery production and energy storage. It is also the world's largest manufacturer of EV batteries and its related affiliates2 include Tesla, BAIC, GAC Group, Chang'an Automobile, Dongfeng, Mercedes-Benz.
The counters are diversified across the different segments such as EV manufacturer and battery manufacturer. The index will cap individual securities to a maximum weightage of 10% at each index review conducted on a semi-annual basis. Hence, during the next review the weightage of Contemporary Amperex will be reduced from its current 12.64%.
Where to find more information in this ETF
The ETF's initial offering period will start from 3 Jan 2022 and investors will be able to apply through the various participating dealers including POEMS. For POEMS customers, you can apply online using your POEMS trading account. For non-POEMS customers, you can open an account here. The closing date will be 13 Jan 2022, 5pm and the listing will commerce on 20 Jan 2022. Customers can apply from 1,000 units onwards and allotment will be in full (as compared to balloting for stock IPOs). The commission fee is a minimum of SGD 8 or 0.08%, whichever is higher, based on the application value (subject to GST).
To help investors better understand on this new ETF, there will be 2 webinars on 7 January 2022 (Friday) 6.30pm to 7.30pm and 8 January 2022 (Saturday) 10am to 11am.
During the webinar, Nikko Asset Management will share information on the China Electric Vehicles and Future Mobility ("EVFM") sector, including the trend of policies, tailwinds and rapid supply-side innovation.
Information on the application will be shared during the webinar as well.
Meanwhile you can find more information on the application here. Alternatively, you can contact your trading representative, visit the nearest Phillip Investor Centres for further assistance or email us at etf@phillip.com.sg if you have further inquiries.
Sources:
1 International Energy Agency, 2021, https://www.iea.org/reports/global-ev-outlook-2021
2 All the electric car companies in China, April 2021, https://supchina.com/2021/04/20/all-the-electric-car-companies-in-china-a-guide-to-the-27-top-players-in-the-chinese-ev-industry/
3 Nikko Asset Management, 2021, https://www.nikkoam.com.sg/files/documents/brochures/Brochure_evfm.pdf
About the author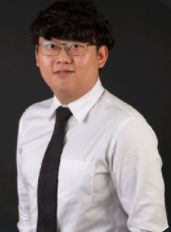 Louis Tan
Equities Dealer
Global Markets
Louis joined Phillip Securities in Aug 2021 as an Equity Dealer in the Global Markets Team. He specializes in the Day markets assisting clients and supporting the South East Asian markets. Louis graduated from Singapore Institute of Management, Royal Melbourne Institute of Technology (SIM-GE) in 2020 with a bachelor's degree in Economics & Finance. He migrated over from the banking industry, looking to further improve his investment knowledge.