NetLink NBN Trust - Steady as she goes
11 Nov 2020
Revenue and EBITDA in 1H21 were within expectations, at 48%/49% of our FY21e forecasts. EBITDA rose 3.4% YoY to S$139mn.
Dividend was virtually unchanged YoY at 2.53 cents (1H20: 2.52 cents).
Residential connections recovered from circuit-breaker downtime in 2Q21 with net adds of 9,088 (1Q21: +827). Non-residential connections also rebounded to 470 from -681.
Our ACCUMULATE rating and DCF TP of S$1.03 (WACC 5.9%) are unchanged. Connections and installation revenue came back in 2Q20. Steady dividend yields of 5.2% are backed by monthly recurrent cash flows from its 1.44mn fibre connections to homes and businesses. We narrow our full-year dividend to 5.08 cents from 5.09 cents.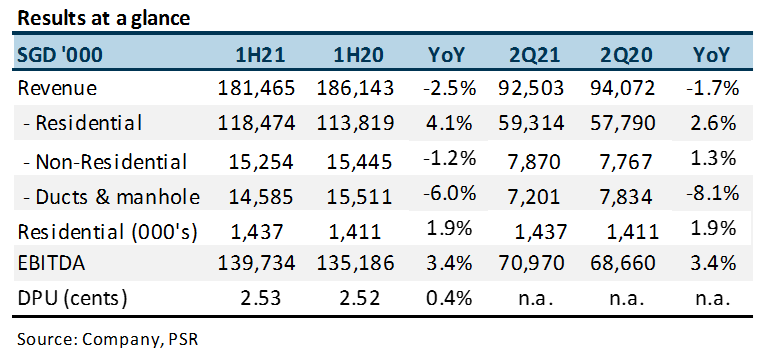 The Positive
+ Connections recovered from lockdown. Residential connections were 9,088 in 2Q21, after only 827 in 1Q21. Another positive was its addition of 470 non-residential connections, though still not sufficient to cover 1Q21's loss of 681 connections.
The Negative
­– Ducts and manholes could deteriorate further. Revenue from this segment could remain weak as joint projects with its major telco customer have slowed down. This customer is building its own fibre projects and has become less reliant on NetLink.
Outlook
Operations are expected to be stable, supported by a gradual rise in residential connections. Following the migration of StarHub's (STH SP, NEUTRAL, S$1.24) customers from cable to fibre in 2019, residential connections are now trending at 5,000 per quarter vs. 24,900 in FY20. This is consistent with expected annual household formations in Singapore. FCF of S$113mn generated in 1H21 can well cover the S$98.6mn in dividends payable, in our estimation.
Maintain ACCUMULATE and TP of S$1.03
Dividend yields remain attractive and sustainable. Minimal changes to our forecasts. For FY21e, we are still expecting a DPS of 5.08 cents. This implies a payout of S$198mn, which should be supported by FY21e FCF of S$204mn.
About the author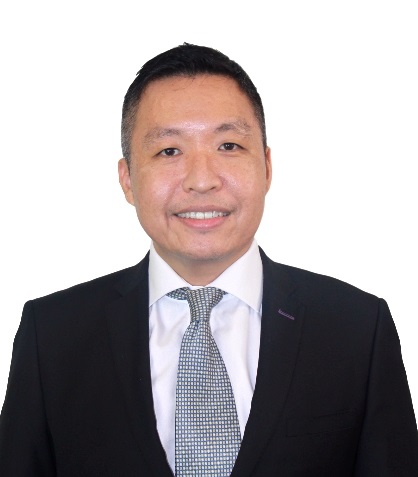 Paul Chew
Head of Research
Phillip Securities Research Pte Ltd
Paul has 20 years of experience as a fund manager and sell-side analyst. During his time as fund manager, he has managed multiple funds and mandates including capital guaranteed, dividend income, renewable energy, single country and regionally focused funds.

He graduated from Monash University and had completed both his Chartered Financial Analyst and Australian CPA programme.