Raffles Medical Group Ltd-Convalescing
26 Feb 2021
FY20 earnings beat estimate by 61% with the variance coming from S$28mn of JSS income and new COVID-19-related services.
Healthcare services grew 18% YoY as PCR and serology testing offset loss of foreign patients due to travel restrictions.
China operations improved from FY19. RafflesHospitalChongqing narrowed losses. Completion of RafflesHospitalBeijing's upgrading to accelerate growth in China.
Upgrade from NEUTRAL to ACCUMULATE with higher TP of S$1.18 from S$0.94, as we roll forward our DCF (WACC 6.6%) valuation. China operations expected to turn around.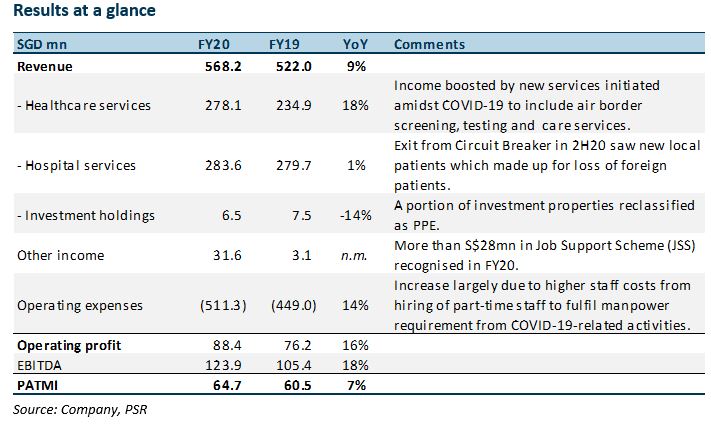 The Positives
+ Strong healthcare services
Income grew 20% YoY in FY20, faster than the +6% in 1H20. Apart from offering air border screening and testing of foreign workers in dormitories in 1H20, the Group introduced new services such as PCR and serology testing in 2H20 as part of the national effort to combat COVID-19.
+ Hospital services stable with new patients
Despite loss of foreign patients due to travel restrictions, revenue from hospital services was resilient with new patients after Singapore exited its circuit breaker. As countries roll out vaccination programmes, we expect a gradual recovery in foreign patient load.
The Negatives
– Operating expenses rose on higher staff costs
Staff costs increased 9.3% YoY from S$267mn to S$291mn due to manpower intensity during COVID-19. JSS income of S$28mn in FY20 minimised the impact on earnings. With wage support tapering off by 1H21 and RafflesHospitalShanghai's gestation, costs are expected to continue creeping up in FY21e.
Outlook
China operations back in action
The performance of RafflesHospitalChongqing improved in FY20 from FY19 despite a challenging operating environment. It remains on track to break even in FY21 as China has contained COVID-19 swiftly.
The Group completed upgrading work at RafflesHospitalBeijing to support inpatient services and offer minimally-invasive surgeries. This is expected to boost profitability.
The opening of RafflesHospitalShanghai has been delayed. It will open by mid-FY21. We expect narrower EBITDA losses than RafflesHospitalChongqing due to the existing presence of Raffles Medical's clinics in Shanghai. Being a more cosmopolitan city with a bigger expat presence, demand for private healthcare in Shanghai is expected to be higher.
Recommendation
Upgrade to ACCUMULATE with higher TP of S$1.18, from S$0.94
While revenue growth is expected to be healthy in FY21, we lower earnings by 10% to factor in RafflesHospitalShanghai's gestation in 1H21 and the higher expenses related to expanded businesses.
We also roll forward our DCF (WACC 6.6%) valuation to include FY23e free cash flows, when we expect Chongqing to turn profitable and Shanghai to break even.
About the author