Thai Beverage PLC-Hail spirits and cost savings
15 Feb 2021
1Q21 revenue and PATMI were within expectations, at 27%/31% of our FY21e forecasts. Revenue is down 5%, PATMI up 0.5% YoY.
Spirits volume was up a modest 0.3%, with PATMI rising 3%. Spirits is 84% of group PATMI.
Beer volumes dipped 11.6% YoY but PATMI tripled from aggressive cost-cutting.
Downgrade to ACCUMULATE on account of the recent share price appreciation. Our target price is unchanged at S$0.86 as we leave FY21e forecast unchanged. Our TP is based on 18x earnings, its 5-year average. We expect volumes to recover this year worth the absence of lockdowns and alcohol bans. On the potential listing of Beerco, if we assume a 30x historical PE listing and 20% sales, interest savings is around 3% of FY21e PATMI. However, around a third of the interest savings will be offset by the S$360mn required to subscribe for associate Fraser Property rights issue. Another third by a dilution in beer earnings.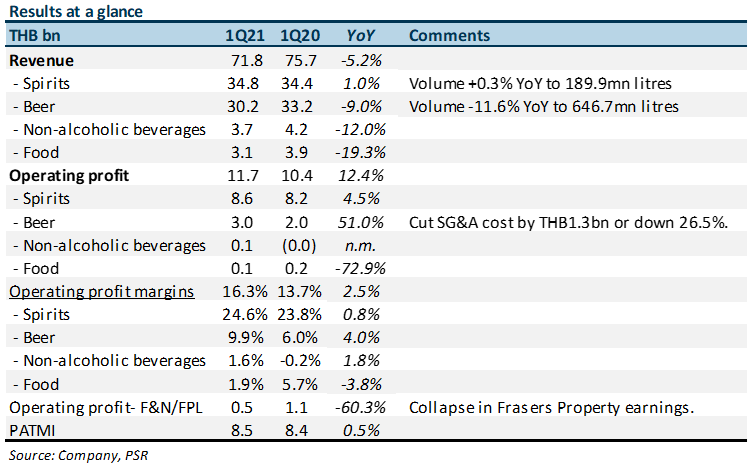 The Positives
+ Resilient spirits divisions. Volume growth in spirits was stable, improving 0.3% YoY despite the pandemic in Thailand. Spirits are consumed off-trade or in homes and less affected by closures of entertainment or retail channel. In comparison beer volumes in Thailand fell 6.5% YoY.
+ Aggressive cost cuts especially in beer division. The major driver to earnings growth has been aggressive cost cuts. Total administration and distribution cost for the group contracted 10.6% or THB1.6bn. Bulk of the operating cost cuts came from beer division, where slashed a massive THB1.3bn of cost (or down 26.5% YoY.
The Negatives
– Sabeco still suffering. Another weak quarter with volumes down 11.6% YoY. A combination of Decree 100, a typhoon in October and late Tet (10 days later from a year ago).
– Plunge in Frasers Property earnings. 1Q21 PATMI contribution from associates, Frasers Property and F&N, was down 58% YoY to THB433mn. There was limited disclosure but lower property development income and weakness in hospitality and retail operations.
Outlook
The re-occurrence of COVID-19 in Thailand in December renewed restrictions and lockdowns on gatherings and entertainment activities. On-trade channels were more affected as reflected by soft beer consumption. We expect a gradual recovery in alcohol consumption especially from pandemic and alcohol ban affected FY20. For Sabeco, volumes should improve as the impact from Decree 100 wanes off.
With regards to Beerco listing, FY9/20 PATMI was S$198mn. If we assume 30x PE, similar to global peers, the market cap will be S$5.9bn. Assuming 20% stake is sold, interest savings (after tax) is around S$33mn (THB750mn). This is around 3% of our FY21e PATMI. But the 20% dilution will shave around THB250mn off PATMI.
Another development is the 37 to 100 rights shares for issue by Frasers Property at $1.18 per shares. ThaiBev owns 824.847mn shares (or 28.12%) of Frasers Property. The company has given an irrevocable undertaking to subscribe for their allotted 305.193mn shares. Therefore, ThaiBev will fork out $360mn for the rights.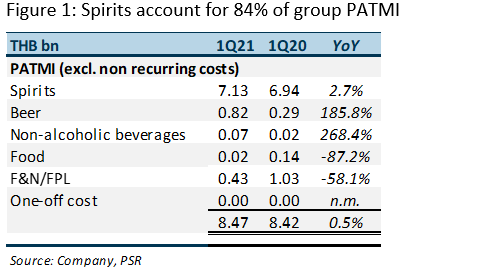 About the author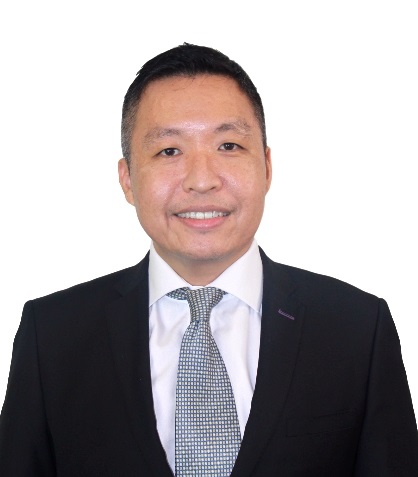 Paul Chew
Head of Research
Phillip Securities Research Pte Ltd
Paul has 20 years of experience as a fund manager and sell-side analyst. During his time as fund manager, he has managed multiple funds and mandates including capital guaranteed, dividend income, renewable energy, single country and regionally focused funds.

He graduated from Monash University and had completed both his Chartered Financial Analyst and Australian CPA programme.