Apple Inc - Super-cycle in price, margins and product
20 Aug 2021
Record iPhone sales expected in FY21e and FY22e, topping its 4G super-cycle in 2015. 5G push for iPhone upgrading.
Margins to stay elevated from fast-growing services and higher selling prices of new 5G products.
Initiate coverage with BUY recommendation and DCF target price (WACC 5.8%) of US$187.0.
Company Background
Apple's revenue comes from the iPhone (50% of FY20 revenue), iPad (9%), Mac (10%), wearables, home and accessories (11%), and services (20%). Main markets are the Americas (45%), Europe (25%), Greater China (15%), Japan (8%), and the rest of Asia Pacific (7%).
Investment Merits
5G to drive record iPhone sales. Apple's flagship 5G iPhone 12 line-up launched in 2020 sold 100mn units two months earlier than the iPhone 11. Volumes were close to its iPhone 6 super-cycle during the 4G transition in 2015. Customers see 5G as a key reason for upgrading their iPhones after years of holding back replacements. Apple's new iPhone 13 line-up is expected to be launched in September 2021, featuring up to 20% more efficiency and larger batteries to complement the power-hungry 5G phone. In anticipation of strong demand, Apple has ordered more than 100mn A15 chips from TSMC for the launch, 25% more than the 75mn chips for its 2020 iPhones. We expect the iPhone super-cycle to continue, with FY21e and FY22e sales potentially topping 2015's record of 231mn units sold. This would be powered by upgrades from an estimated 48% of the iPhone users still using iPhone X and older. iPhone sales are Apple's main cash cow, at 50% of sales in FY20.
Margins to remain elevated. Strong growth in Apple's services is expected to lift gross margins, together with higher ASPs of 5G devices in the product segment. Service margins of 66% are more than double product margins. Service revenue has also been expanding at a faster CAGR of 17% vs flat growth for iPhone. Growth is spearheaded by Apple's ever-growing installed base, which topped 1.65bn in January 2021. Apple expects service growth to moderate after a bumper 3Q21 – when YoY growth was 33% from the COVID-19 rebound – to more sustainable double digits. Apple's 5G products also allow it to raise weighted ASPs by more than 20% from a year ago, boosting product margins. We expect gross margins to track above 40% in FY21e and FY22e, higher than their 5-year historical average of 38%.
Gaining market share through supply-chain dominance. As competitors grapple with chip shortages, Apple's share of global smartphone sales breached 5-year highs, hitting 21% in 4Q21. In the high-end market, Samsung was hit by its Texas semiconductor fabrication plant's month-long power shut-down and Vietnam factory suspensions due to COVID-19. Samsung's new Galaxy Note's launch in 2H21 may be delayed as a result. Apple managed to mitigate shortages in 3QFY21, with the revenue impact coming in lower than its US$3-4bn guidance. Apple holds buying power over suppliers through scale purchases and upfront cash payments, leaving competitors handling price shocks and shortages created by Apple deals.
We initiate coverage with a BUY rating. Our target price is US$187.0, based on DCF valuation with a WACC of 5.8% and terminal growth of 3.0%.
REVENUE
Apple has five revenue segments: iPhone (50% of sales), Mac (10%), iPad (9%), Wearables, Home and Accessories (11%), and Services (20%). The first four are grouped under products. Wearables, home and accessories consist of AirPods, Apple TV, Apple Watch, Beats products, HomePod, iPod touch and other Apple-branded and third-party accessories. Services are licensing, App Store, AppleCare, iCloud, Apple Music, Apple Pay and iTunes. Service revenue grew by a 17% CAGR from FY16 to FY20 to double from 9% to 20% of total revenue (Figure 3). iPhone revenue was flat in the same period but is expected to surge in FY21 and FY22.
EXPENSES
Cost of sales grew at a 5% CAGR from FY16 to FY20, in line with its revenue CAGR of 5%. Operating expenses include selling, general and administrative expenses (7% of sales) and research and development (7%). Over the past five years, SG&A consistently ranged at 6-7% of sales, while R&D grew from 5% to 7% of sales. Total operating expenses grew at a 8% CAGR.
MARGINS
Gross margins averaged 38% in the past five years. Margins for services averaged 61% in the past four years, almost double the product margins of 33%. We forecast elevated margins for both services and products for FY21 and FY22 on the back of higher ASPs of new 5G devices and a higher installed base for services boosting operating leverage. Normalisation of freight costs could jack up product margins further.
BALANCE SHEET
Assets: Fixed assets increased modestly by 36% in the past five years to US$37bn, roughly in line with revenue growth of 27% between FY16 to FY20. Fixed assets only comprised 8% of total assets as Apple outsources most of its manufacturing needs. Inventory grew 90% in the past five years to US$4bn, likely due to Apple's wider range of product line-ups in recent years.
Liabilities: Net debt averaged US$19bn in the past five years. It was pared down to lower levels in FY19 and FY20 as fixed assets were flat in those years.
CASH-FLOW
Apple historically generates strong cash flows every year. Cash flow from operations in FY20 jumped 16% YoY to US$81bn from a strong iPhone 12 launch. Much of the cash was used for stock repurchases of US$72bn in that year. Meanwhile, capex averaged US$11bn in the last five years, largely stable.

BUSINESS MODEL
Apple designs, makes and markets smartphones, personal computers, tablets, wearables and accessories, and sells a variety of related services. Customers are primarily in the consumer, small and mid-sized business, education, enterprise and government markets. Apple sells its products and resells third-party products in most of its markets directly to customers through retail and online stores and a direct sales force. It also distributes indirectly through third-party cellular network carriers, wholesalers, retailers and resellers. FY20 net sales through direct and indirect distribution channels accounted for 34% and 66%, respectively, of total net sales. No single customer accounted for more than 10% of net sales in 2020, 2019 and 2018. Main markets are the Americas (45% of FY20 sales), Europe (25%), Greater China (15%), Japan (8%), and the rest of Asia Pacific (7%).
In the service segment, the main revenue contributor is the App Store, which takes in 30% of revenue from in-app purchases of games, app sales, and app subscriptions. Next is licensing, which includes payments from companies like Google to be featured on Apple products. Other services include AppleCare, which is Apple's extended warranty service with a price range that depends on the product. iCloud generates revenue through subscription fees for use of cloud data. Apple Music also generates subscription fees as well as revenue from carrier partnerships. Apple Pay earns a percentage of transaction fees from users and banks. New to services and not yet meaningfully contributing are Apple TV, which earns subscription fees, and Apple Card, where Apple likely takes a cut of the interest charged by its partner bank.
INDUSTRY
The high-end smartphone market is predominantly served by Apple and Samsung. Huawei has fallen out of the ranks following U.S. sanctions. Apple's share of global smartphone sales averaged 14% in the past three years, hitting a historical high of 21% in 4Q20 on the back of the iPhone 12 launch (Figure 8). The International Data Corporation (IDC) expects the global smartphone market to grow at a 3.6% CAGR over 2020-2025 (Figure 6). Apple's key markets, China (18% of sales) and the US (45%), are forecast to grow 6.0% and 3.5% respectively.
Despite tepid market growth, Apple can rely on its consistently growing ecosystem of installed users to outperform the market. The iPhone's installed base breached 1bn in 2020 (Figure 9), growing by a stronger 5-year CAGR of 7% than the pre-pandemic smartphone sales CAGR of 2%. Most iPhones are sold to upgraders in its installed base (Figure 7).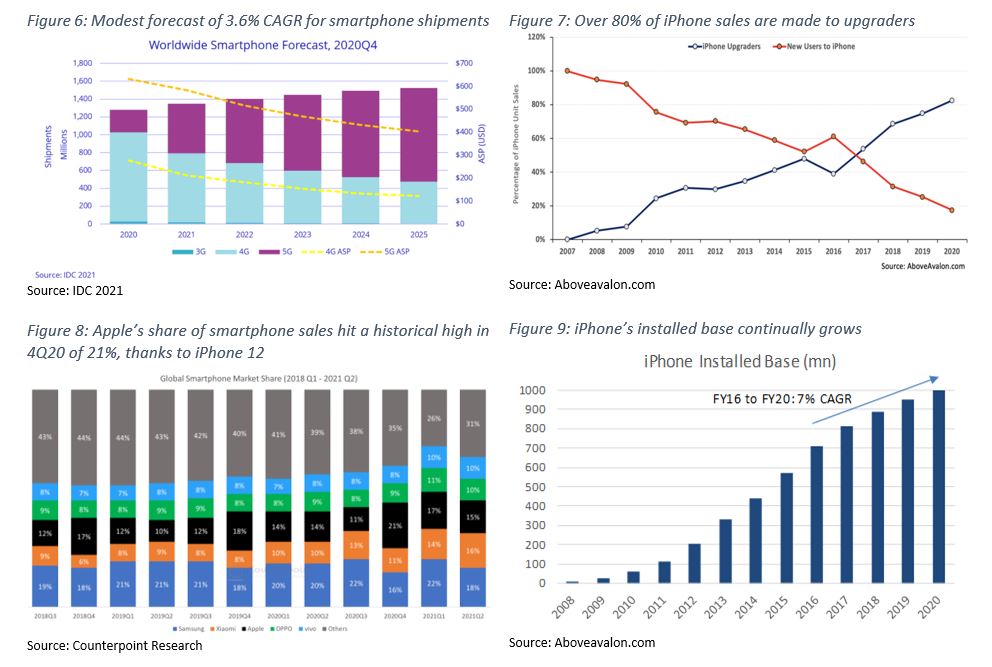 Risks
Antitrust laws could affect service revenue. Apple could lower its App Store fees for larger developers as a result of lawsuits. Apple last year lowered its fee to 15% for smaller developers making less than US$1mn per year from their apps. But App Store revenue is largely driven by its larger developer base, contributing 30% fees.
China's gaming crackdown could hit App Store spending. China's gaming revenue contributed an estimated US$2bn or 13% to App Store revenue in FY19. That said, even if China's gaming crackdown intensifies, we believe the impact will be minimal as China's gaming revenue translated to less than 1% of FY19 revenue.
Chip supply shortage. Apple guided for a US$3-4bn of impact from chip shortages earlier this year. This will affect iPhone and iPad sales in the coming quarter. There is a risk of the impact coming in at the higher end of the range.
Valuation
We initiate coverage on Apple Inc with a BUY recommendation. We have a DCF valuation of US$187.0, based on a WACC of 5.8% and terminal growth rate of 3.0%.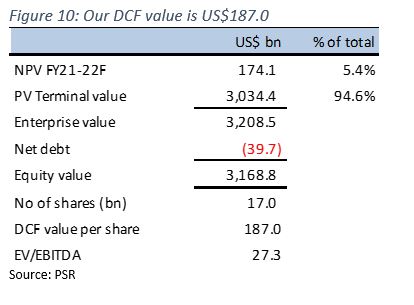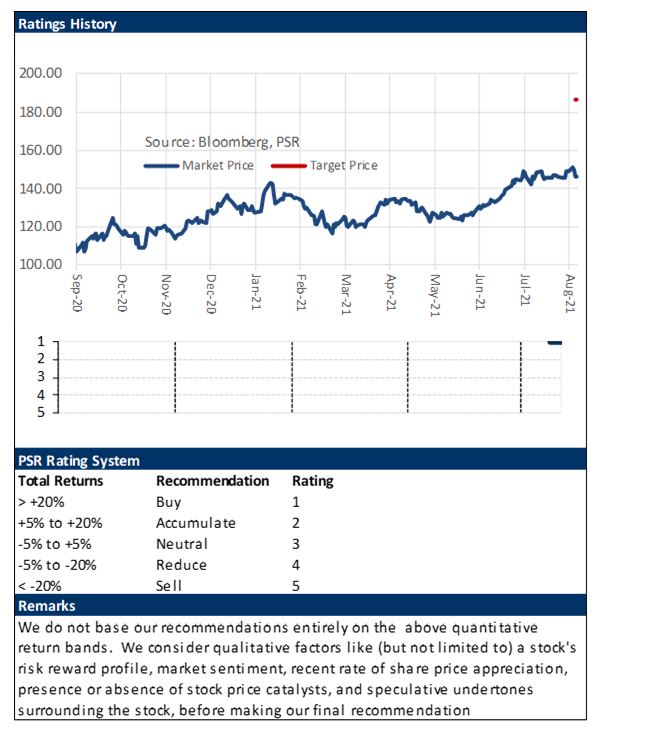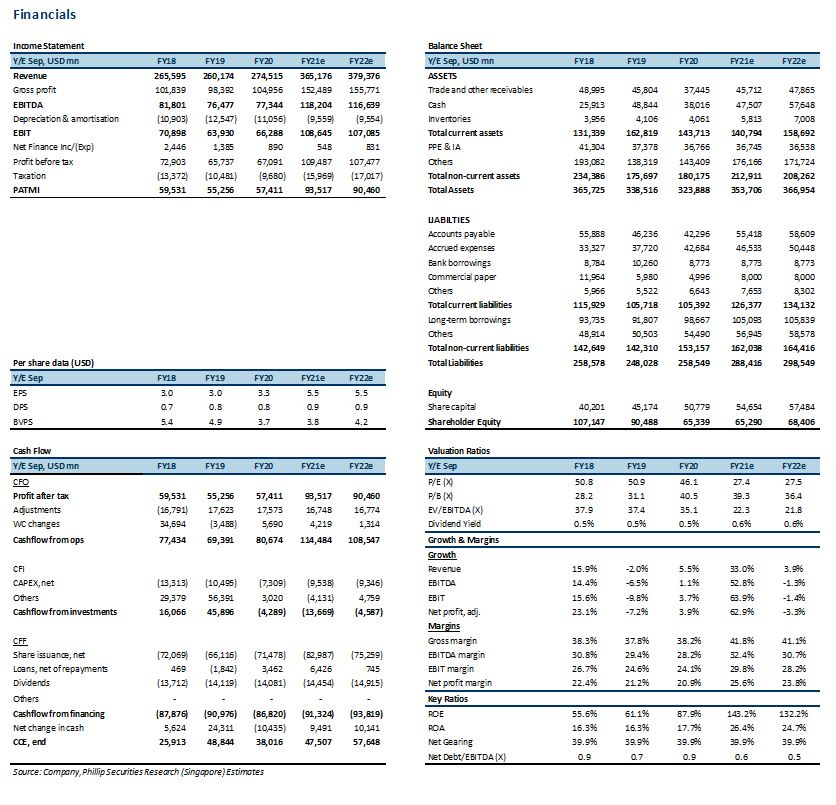 About the author