LENDLEASE GLOBAL COMMERCIAL REIT (Initiation) - A cut above the rest
14 Dec 2020
Stable income from Milan commercial property for next 12 years (FY20 GRI: 34%). Retail foothold in the heart of Singapore poised to benefit from Phase 3 (GRI: 66%) reopening.
We see organic growth of 2% from annual rental escalations and upcoming developments in Orchard/313. Coupled with inorganic growth opportunities from the sponsor's stabilized pipeline of assets, of up to c.A$32.4bn.
Initiate coverage with ACCUMULATE and DDM TP (cost of equity 8%) of S$0.78. Valuations attractive at FY21 yields of 6.1% vs. diversified retail peers of 5.2%.
KEY HIGHLIGHTS
Company Background
Lendlease Global Commercial REIT (LREIT) primarily invests in stabilised income-producing real-estate assets globally, for retail and/or office purposes. Its portfolio comprises a leasehold interest in 313@Somerset (313), a retail mall in the heart of Singapore, and a freehold interest in Sky Complex (SC), a Grade A office asset in Milan. Its portfolio has an appraised value of S$1.4bn. On 1 October 2020, LREIT acquired an effective 3.75% stake in Jem for S$45mn, a shopping mall in Jurong, Singapore.
Investment Highlights
Highly stable portfolio built for growth. We see income stability from SC, which has been 100% leased by Sky Italia for the next 12 years (FY20 GRI: 34%). The remaining 66% of its GRI stems from 313 (WALE of 1.8 years by GRI). Fixed rents historically account for more than 95% of LREIT's gross revenue. With recovering tenant sales and returning footfalls, we expect fixed rents to continue contributing more than 90% to LREIT's portfolio GRI in FY22. Both properties have built-in rental escalations: based on CPI for SC and 2.7% for 313.
313 to bottom out with the help of Phase 3. As Singapore moves towards Phase 3, the group size for gatherings and capacity limits is expected to increase. Higher-risk activities like bars and karaokes will also be allowed. With this, we expect more get-togethers and higher consumption spending. As F&B tenants contribute 37.7% to 313's GRI, we believe that a further relaxation of Covid-19 measures will generate more footfall and sales back to 80% and 85% of pre-Covid levels respectively, from 60% and 70% currently.
Strong organic and inorganic growth outlook. Besides natural rent growth through rent escalations, LREIT is redeveloping the Grange Road carpark and working on AEI to increase 313's plot ratio. While major AEI work has been temporarily delayed, the Grange Road redevelopment is set to be operational by 1H22. Additionally, LREIT has a ROFR which covers any proposed offer or interest in stabilized retail and office assets, should Lendlease Group be looking to divest. We are estimating a pipeline of up to c.A$32.4bn. LREIT will benefit from being the only REIT vehicle for Lendlease Group.
Attractive valuations vs. peers. FY21e/FY22e dividend yields of 6.1%/6.6% outperform the average forward yields of diversified retail REITs' 5.2%/6.0%. LREIT is also trading at 0.86x P/B, slightly below diversified retail REITs' 0.90x.
We initiate coverage with an ACCUMULATE. Our DDM TP is S$0.78, implying 14.2% upside potential, inclusive of FY21e dividend yields of 6.1%.
THE REIT
LREIT was listed on 2 October 2019 on the main board of SGX at S$0.88 per share. Its Manager is Lendlease Global Commercial Trust Management Pte. Ltd., an indirect wholly-owned subsidiary of its sponsor. In May and June 2020, LREIT was included in the MSCI Singapore Index and GPR APREA Investable REIT 100 Index.
THE SPONSOR: LENDLEASE CORPORATION LIMITED
Lendlease Corporation Limited (LLC AU, Not Rated) is part of the Lendlease Group (LGroup), a leading international property and infrastructure group listed on the Australian Securities Exchange. Lendlease Group is one of the largest developers in the world, with a global development pipeline value approaching A$113bn. It operates in 17 gateway cities:
• Asia: Singapore, Sydney, Brisbane, Melbourne, Perth, Beijing, Shanghai, Tokyo and Kuala Lumpur
• Europe: London, Milan and Rome
• United States: New York, Boston, Chicago, San Francisco and Los Angeles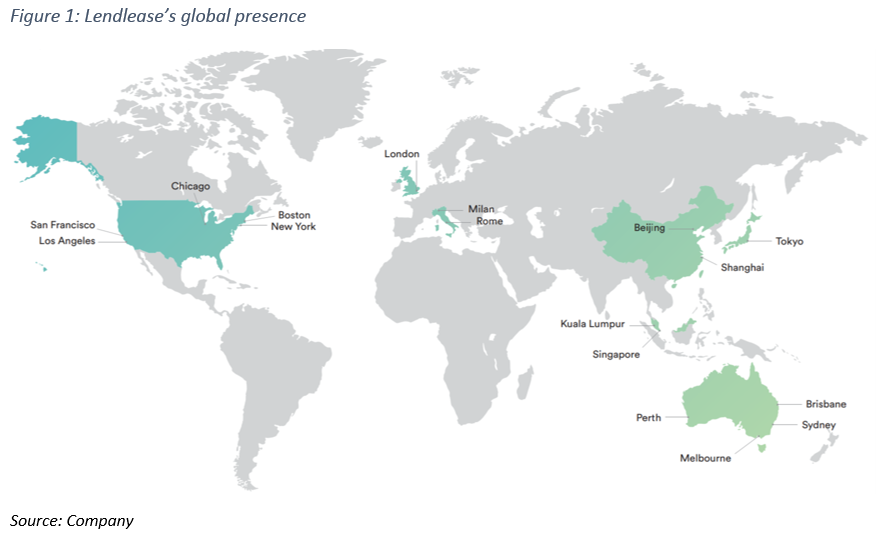 Lendlease Group (LGroup) has delivered projects globally for 60 years. To date, it has 21 urbanisation projects. These include Paya Lebar Quarter (Singapore), Melbourne Quarter (Melbourne, Australia, Fig. 2), The Exchange TRX (Kuala Lumpur, Malaysia) and Milano Santa Giulia (Milan, Italy). The Group's core construction business had backlog revenue of A$14bn globally as at FY20. It also managed 14 wholesale funds with more than A$36bn for about 150 institutional investors.
THE ASSETS
LREIT holds two properties in its portfolio and an indirect 3.75% interest in Jem.

a. Sky Complex: stable income generator. Strategically located in one of Milan's newest and most vibrant office precincts in the Milano Santa Giulia area, this property consists of three Grade-A office buildings wholly anchored by Sky Italia. Sky Italia is owned by ComCast Corporation, the world's largest broadcasting company by revenue (Forbes, 2020). Milano Santa Giulia is a strategic area due to its connection to the historical centre of Milan and easy access to all transportation modes. The latter include the Tangenziale Est Milan Ring Road, a high-speed railway station, and Linate Airport. The strategic location and high-quality office buildings in Milan's peripheral office submarket have led to its highest take-up rates in the Milan office market in the past three years.

b. 313@Somerset: a differentiated lifestyle destination mall. 313@Somerset offers 288,277 sqft of prime retail NLA along the main Orchard Road belt, Singapore's most famous shopping and tourist precinct. It is situated smack in the middle of Orchard Road with direct access to the Somerset MRT Station. 313's tenants include leading global brands such as Zara, Forever 21 and Cotton On and dining establishments such as Hai Di Lao, Brotzeit and Marché. Over the past three years, annual footfalls averaged 45.5mn, about 8x Singapore's population.

INVESTMENT MERITS
1. Highly stable portfolio built for growth. Portfolio committed occupancy is 99%. We see income stability for SC, which contributes 33.7% (Fig. 8) to FY20 gross rental income. This is because SC has been 100% leased to Sky Italia in a triple net lease structure. Its WALE is long at 12.1 years, with a lease break option only in 2026. It has an annual step-up feature which is based on 75% ISTAT consumer price index variation. The remaining 66.3% of the portfolio's income comes from 313, with a WALE of 1.8 years by GRI. About 60% of 313's leases are built with annual rental escalations of 2.7%.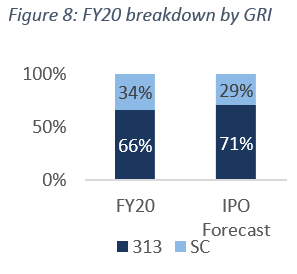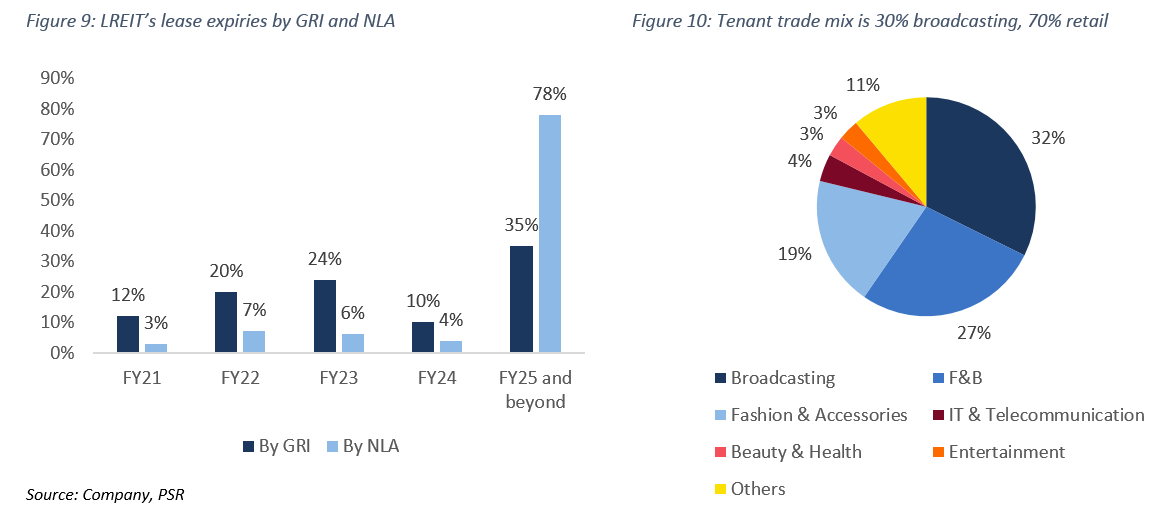 SC has been resilient throughout Covid-19. To date, Sky Italia has paid up all its rents in a timely manner. Over at 313, struggling tenants with leases expiring in 1Q21 had been offered short-term extensions of 6-12 months or 3-year leases with lower base rents and higher turnover rents in the first year. As recovering tenant sales and footfalls are expected to return confidence to tenants, we expect upcoming leases to be renewed with a higher fixed rent component. Historically, gross turnover rent accounts for less than 5% of LREIT's gross revenue. We are expecting fixed rents to contribute more than 90% to portfolio GRI in FY22.
Minimal drag on FY21 anticipated. As of date, most of 313 had reopened, except for one KTV which will reopen soon. Tenant sales and footfall had recovered to 70% and 60% of pre-Covid levels. Separately, LREIT has flushed out all the rental rebates to be given to tenants by the end of FY20 (30 June 2020). Hence, we are not expecting any residual abatements in FY21. Although six tenants had applied for rent deferral under Singapore's Covid-19 temporary measures, none has exercised this. That said, we still expect FY21 revenue and NPI to underperform its IPO forecasts by 3% and 7.5% respectively, due to the short-term leases provided in 1Q21. We are expecting arrears to rise 20-30% as some tenants temporarily cancelled GIRO payments while waiting for government rebates.
313 to bottom out with the help of Phase 3. As Singapore moves towards Phase 3 reopening, more activities are expected to resume. An increase in the group size for gatherings and capacity as well as reopening of higher-risk bar, pub, karaoke and night-club outlets should bring back more get-togethers and consequently, consumption. As F&B tenants contribute 37.7% to 313's GRI, we believe that further relaxation of Covid-19 measures will return footfalls to about 80% of pre-Covid levels. Tenant sales are expected to recover to 85% of pre-Covid levels. In addition, the air travel bubble announced by the Singapore and Hong Kong authorities in October, albeit delayed, could be a step towards the reopening of borders.
2. Organic growth for 313 with redevelopments
313's lifestyle youth hub to appeal to New-Age tenants. 313 sits above the Somerset MRT station. This is an enviable location along Orchard Road, as it is smack in the heart of the shopping belt. With its proximity to public transportation, 313 is an optimal location for omnichannel players to locate their physical stores. Love, Bonito, Singapore's largest local fashion brand, chose 313 as the venue for its first physical store in Singapore. Further bridging the online to offline trend, 313 also attracted Pomelo, which opened its first store in Singapore in 2019. In our view, 313 is a gem that remains attractive to new-to-market online brands due to its strategic location in a prime leisure spot and ability to provide myriad experiences and services to similar target audiences. We are fairly certain that this differentiation of 313 as a 'lifestyle x new-age mall' will be able to draw more footfall and sales. Not resting on this laurel, LREIT is exploring partnerships with brands and education providers to monetise its atrium space.
Rejuvenating Orchard Road via Grange Road carpark redevelopment. On 13 June 2020, LREIT won a joint tender to redevelop the 48,200 sqft carpark at Grange Road into a new multi-functional event space. This redevelopment is part of the STB-URA-NParks-LTA's blueprint to rejuvenate Orchard Road. Somerset has been designated to continue providing lifestyle offerings to youths. Set to be operational in the first half of 2022, the concept offers a first-of-its-kind lifestyle experience along Orchard Road. It will have multiple dedicated event spaces, an independent cinema, hawker stalls serving local delights and a food and beverage attraction. LREIT is collaborating with Live Nation, the world's leading live entertainment company, on this project. Other partners include The Projector and Museum of Food. With the inclusion of the Grange Road event space, 313's net lettable area will expand by 14% to 330,000 sq ft.
Development cost is S$10mn or less than 1% of LREIT's deposited property value. This will be funded by LREIT's working capital, spread throughout the development phase. We are expecting the development to be yield-accretive at a conservative return of investment of 10% p.a. (FY22 DPU accretion: 1%). There are future upside opportunities if we consider joint marketing and cost synergies with 313 (Fig. 16).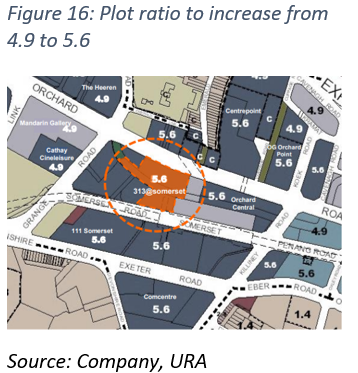 AEI to increase plot ratio for 313. The URA granted 313 an increase in plot ratio under its Master Plan 2019, from 4.9+ to 5.6, resulting in a potential increase of up to 1,008 sqm of space. LREIT has identified areas of expansion. However, in light of current economic conditions, major work has been temporarily shelved. We are looking at a possible delay till FY22 before the AEI contributes to valuation.
3. Inorganic growth opportunities; the only REIT under sponsor. Keeping its global and broad-based investment mandate, LREIT will be the only investment vehicle that the Lendlease Group will have. LREIT has ROFR agreements with Lendlease Trust and Lendlease Corporation which covers any proposed offer or private funds managed by Lendlease Group, if it is to dispose any interest in any stabilized assets globally, used for office and/or retail purposes.
For the asset to be considered stabilized, there are a few criteria: 1) the asset must be generating rentals at market rates; 2) it must be operating at a minimum occupancy of 80%; 3) there should be no major AEI planned for the next two years so that the property is readily generating income for investors. Within the A$36bn FUM of the sponsor, we are estimating up to c.A$32.4bn worth of stabilized assets that may present future acquisition opportunities for LREIT.
Assets in the pipeline closer to home include Paya Lebar Quarter (PLQ, 30% interest), Parkway Parade (PP, 10% interest) and Jem, where LREIT recently acquired a 3.75% stake in. PLQ recently opened in 3Q19, hence it may be too early to conclude that the property is generating a stable income stream. While PP has been operational since 2012, it is not ideal due to its near-term need for AEIs and the nearby construction of Marine Parade MRT due for completion in 2023.
LREIT's near-term priority is to add to its stake in Jem. Jem is an integrated office and retail development in Jurong Gateway, the commercial hub of the Jurong Lake District. It is one of the largest suburban malls in Singapore with retail space on six levels. Anchor tenants like NTUC FairPrice and IKEA occupy 30% of the mall. It also comprises 12 levels of office space which have been 100% leased to the Ministry of National Development for the next 30 years. It is a stabilised asset with high fixed recurring income.
On 1 October 2020, LREIT acquired 5.0% of Lendlease Asian Retail Investment Fund 3 (ARIF3), which holds a 75.0% indirect interest in Jem. This brings LREIT's effective stake in JEM to 3.75%. The S$45mn cost is fully debt-funded. Return of investment is c.2%. The Lendlease Group still holds a 15.1% stake in ARIF3. The 3.75% stake in Jem is expected to add to 2% to FY21's DPU.
Other probable markets to be evaluated include Australia, where LREIT's sponsor has a significant presence. LREIT is also open to looking at third-party transactions in Europe. With pro-forma gearing of 36.9% post-acquisition and low cost of debt of 0.86% p.a., we see room for LREIT to pursue more acquisition opportunities.
VALUATION
We initiate coverage with an ACCUMULATE rating and DDM-derived target price of S$0.78. With prospective dividend yields of 6.1%, total potential upside is 14.2%. Our target price is based on 4-year projections and assumes cost of equity of 8% and a terminal growth rate of 2%.
LREIT is trading at 0.86x P/B, which is above pure retail REITs' 0.74x but below diversified retail REITs' 0.90x. LREIT's FY21e/FY22e dividend yields of 6.1%/6.6% also outperform the average forward yields of diversified retail REITs' 5.2%/6.0%. We believe valuations are still attractive, with Phase 3 reopening and potential developments providing near-term catalysts.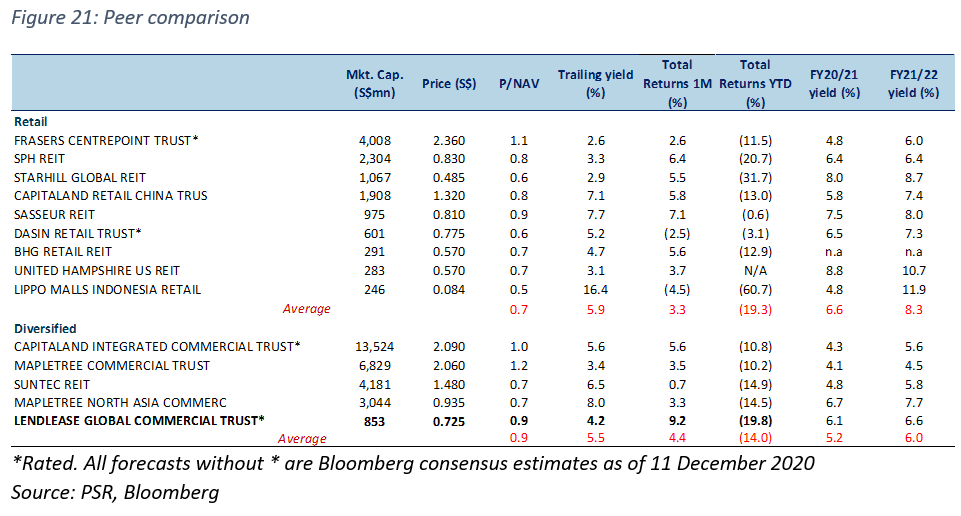 RISK FACTORS
1. Small portfolio; subdued retail outlook. LREIT's main portfolio comprise only two properties currently. About 58.1% of its FY20 NPI was reliant on Singapore's prime retail market. Due to general economic weakness, retail leasing is expected to be subdued. Given that there are several malls in the Orchard Road belt (Ion Orchard, Orchard Central), 313 faces competition in retaining and attracting quality tenants. We conservatively estimate rental reversions of -10%/5%/10% for leases expiring in FY21e (25% of the GRI)/FY22e/FY23e. We assume that the 3% annual rent escalation remains constant for the next three years.
2. Limited growth prospects for SC in near term. Due to slower global economic growth, we are expecting limited growth in SC's rental escalations. Its annual step-up feature is based on 75% ISTAT consumer price index variation. In our models, annual rental escalations estimated for the leases at SC in FY21e/FY22e/FY23e are 0%/0%/3%.
About the author