Microsoft Corporation - Stock Analyst Research
Target Price*
372.00
Recommendation
ACCUMULATE

›

ACCUMULATE

Market Cap*
-
Publication Date
28 Jul 2023
*At the time of publication
Microsoft Corp - Stabilizing cloud spending
FY23 revenue/PATMI was in line with expectations at 100%/101% of our forecasts. In 4Q23, total revenue grew by 8% YoY driven by a 15% YoY rise in intelligent cloud business. PATMI rose by 20% YoY due to higher operating leverage.
For 1Q24e, Microsoft expects total revenue to grow by 8% YoY to US$54.3bn driven by corporate cloud-computing demand. The company's implied operating margin for 1Q24e is 44%. Microsoft plans to charge US$30 per user per month for its Office 365 Copilot AI tools.
We upgrade to ACCUMULATE with a raised DCF target price of US$372.00 (prev. US$328.00) using a WACC of 7.2% and terminal growth rate of 4%. We are raising our target price as we increased our growth rate assumptions. Microsoft enjoys long-term tailwinds from shifting workloads to the cloud, demand for its AI-enabled products, and cybersecurity upgrades.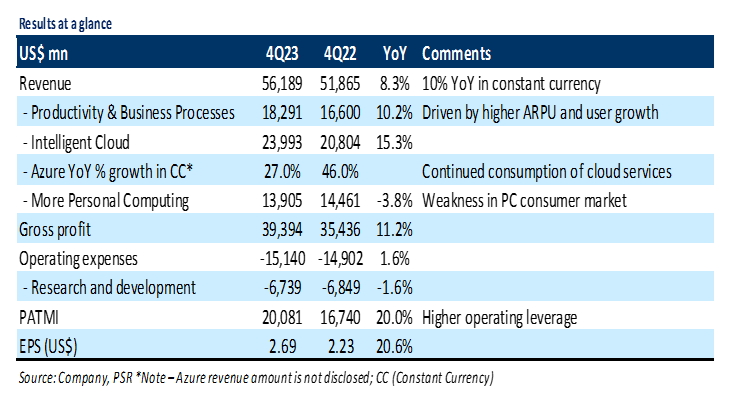 The Positives
+ Azure continued to be a bright spot. In 4Q23, Azure cloud revenue grew by 27% YoY on a constant currency basis, at the high end of management's guidance range, with about a 1 percentage point benefit from AI services. Growth continues to be fueled by corporate cloud-computing demand as enterprises look to lower OPEX and digitize their operations. Management highlighted that Azure OpenAI service now has 11,000 customers (IKEA and Volvo Group) compared with 4,500 in mid-May indicating early traction for its next-generation AI services.
+ Strength in Office 365 commercial revenue. Office 365 commercial revenue (under productivity and business processes) grew 17% YoY in constant currency driven by subscriber growth and ongoing ARPU increases as customers upgrade to the E5 license for its advanced security and analytics functionality. Microsoft reported paid Office 365 commercial user growth of 11% YoY again led by small-to-medium business and frontline worker offerings. While it is early days, we believe the adoption of Office 365 Copiplot AI tools can lead to an uplift in revenue (US$30 per user per month) and should enable Microsoft to maintain double-digit Office 365 growth rates.
The Negatives
– Deteriorating PC market hurt Windows and Devices. In 4Q23, more personal computing revenue fell by 4% YoY to US$13.9bn mainly due to Windows and Devices businesses. Windows OEM revenue, which includes the sales of Windows software to PC makers, declined by 12% YoY. Additionally, Devices revenue, including Microsoft Surface tablets and computers, HoloLens, and PC accessories, fell by 18% YoY. This is mainly due to weakening consumer demand for PCs and macro economic uncertainty.
About the author
Ambrish Shah
US Technology Analyst (Software/Services)
PSR
About the author
Ambrish Shah
US Technology Analyst (Software/Services)
PSR