Oversea-Chinese Banking Corp Ltd - Better credit outlook
9 Nov 2020
3Q20 earnings dropped 12% YoY but improved 41% QoQ to S$1,028mn as allowances halved from previous quarter.
Fees and commissions were down 9% YoY but recovered to normalised FY19 level of S$500mn per quarter.
Allowances of S$350mn were only 8% higher YoY despite generally high credit costs. SP dived to S$148mn from S$271mn a year ago.
Loans under moratorium shrank from 10% to 5% of loan book, reducing risks of NPA formation in FY21.
Maintain ACCUMULATE with higher GGM TP of S$9.68, from S$8.92 previously. We now peg our TP at 0.92x P/BV and FY21e ROE of 8.6% to reflect a better credit outlook. For sector exposure, still prefer UOB (SGX: U11, Accumulate, TP: S$21.10).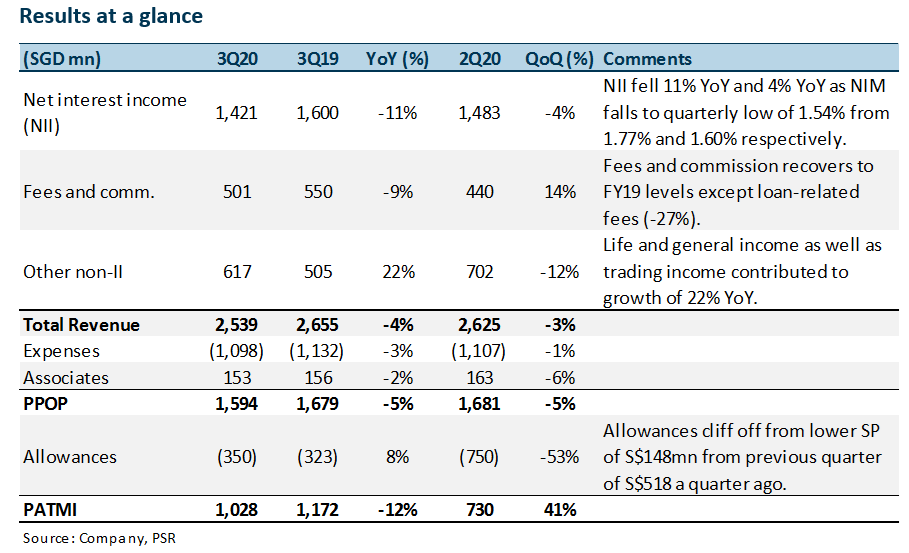 The Positives
+ Non-interest income grew 6% YoY
Life and general insurance income grew another 29% YoY while trading income increased S$255mn YoY. WM fees recovered from their low of S$205mn in 2Q20 to S$252mn. This lifted fees and commissions to S$501mn, comparable to their quarterly run rate in FY19.
+ Allowances halved from a quarter ago
Total allowances of S$350mn were made up of S$148mn in SP and S$202mn in GP. This brought credit cost to 67bps, down from a front-loaded 87bps in 1H20. Total reserves of S$4,618mn provided for NPA coverage of 109%, an increase of 101% QoQ.  Guided credit cost of 50-60bps for FY20 seems reasonable.
The Negative
– NII fell 11% YoY on a 23bp NIM compression
NIM fell from 1.77% to 1.54% YoY and by 6bps QoQ. It is likely to stabilise at such levels given liquidity conditions and low interest rates are likely to persist.
Outlook
Loans under moratorium shrank from 10% of loan book to 5%
Despite stabilising economic conditions, the bank believes recovery will be slow. It expects NPL ratio to come in at the lower end of the 2.5-3.5% range it guided previously. The bank's heavy provisioning in the first three quarters is likely sufficient to see it through FY21.
Investment Action
Maintain ACCUMULATE with higher target price of S$9.68, up from S$8.92
We hold our estimates for FY20e/FY21e and peg our valuation at 0.92x FY21e P/BV and an 8.6% ROE as allowances start to taper off.
About the author