Oversea-Chinese Banking Corp - Ltd Outlook eases along with front-loaded allowances
12 Aug 2020
2Q20 earnings was below our expectations by 10% on lower NII (-9% YoY) and higher than expected allowances booked for the quarter.
Non-interest income lifts (+11% YoY) sluggish NII with recovery in market conditions benefiting shareholders' funds and investment holdings from GEH.
Credit cost of 91 bps in 2H20 will likely ease over next two years to 50 – 60 bps previously guided by the bank.
Scrip dividend option at 10% discount will be available for revised semi-annual dividend of S$0.159 per share.
We maintain ACCUMULATE at a lower target price of S$8.92. (previously S$9.14). Earnings was revised downwards by compressing NIM by a further 5 bps to reflect a prolonged weak interest rate environment.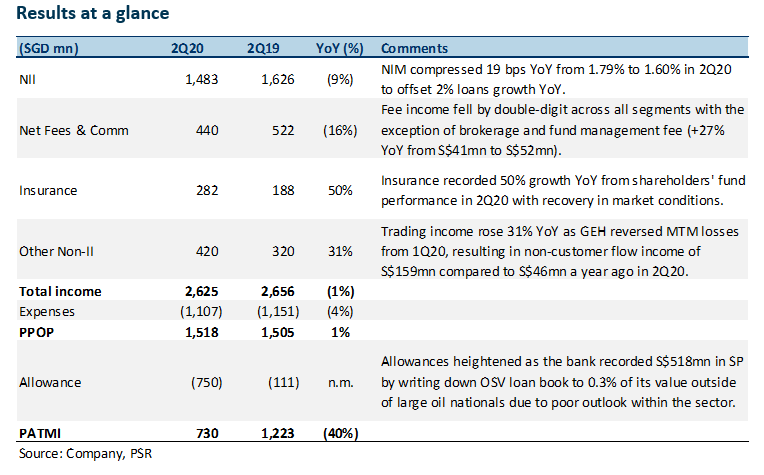 The Positives
+ Non-interest income grew 11% YoY to S$1.14bn from S$1.03bn in 2Q20 despite poorer fee performance (-16% YoY).
Insurance income and trading income grew 50% and 31% YoY in 2Q20 from S$188mn and S$320mn to S$282mn and S$420mn respectively due to a strong capital market performance in the second quarter. This attributed to a better shareholders' fund performance within the insurance income and led to reversal of MTM losses in 2Q20 from 1Q20.
The Negatives
– NII fell 9% YoY on a 19 bps NIM compression despite loans growth of 2% YoY.
NIM fell from 1.79% to 1.60% YoY in 2Q20 on interest rate cuts. Second quarter exit NIM of 1.55% will likely see some recovery in 2H20 with asset and deposit re-pricing in subsequent quarters to bring full year NIM between 1.55% – 1.60%, roughly a further 10 bps NIM compression from 1.68% observed in 1H20.
– Write-down of OSV loan book contributed to higher levels of allowances.
OCBC maintains a poor outlook on the OSV sector as muted economic activity will see weakness in demand for the sector that is not likely to recover over the next year. The bank has recorded S$518mn in SP for 2Q20 to bring the sector loan apart from reputable national oil majors down to 0.3% of book value.
Guidance of 100 – 130 bps in credit costs taken over two years remain intact with heightened credit cost of 91 bps recorded in 1H20 will likely see additional allowances undertaken in subsequent quarters reduced to normalised levels.
Outlook
Semi-annual dividend of S$0.159 per share dampens yield attractiveness.
Revised dividend of S$0.159 per share represents a forward dividend for FY20 of S$0.318 per share which is 43% below previous dividend expectation of S$0.56 per share due to a 40% cut from FY19 dividend of S$0.53 as stipulated by MAS.
Scrip dividend will be available at a 10% discount to keep scrip dividend policy intact from recent scrip dividend option provided by the bank despite strong capital position with CET-1 ratio at 14.2%.
Application for loan moratorium in Singapore tapers at lower than expected uptake.
Loan moratorium extended in Singapore represents between 6-7% of loan book value which is below half of the 15% previously expected by bank. 96% of the loans are secured and will ease pressure on NPL formation in subsequent quarters after loan moratorium expires.
Investment Actions
We maintain ACCUMULATE at a lower target price of S$8.92 (previously S$9.14). We revise our TP downwards after lowering NIM estimates by a further 5 bps. FY21 earnings is expected to recover to normalised levels after more allowances were booked in 1H20.
About the author