Q & M Dental Group Ltd - Testing services drove all the growth
19 Nov 2021
3Q21 PATMI rose 69% YoY to S$9.5mn. Earnings modestly exceeded our expectations, at 78% of our adjusted FY21e forecast.
All the growth was from COVID-19 PCR test. Dental PATMI is estimated to have declined around 18% YoY in 3Q21. Q & M is on track for a record 17 new clinics in Singapore this year.
We are raising our FY21e PATMI by 8% due to higher PCR test earnings. Our BUY recommendation is maintained. The target price is maintained at S$0.82 (post bonus issue). The core dental operations are valued at 25x PE, in line with industry peers. The PCR test business is valued at recently transacted S$60mn. Listed associate, Aoxin Q & M Dental (S$0.27, Not Rated), is valued at market price with a 20% discount.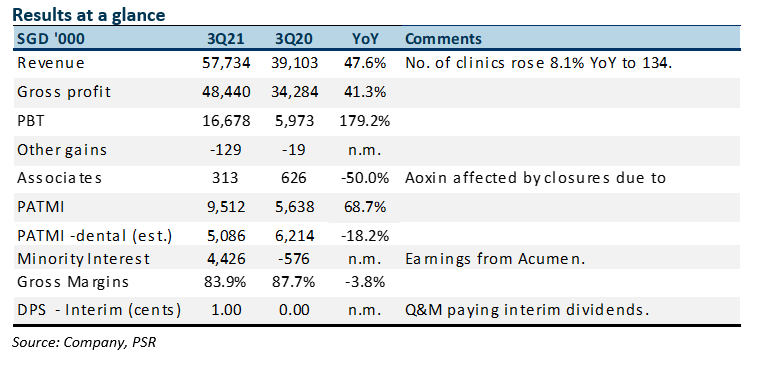 The Positives
+ COVID-19 PCR test drove earnings growth. Net profit from PCR tests expanded 47% QoQ to S$4.4mn. It accounted for all the earnings growth this quarter. The surge in COVID-19 cases has resulted in a spike in test requirements. We model around S$11mn net earnings from PCR tests in FY21e. We are expecting slower PCR testing revenue as the authorities transit to antigen rapid test (ART) as the default mode of testing.
+ Record expansion in clinics. 3Q21 Q & M added 3 new clinics in Singapore. There are plans for another 9 to 10 clinics in 4Q21. The 17 new clinics in 2021 would represent a record expansion for the company.  In 2019, Q & M added 7 new clinics but the pandemic stalled expansion plans in 2020.
+ Another quarterly dividend. Q & M announced another quarterly dividend of 1 cent during the quarter. This is the 3rd consecutive quarterly dividend of 1 cent. No guidance or dividend policy was mentioned. The dividend yield for FY21e is around 6%.
The Negative
– Dental earnings declined. Earnings from the core dental business were surprisingly weak. Q & M dental revenue only rose 5% YoY. We believe the lockdown in Malaysia and surge in pandemic cases in Singapore may have stifled visitations for the company.
Outlook
The record new clinics in FY21 would be a major revenue growth driver in FY22e. Q &M has added much more resources in the recruitment, training and setting of new clinics. The objective is to annually expand 20 new clinics in Singapore per year.
Whilst we raise PCR earnings in FY21e, FY22e estimates are unchanged. Authorities are transitioning more towards ART as the main mode for testing PCR patients. PCR will still be an important testing tool for travel and confirmation of COVID-19 patients for hospitalization. Unclear if  Acumen will be developing or commercialising ART test kits.
Maintain BUY with unchanged TP of S$0.82 (post bonus issue)
We keep FY21e earnings unchanged. Dental valuation is pegged at 25x PE FY22e, in line with industry peers. Acumen Diagnostics PCR test is valued at S$60mn. This is the implied valuation following the disposal of a 49% stake to associate Aoxin. Our valuation for Acumen Diagnostics is now based on the implied S$60mn valuation. Aoxin's valuation is marked to market with a 20% discount.
About the author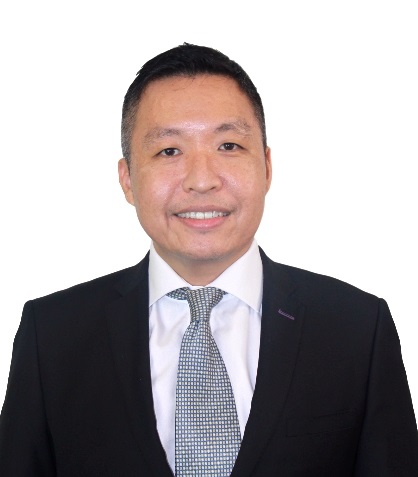 Paul Chew
Head of Research
Phillip Securities Research Pte Ltd
Paul has 20 years of experience as a fund manager and sell-side analyst. During his time as fund manager, he has managed multiple funds and mandates including capital guaranteed, dividend income, renewable energy, single country and regionally focused funds.

He graduated from Monash University and had completed both his Chartered Financial Analyst and Australian CPA programme.