Q&M Dental - Stock Analyst Research
| | |
| --- | --- |
| Target Price* | 0.71 |
| Recommendation | BUY |
| Market Cap* | - |
| Publication Date | 23 May 2022 |
*At the time of publication
Q & M Dental Group Ltd - New clinics support earnings growth
Earnings were within expectations. 1Q22 revenue and PATMI were 27%/25% of our FY22e forecast. New dental clinics drove dental earnings growth.
Excluding disposal gains and COVID-19 PCR earnings, we estimate dental earnings growth of 27% to S$5.7mn in 1Q22.
We maintain our FY22e PATMI and BUY recommendation. The target price is unchanged, and core dental operations are valued at 25x PE FY22 earnings, in line with industry peers. Listed associate, Aoxin Q & M Dental (S$0.175, Not Rated), is valued at market price with a 20% discount. Q & M Dental is expanding its franchise of dental clinics across Singapore and Malaysia. We estimate the number of clinics to grow at 18% CAGR over the next two years (or 27 p.a. vs management target of at least 30 p.a.).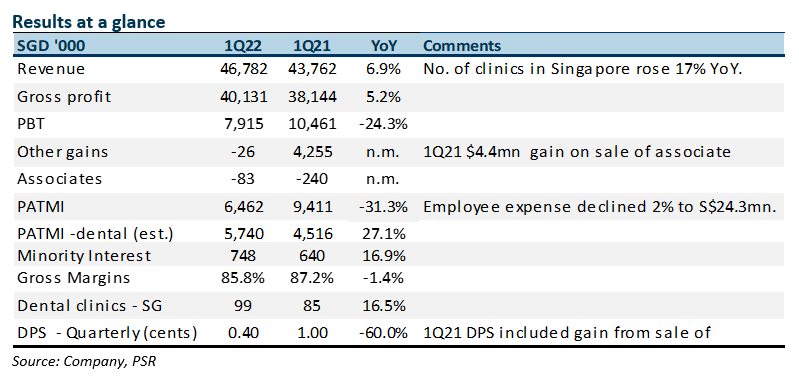 The Positive
+ Fewer clinics this quarter but up 17% YoY. Only 2 clinics were opened in Singapore, unchanged from a year ago, but fewer than the 7 clinics opened last quarter.  Total number of clinics in Singapore rose 17% YoY to 99. Together with Malaysia, the total number of new clinics opened was 5. The company maintained the guidance of at least 30 and has identified 10 new locations.
The Negative
– COVID-19 PCR tests contribution becoming negligible. COVID-19 related earnings from Acumen, as measured by minority interest, has declined 76% QoQ from S$2.9mn to S$0.7mn. The need for PCR tests is now largely for outbound travellers. Acumen's focus is on sepsis and cancer marker PCR tests.
Outlook
We believe the reopening of borders will become a near-term headwind as the availability of dentists decline and patients will likely fall due to travel reasons.  New dental clinics will be the key earnings driver for the company. Other benefits of a larger dental chain are the de-risking revenue contribution from a larger pool of dentists and a more valuable referral ecosystem to the specialist dentist. In 1Q22, industry outpatient dental admissions was down 14%, QNM likely took some market share judging by the more stable revenue.
Maintain BUY with an unchanged TP of S$0.71
QNM is on its most aggressive expansion plan from an average of 5 clinics p.a. before 2019 to currently 25 to 30 p.a. Earnings in FY22e will be impacted by the collapse in COVID-19 PCR test revenue.
About the author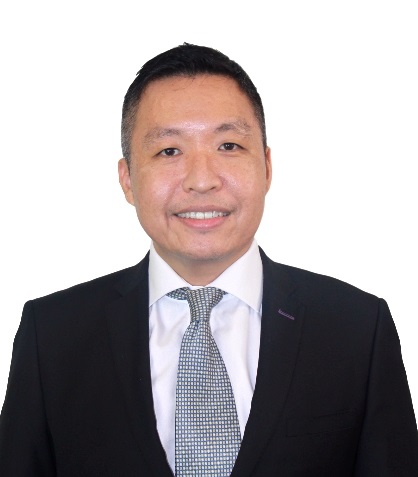 Paul Chew
Head of Research
Phillip Securities Research Pte Ltd
Paul has 20 years of experience as a fund manager and sell-side analyst. During his time as fund manager, he has managed multiple funds and mandates including capital guaranteed, dividend income, renewable energy, single country and regionally focused funds.

He graduated from Monash University and had completed both his Chartered Financial Analyst and Australian CPA programme.