UG Healthcare Corporation Ltd - Another blockbuster quarter
8 Feb 2021
1H21 PATMI jumped 64x YoY to S$54.9mn as revenue tripled to S$159mn, beating our forecast by 22%.
Gross margins leapt from 18% to 62% YoY as selling prices rose more than 1.5x to S$117 per 1,000 pieces. UG sells both nitrile and latex gloves.
Maintain BUY. We raise FY21e PATMI by 28% to S$107.8mn to account for higher glove selling prices and margins. Our target price remains pegged at a 30% PE discount to the Big 4 glove makers' FY22e valuations. As rubber glove valuations have compressed to around 10x PE, our target PE for FY22e drops from 14x to 7x. This lowers our TP from S$1.35 to S$1.03.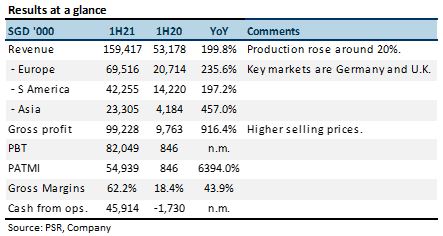 Positives
+ Higher selling price drove revenue growth. 1H21 revenue tripled YoY to S$159mn with an estimated 20% growth in volume and 1.5x jump in prices. Sales to China spiked 457% YoY as customers stocked up ahead of winter and the festive season.
+ Gross margins remained robust. 1H21 gross margin was 62%, triple that of 1H20 as glove prices skyrocketed. QoQ, margins expanded from 60.6% in 1Q21 to 63.6% in 2Q21.
+ Record earnings bolstered cash. Cash from operations rose to S$45.9mn. The company now has net cash of S$32.5mn, a major reversal from net debt of S$37mn a year ago. UG announced a special DPS of S$0.00105 and a total payout of S$0.645mn.
 Negative
– Some lag in deliveries and higher costs. There have been shipment delays. As a result, inventories almost doubled in the past six months to S$57mn. Inventories were predominantly finished goods on transit to Europe. Container constraints are expected to ease only after February. Shipping rates to Europe have catapulted almost 5-fold to around US$10,000 per container. Even then, shipping rates only account for around 2% of UG's selling prices.
Outlook
Earnings are still expected to grow QoQ as prices continue to climb in 2021. We also see other growth drivers for UG even if glove prices taper off. Firstly, production capacity will expand by 35% YoY to 4.6bn pieces in FY22e. Secondly, exposure to emerging markets and low penetration rates could provide sources of growth.
Other updates:
ASPs for nitrile and latex gloves are around US$130-140 and US$90-95 per 1,000 pieces respectively. Demand is still outstripping supply. Latex prices can climb faster in 2021, driven by emerging markets.
Securing sufficient foreign workers will be a priority if UG expands further. Every week, workers have to undergo COVID-19 antigen tests.
UG's pricing policy is not to "max out" prices to customers. It emphasises supporting long-term dedicated customers during this period of tight supply.
UG's priority is to conserve cash for expansion that requires new land and downstream capacity such as warehouses.
Nitrile raw material prices are starting to stabilise.
An additional 500mn of capacity to 3.4bn pieces will come on stream in April 2021. A new 1.2bn capacity plant is under construction with commissioning expected in 1Q22 (Jul-Sep 2022). UG is studying plans for expanding above 4.6bn.
Maintain BUY with lower target price of S$1.03, from S$1.35
We continue to value UG at a 30% discount to the Big 4 glove makers. Historically, UG's discount was around 40%. As industry valuations have corrected to around 10x PE, our target PE for FY22e drops from 14x to 7x. This lowers our TP from S$1.35 to S$1.03.
We raise FY21e PATMI by 28% to S$107.8mn to account for the continuous rise in its ASPs and margins. Our FY22e PATMI assumes a 24% YoY contraction in ASPs to around S$80 per 1,000 gloves. We also assume a 15% increase in production costs in FY22e.

About the author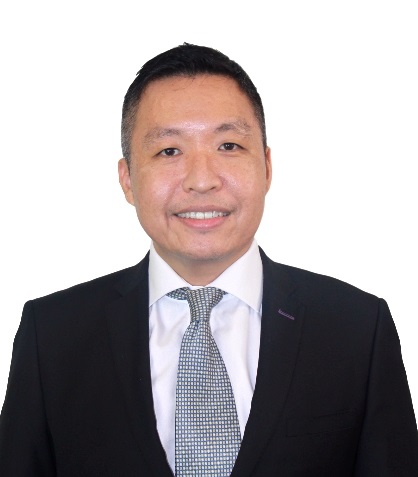 Paul Chew
Head of Research
Phillip Securities Research Pte Ltd
Paul has 20 years of experience as a fund manager and sell-side analyst. During his time as fund manager, he has managed multiple funds and mandates including capital guaranteed, dividend income, renewable energy, single country and regionally focused funds.

He graduated from Monash University and had completed both his Chartered Financial Analyst and Australian CPA programme.