UG Healthcare Corporation Ltd - Limited selling price visibility
31 Aug 2021
4Q21 results within expectations. FY21 revenue/PATMI at 101%/103% of our FY21e forecasts.
Glove selling prices are falling as distributors and customers wind down their existing stocks. Falling prices make buyers hesitant to commit to purchases.
We estimate industry selling prices for FY22e could drop by 40% YoY to around US$50. There is limited visibility on where selling prices will stabilise. FY22e PATMI is cut by 35% to S$49mn. Target price still pegged at a 30% discount to the Big 4 glove makers. This implies 8x FY22e PE and a target of S$0.63, down from S$0.85 previously. Recommendation downgraded to ACCUMULATE. Catalysts expected from stabilising selling prices but limited visibility currently.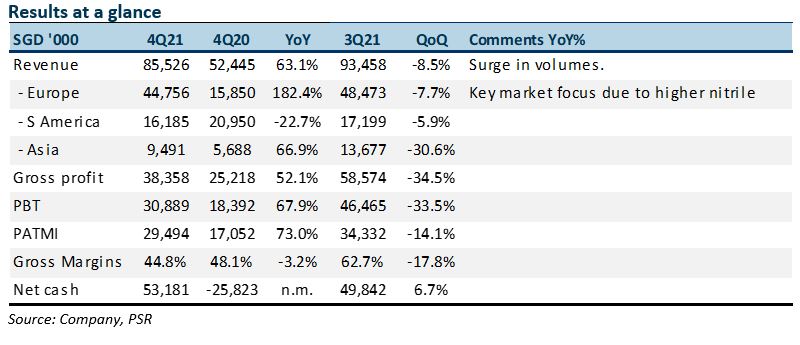 The Positive
+ New capacity installed in April 2021. A 20% expansion in capacity to 3.4bn pieces of gloves was completed in April 2021. However, production was affected by temporary plant shutdowns due to Malaysia's enhanced movement control order for factories located in Seremban.
The Negative
– QoQ weakness in earnings. Since peaking in 3Q21, we believe industry nitrile glove selling prices declined around 20% to US$80 in 4Q21. This brought down revenue and earnings QoQ.
Outlook
Industry glove selling prices have fallen from US$80 in 4Q21 to likely US$60 in 1Q22e. We do not expect prices to improve even in 2Q22e. Customers are hesitant to stock up, fearful of inventory losses as prices spiral downwards. Prices could deteriorate more as Malaysian manufacturers' production recovers from the COVID-19 mandated shutdowns and cuts in utilisation. Chinese manufacturers are another source of disruption, with their aggressive expansion in nitrile capacity.
The positive for UG Healthcare is an expansion in effective capacity of at least 20% in FY22e. There would be another 35% jump in effective capacity to 4.6bn gloves in FY23e. Improved scale brings down production costs. Exposure to latex gloves and emerging markets could also offset falling nitrile glove prices, especially in developed markets.
About the author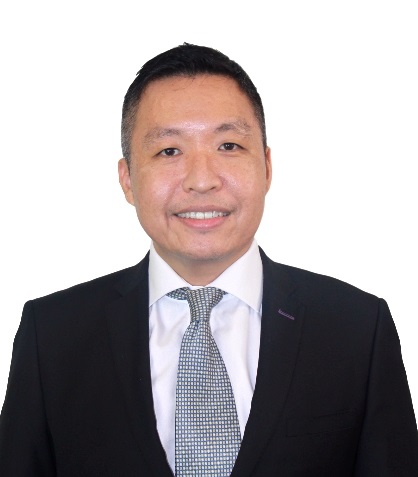 Paul Chew
Head of Research
Phillip Securities Research Pte Ltd
Paul has 20 years of experience as a fund manager and sell-side analyst. During his time as fund manager, he has managed multiple funds and mandates including capital guaranteed, dividend income, renewable energy, single country and regionally focused funds.

He graduated from Monash University and had completed both his Chartered Financial Analyst and Australian CPA programme.