United Overseas Bank Limited - Asset quality clarity to mitigate earnings pressure
9 Nov 2020
3Q20 earnings of S$668mn brought 9M profit to S$2.23bn, 74% of our FY20e estimate – in line. Results were in line with consensus as well.
Net interest income fell 13% YoY to S$1.47bn as NIM was compressed by 24bps.
Fee and commission income improved 16% QoQ as business recovered from CB, offsetting a 24% QoQ drop in trading income.
Credit cost of 68bps brought GP reserves past S$3bn to provide a post-moratorium relief buffer.
Maintain ACCUMULATE with higher GGM TP of S$21.10 (previously S$20.40). We hold FY20e estimates but raise FY21e by 15% to factor in expected lower allowances.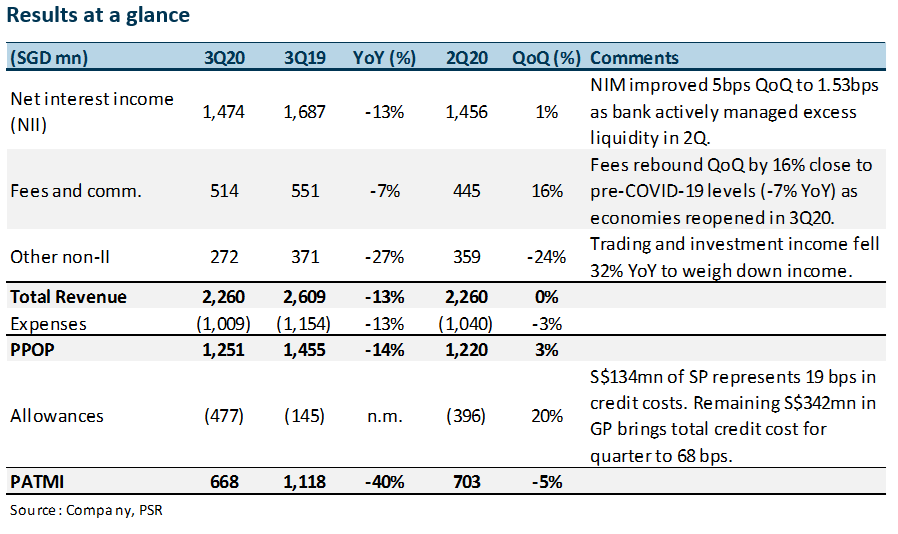 Positives
+ Gradual recovery in income
Fee and commission income of S$514mn was down 7% YoY but up 16% QoQ. As economic activity resumes across the region, we expect further improvements to near pre-COVID-19 levels.
+ Allowances on impaired loans remained low
SP recognised amounted to S$134mn or 19bps of loan book. This was lower than the 21bps or S$149mn a year ago. The remaining S$342mn of allowances for GP represented a 49bp credit cost, improving GP reserves to S$3,091mn (including RLAR) and non-performing asset coverage to 111% from 96% in Q2.
Negative
– NII fell 13% YoY as NIM was down 24bps to 1.53%
Low interest rates continued to affect NII, which dropped 13% YoY. Nevertheless, better liquidity management lifted NIM by 5bps QoQ from a low of 1.48% in Q2. We expect NIM to stabilise at 1.50-1.55% on the back of stable interest rates and funding conditions.
Outlook
Credit-cost guidance lowered on better insights on asset quality
Loans under moratorium fell from 16% of its loan book in Q2 to 10% in Q3. The fall came largely from Malaysia as loans in Malaysia exited moratorium at end-September.
The remaining loans under moratorium were mostly from Singapore and Thailand. The bank is confident it can manage asset quality, given that around 90% of them are secured. It has lowered credit-cost guidance from 50-60bps for this year to 30-40bps for FY21.
Investment Action
Maintain ACCUMULATE with higher target price of S$21.10 (previously S$20.40)
We hold our FY20e earnings estimate but raise FY21e forecast to reflect lower credit costs of 30-40bps. Our TP remains pegged to GGM (FY21e P/B of 0.89x).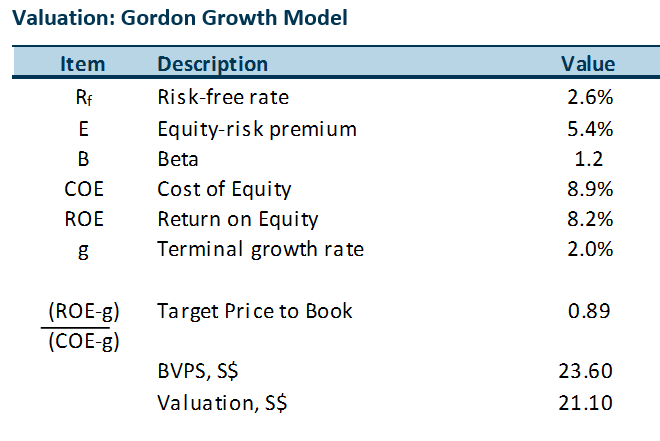 About the author