United Overseas Bank Limited – Let down by weaker fee and non-interest income
5 May 2022
1Q22 earnings of S$906mn were lower than our estimates due to lower-than-expected fee and other non-interest income. 3M22 PATMI is 19% of our FY22e forecast.
NII was up 1% QoQ from an NIM increase of 2bps QoQ to 1.58% and loan growth of 3% QoQ. Fee income was flat QoQ while other non-interest income was down 43% QoQ. Management guidance of single-digit loans growth with stable NIMs and provisions remains unchanged.
Maintain ACCUMULATE with unchanged target price of S$35.70. Our FY22e estimates remain unchanged. We assume 1.46x FY22e P/BV and ROE estimate of 11.5% in our GGM valuation. There is upside to our estimates from further GP write-backs and higher NIMs. Every 25bps rise in interest rates can raise NIM by 0.04% and PATMI by 4.3%.
Results at a glance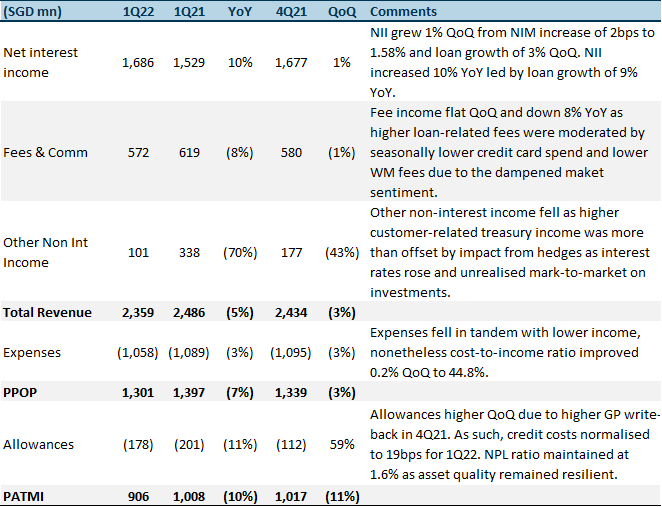 Source: Company, PSR
The Positives
+ NII increased 1% QoQ, led by steady loan growth. NII grew 1% QoQ and 10% YoY, led by continued loans growth of 3% QoQ and 9% YoY, while NIM improved 2bps QoQ to 1.56%. Loan growth was led by corporate loans in Singapore, Greater China and Western countries, while QoQ loan growth was mainly from trade and term loans in Singapore. UOB has maintained its guidance of mid to high single-digit loan growth for FY22e.
+ Credit costs improved 10bps YoY. Total allowances fell by 11% YoY to S$178mn resulting in credit costs improving by 10bps YoY to 19bps. However, allowances were higher QoQ, mainly due to higher GP write-backs in the previous quarter (S$2mn in 1Q22 vs S$76mn in 4Q21). Total general allowance for loans, including RLARs, were prudently maintained at 0.9% of performing loans. UOB has maintained its credit cost guidance of 20-25bps for FY22e.
The Negatives
– Fee income fell 8% YoY. Fee and commission income fell 8% YoY, particularly from wealth and fund management due to the subdued market conditions. Fees, however, were stable QoQ as a strong demand for lending and advisory business propelled higher loan-related fees which were moderated by seasonally lower credit card spend and lower wealth and fund management fees due to the dampened market sentiment. UOB has lowered its guidance to high single-digit growth in fee income for FY22e (previously double-digit growth).
– Other non-interest income fell 70% YoY. Other NII fell 70% YoY due to the impact on hedges, resulting in lower non-customer-related trading and investment income while customer-related treasury income was stable. Other NII fell 43% QoQ as customer-related growth of 18% QoQ was more than offset by impact from hedges as interest rates rose and unrealized mark-to-market on investments.
– New NPAs of S$462k in 1Q22. New NPA formation increased by 219% YoY but fell 31% QoQ to S$462mn. Nonetheless, NPL ratio remained stable at 1.6%. 1Q22 NPA coverage is at 94% and unsecured NPA coverage at 216%, compared with DBS' NPA coverage of 114% and unsecured NPA coverage of 193% for the same period.
Outlook
PATMI: UOB's profit should continue to grow in 2022e on the back of stabilising margins, stronger fees and lower provisions. We expect NII to expand 14% YoY. We continue to expect credit costs to come in below guidance of 20-25bps. There is earnings upside from writebacks of the S$1bn in management overlay of general provisions. Management has said that as it is being conservative, the intention is only to write-back some but not all of the GPs during the second half of 2022.
NIMs: Management expects improvement in NIMs only in the later part of 2022. UOB said that a 25bps rise in interest rates could raise NII by $150mn-200mn (or NIM sensitivity of 4bps for every 25bps rate hike). Assuming rate hikes totalling 100bps this year, our FY22e NII can climb S$800mn (or 11%) resulting in an increase in our FY22e PATMI by 17%.
Loan growth: Asset quality is expected to stabilise, and management expects to continue to see strong demand for loans as cross-border activities pick up. ASEAN loans growth is expected to be higher with some slowdown in Singapore and North Asia. Growth so far has been skewed towards the developed markets as the ASEAN economy remains muted, but management expects this to change in 2022 as the economy recovers. UOB has guided mid to high single-digit loan growth for FY22e.
Investment Action
Maintain ACCUMULATE with unchanged target price of S$35.70.
We maintain our ACCUMULATE recommendation with an unchanged target price of S$35.70. Our FY22e estimates remain unchanged. We assume 1.46x FY22e P/BV and ROE estimate of 11.5% in our GGM valuation.
About the author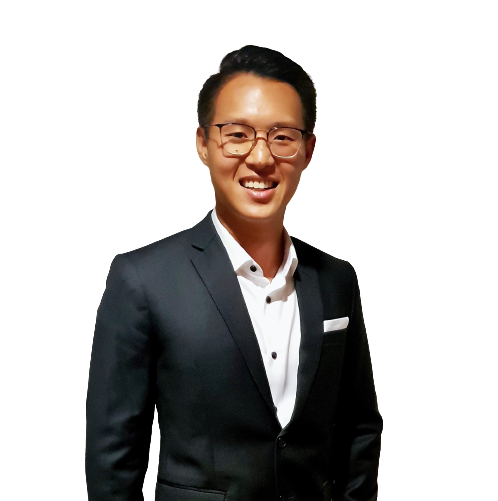 Glenn Thum
Research Analyst
PSR
Glenn covers the Banking and Finance sector. He has had 3 years of experience as a Credit Analyst in a Bank, where he prepared credit proposals by conducting consistent critical analysis on the business, market, country and financial information. Glenn graduated with a Bachelor of Business Management from the University of Queensland with a double major in International Business and Human Resources.