Adobe Inc - Strong demand for its design software
21 Dec 2022
4Q22 results were in line with expectations. FY22 revenue/PATMI was at 100% of our forecasts.
Creative Cloud sales rose 8% YoY to US$2.7bn, driven by continued demand for its creative design software tools. Document Cloud sales grew 16% YoY to US$619mn due to its PDF capabilities and growth in e-signature transactions within Acrobat.
We lower our FY23e revenue/PATMI by 4%/6% due to macroeconomic uncertainty and FX headwinds. We maintain a BUY recommendation with a reduced DCF target price of US$408 (prev. US$420), a WACC of 7.1%, and a terminal growth rate of 4.0%. Adobe enjoys tailwinds from digital transformation of paper-based processes, explosion in digital content creation and continued shift to the cloud.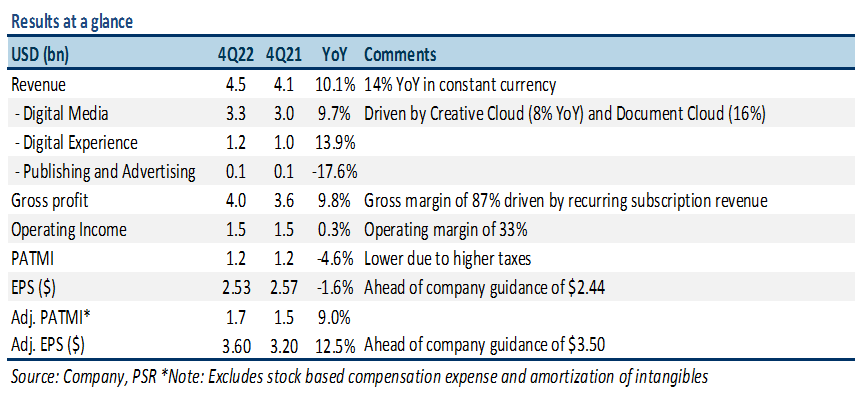 The Positives
+ Strong growth across business segments. In 4Q22, revenue grew 10% YoY (14% in constant currency) to US$4.5bn, which was in line with our estimates. The growth was driven by 10%/14% YoY increases in Digital Media and Digital Experience revenues to US$3.3bn and US$1.2bn, respectively. In the Digital Media segment, Creative Cloud revenue grew 8% YoY to US$2.7bn driven by strong demand for its design software tools (Photoshop, Adobe Express, and Frame.io) from creative professionals and smaller and medium-sized enterprises. Document Cloud revenue grew 16% YoY to US$619mn due to its PDF capabilities and growth in e-signature transactions within Acrobat. Digital Experience revenue, which includes analytics and marketing software, increased by 14% YoY to US$1.2bn. Key customer wins include Meta, Deloitte, and Delta Air Lines.
+ Maintained high margins. In 4Q22, Adobe reported an impressive gross margin of 87%. This is mainly because the company generates the majority of its sales (>90%) from recurring subscription revenue. Adj. operating margin (excluding stock-based compensation expense and amortization of intangibles) was 45%, which was in line with 4Q21. Adobe generated US$2.2bn in free cash flow in 4Q22. This translates to a 49% free cash flow margin.
The Negatives
– FX continues to be a headwind. Adobe's revenue was negatively impacted due to the strengthening of the dollar against several key foreign currencies, including the Euro, British pound, and Japanese yen. In 4Q22, FX headwind to revenue was about US$175mn (15% of PATMI). Adobe projects nearly US$750mn headwind from FX in FY23e.
About the author
Ambrish Shah
US Technology Analyst (Software/Services)
PSR
About the author
Ambrish Shah
US Technology Analyst (Software/Services)
PSR