Paypal Holdings Inc - Stock Analyst Research
Target Price*
98.00
Recommendation
BUY

›

BUY

Market Cap*
-
Publication Date
4 Aug 2023
*At the time of publication
PayPal Holdings Inc - Resilient consumer spending
1H23 revenue/PATMI was within expectation at 49%/48% of our FY23e forecasts. In 2Q23, revenue grew 7% YoY to US$3bn led by 11% YoY increase in total payment volume benefiting from resilient consumer spending.
In 2Q23, gross margin fell to 46% from 49% in 2Q22 due to volume mix shift towards the lower-margin Braintree unit and 65% YoY spike in credit loan provisions to US$112mn.
For FY23e, PayPal reiterated its adj. EPS guidance to grow 20% YoY to US4.95 and 100 basis points YoY improvement in adj. operating margin to 22% driven by higher operating leverage. GAAP EPS guidance raised to US$3.49 from US$3.42.
We maintain a BUY recommendation with a lower DCF target price of US$98.00 (prev. US$103.00) using a WACC of 7% and terminal growth rate of 4%. Our FY23e revenue estimates remain unchanged, while we nudge lower our EBITDA by 2% due to higher transaction-related expenses and credit loan provisions. PayPal enjoys long-term tailwinds from two-sided network effects, secular shift to electronic payments, as well as Venmo monetization initiatives like Tap to Pay and payment option on Amazon.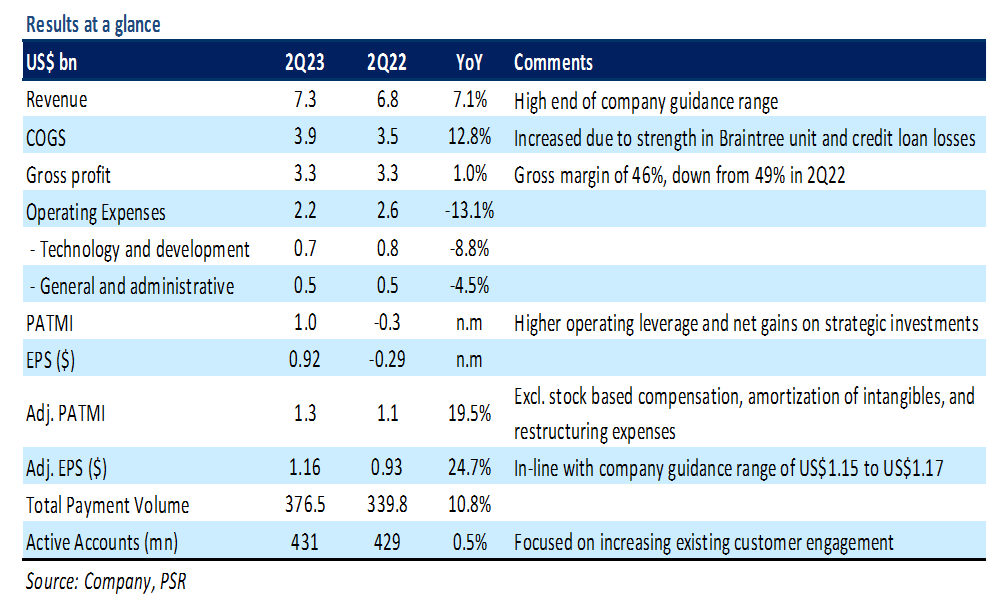 The Positives
+ Transactions per active account continued to climb. PayPal's customer engagement as measured by the number of transactions per active user increased to 55x in2Q23 from 49x in 2Q22. The management has shifted its strategy to driving more engagement within existing users away from trying to grow active users. PayPal is boosting user engagements through new features, including Tap to Pay on iPhone, cryptocurrency buying and selling, and QR code payments. Moreover, PayPal's Venmo (popular peer-to-peer payment platform) has been added as a payment option on Amazon's checkout page.
+ Double-digit growth in total payment volume. In 2Q23, PayPal's total payment volume (TPV) surged by 11% YoY to US$377bn driven by resilient consumer spending. Management highlighted that e-commerce spending is expected to grow by mid-single digits YoY in FY23e compared with its prior expectation of flat growth as there appears to be shift from travel and services to goods spending.
The Negative
– Active account growth slows, continuation of gross margin compression. In 2Q23, active accounts grew by 0.5% YoY to 431mn but decreased by 2mn sequentially due to higher churn from lower usage accounts. In addition, the gross margin fell to 46% in 2Q23 from 49% in 2Q22. The drop was mainly due to both the volume mix shift towards the lower-margin Braintree unit and higher loan provisions. In 2Q23, credit losses spiked by 65% YoY to US$112mn. Management highlighted that the company has tightened its underwriting standards for business loans offered to merchants.
About the author
Ambrish Shah
US Technology Analyst (Software/Services)
PSR
About the author
Ambrish Shah
US Technology Analyst (Software/Services)
PSR