PayPal Holdings Inc - Accelerated cost reductions
15 Feb 2023
4Q22 results were in line with expectations. FY22 revenue/PATMI was at 100% of our forecasts. In 4Q22, revenue grew 7% YoY driven by total payment volume of US$357.4bn (up 9% YoY in constant currency). PATMI rose 15% YoY (7% normalized) on accelerated cost reductions
Payment transactions per active account set a new high at 51.4x on an annualized basis. 2.9mn net new active accounts were added in 4Q22, taking the total to 435mn.
We maintain a BUY recommendation with a lower DCF target price of US$103 (WACC 7%, g 4%), down from US$110. Our FY23e revenue is lowered 2% as consumers are cutting back on discretionary spending; while we have increased our PATMI by 4% due to lower operating expenses. PayPal enjoys long-term tailwinds from two-sided network effects, secular shift to electronic payments, as well as rolling out Venmo payment option on Amazon.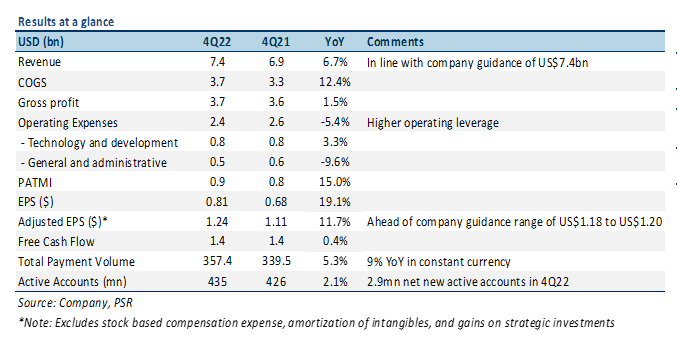 The Positives
+ Customer engagement continues to climb. In 4Q22, customer engagement improved, with the number of payment transactions per active account up by 13% YoY to 51.4x on an annualized basis. This is a sizable increase given PayPal's intent to shift away from adding new accounts and toward more engagement with existing users. The rolling out of Venmo payment option for person-to-business (P2B) transactions on Amazon could accelerate this engagement.
+ Focused on improving operating margin. In 4Q22, PayPal's operating expenses fell by 5% YoY due to cost controls (job cuts and real estate consolidation) resulting in adj. operating margin of 22.9% (vs. 21.8% in 4Q21). Management noted that the company has exceeded its US$900mn cost-savings target for FY22. In addition, the company has identified US$600mn of additional cost synergies for FY23e, on top of the previously announced US$1.3bn. This includes recently-announced layoffs of 2,000 employees (7% of its workforce).
The Negative
– Slowdown in TPV growth. In 4Q22, PayPal's total payment volume (TPV) grew 5% YoY (9% YoY in constant currency) to US$357.4bn. The growth rate decelerated significantly from 23% in 4Q21 mainly due to weak trends in global e-commerce and cuts to consumer discretionary spending amid inflationary pressures.
About the author
Ambrish Shah
US Technology Analyst (Software/Services)
PSR
About the author
Ambrish Shah
US Technology Analyst (Software/Services)
PSR