PayPal Holdings Inc - Cost savings drive earnings growth
11 May 2023
1Q23 revenue/PATMI was within expectation at 24%/21% of our FY23e forecasts. Revenue growth of 9% YoY to US$7bn was led by 12% YoY increase in total payment volume. PATMI rose 56% YoY (28% normalized) driven by continued cost savings.
For FY23e, PayPal now expects adj. operating margin to expand by 100 basis points from the previous 125 basis points due to strength in its lower-margin unbranded checkouts (Braintree). But GAAP EPS guidance raised to US$3.42 from US$3.27.
We maintain a BUY recommendation with a DCF target price of US$103 (WACC 7%, g 4%). Our FY23e revenue estimates remain unchanged, while we nudge lower our EBITDA by 1% due to higher transaction expenses related to Braintree partially offset by lower operating expenses. PayPal enjoys long-term tailwinds from two-sided network effects, secular shift to electronic payments, as well as addition of Venmo as payment method on Amazon.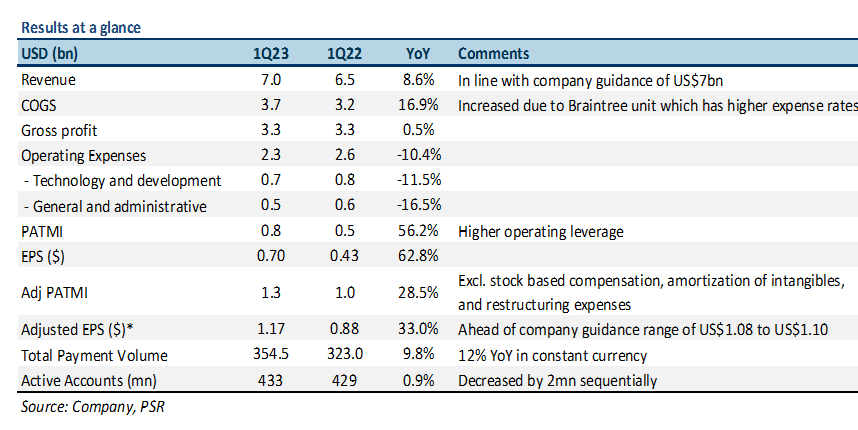 The Positives
+ Improvement in customer engagement. In 1Q23, the number of payment transactions per active account grew by 13% YoY to 53.1x on an annualized basis (up from 47x in 1Q22). PayPal is increasing customer engagement through product innovations and partnerships, including the roll-out of Venmo payment option for person-to-business (P2B) transactions on Amazon. PayPal has also partnered with Apple to allow merchants to use their iPhone as a mobile point of sale (POS) terminal without the need for any additional hardware.
+ Focused on improving profitability. In 1Q23, PayPal's non-transaction expenses (general and administrative, and technology) fell by 10% YoY due to cost controls resulting in adj. operating margin of 23% (vs. 21% in 1Q22). For FY23e, PayPal has outlined a total of US$1.9bn in cost cuts, mostly through job cuts and real estate consolidation. In 1Q23, PayPal laid off 2,000 employees (7% of its workforce) citing challenging macro-economic environment.
The Negative
– Active accounts decline sequentially. In 1Q23, active accounts grew by 1% YoY to 433mn but decreased by 2mn compared with 4Q22. The drop was mainly driven by higher churn from lower usage accounts and the management's decision to focus on driving more engagement with existing customers. Notably, PayPal indicated that it expects no net new additions in FY23e during 4Q22 earnings call.
About the author
Ambrish Shah
US Technology Analyst (Software/Services)
PSR
About the author
Ambrish Shah
US Technology Analyst (Software/Services)
PSR