Adobe Inc - Strong quarter but offset by FX headwinds
21 Jun 2022
2Q22 results were in line with expectations. 1H22 revenue/PATMI was at 48% of our FY22e forecasts. Total revenue grew 14% YoY to US$4.4bn, due to 15%/17% YoY increases in Digital Media and Digital Experience revenues.
Creative Cloud sales rose 12% YoY to US$2.6bn, driven by continued demand for video content production. Document Cloud sales grew 27% YoY to $595mn due to strong adoption of Acrobat with integrated Sign capabilities within companies of all sizes and significant demand for PDF solutions on mobile devices.
We maintain a BUY recommendation with a lower DCF target price from US$602 to US$549.00 (WACC 6.5%, g 4%). This is mainly because we reduced our FY22e revenue/PATMI by 1%/6% to account for the projected US$175mn incremental foreign exchange headwinds, US$75mn revenue hit due to the Ukraine conflict and higher tax rates. We believe that Adobe enjoys tailwinds from increased pricing, digitalization of document workflows, explosion in digital content creation and cloud migration trends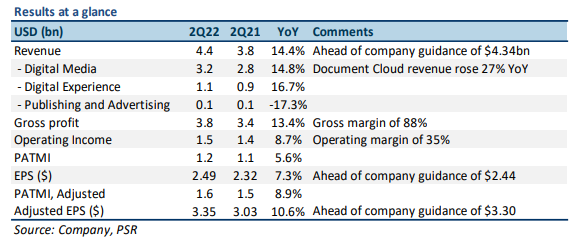 The Positives
+ Adobe reports record 2Q revenue with solid demand for its products. Revenue grew 14% YoY to US$4.4bn, beating consensus estimates for its top line by 1%, and was in line with our estimates. The growth was driven by 15%/17% YoY increases in Digital Media and Digital Experience revenues to US$3.2bn and US$1.1bn, respectively. In the Digital Media segment, Creative Cloud revenue grew by 12% YoY to US$2.6bn (Creative Cloud annual recurring revenue (ARR) grew 14% YoY to US$10.8bn), while Document Cloud sales grew 27% YoY to US$595mn (Document Cloud ARR grew 26% YoY to US$2.1bn) – the fastest growth of any segment in the quarter. The growth primarily came from new user acquisition and healthy retention. In 2Q22, Acrobat Web surpassed 50mn monthly active users, and doubled YoY. Additionally, Document Cloud revenue was driven by strong adoption of Acrobat with integrated Sign capabilities within companies of all sizes and significant demand for PDF solutions on mobile devices.
+ Maintained strong margins. Adobe reported an impressive gross margin of 88% as the company reports the bulk of its sales from recurring revenue. Operating income was 35% of sales compared with 37% a year ago. Non-GAAP operating margin, which excludes stock-based and deferred compensation expense and amortization of intangibles, was 45% compared with 46% a year ago. Adobe has stable operating margins despite the macroeconomic headwinds, representing a disciplined spending approach and a higher focus on profitability.
+ Creative Cloud price increases. In April, Adobe increased its subscription fees for certain Creative Cloud plans for the first time in five years. The new pricing was in effect for roughly a month but generated about US$10mn in additional revenue, in line with the management's expectations. Meanwhile, the impact of the price increases is expected to be higher in 4Q22 as significant enterprise deals will be up for renewal.
The Negatives
– FX headwinds impacting revenue growth. Adobe is factoring in an incremental FX headwind of US$175mn across 2H22 revenue. This year, the US dollar has gained strength against the Euro, the Japanese yen, and other currencies as the Federal Reserve has raised interest rates to combat inflation. Adobe generates about 40% of its revenues from international markets.
Outlook
For FY22, Adobe now expects earnings of US$9.95 per share on total revenue of US$17.65bn (prev. EPS of US$10.25 on revenue of US$17.9bn). Non-GAAP EPS is expected to be US$13.50 compared with the prior forecast of US$13.70. This guidance reduction was driven by the projected US$175mn incremental foreign exchange headwinds, US$75mn revenue hit due to the ongoing Ukraine conflict, increased tax rates, and summer seasonality in 3Q22.
Adobe expects Digital Media net new ARR of US$1.9bn for FY22. Additionally, the company expects revenue growth of 12%/14% YoY in the Digital Media and Digital Experience segments.
Cash flow generation continues to be strong, with the company generating about US$1.9bn in Free Cash Flow, ending 2Q22 with US$3.4bn in cash and cash equivalents.
About the author
Ambrish Shah
US Technology Analyst (Software/Services)
PSR
About the author
Ambrish Shah
US Technology Analyst (Software/Services)
PSR