LHN Limited - Maintaining strong occupancy levels
23 May 2022
1H22 results within expectations, with revenue and adjusted PATMI at 46%/55% of our FY22e forecasts. Excluding one-off items, adjusted PATMI was down 7.6% YoY.
Co-living is the major revenue driver, up 40.6% in 1H22. We expect the number of rooms to double over the next two years.
Maintain BUY with a higher TP of S$0.51, from S$0.49. FY22e forecasts remain largely unchanged. Valuation for all business segments except for LHN Logistics (LHNL SP, Not Rated) is pegged to 6.5x FY22e P/E, while the industry is trading at 13x. This gives us S$0.40/share. We add another S$0.11/share from the market value of its listed subsidiary, LHN Logistics. We build in a 20% discount buffer to account for any volatility in its share price.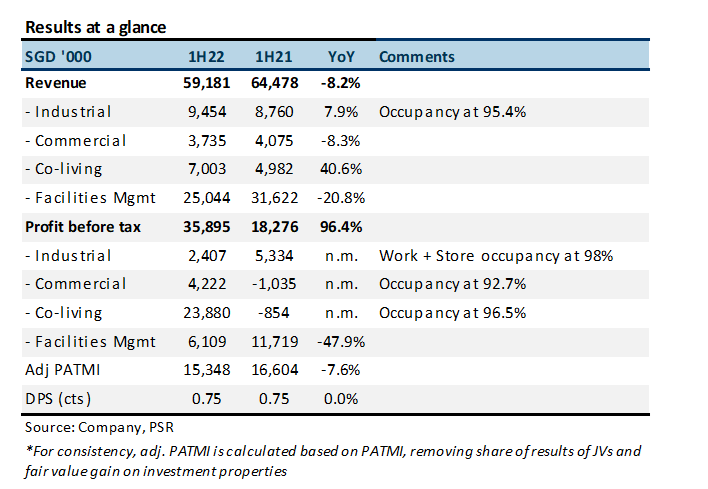 The Positive
+ Co-living (Coliwoo) is main driver of revenue and profit growth. Co-living revenue was a record S$7mn. This was due to full half-yearly revenue recognised from the property at 1557 Keppel Road, which turned operational in 3Q21. Two other properties, including 320 Balestier Road, and a JV property at 40 and 42 Amber Road commenced operations in 1H22. Profit of S$23.9mn in 1H22 was mainly due to fair value gain on investment properties of S$10.8mn and on JV investment properties of S$9mn.
The Negatives
– Lower revenue from commercial properties and facilities management. Revenue from commercial properties decreased but profit was higher. This was due to the disposal of loss-making properties. Revenue from the carpark business under facilities management continues to perform well, but overall revenue dropped due to lower demand for dormitory management services.
– Higher net debt. In 1H22, LHN recorded net debt of S$97.9mn, which is up 51% from S$64.6mn in 2H21. Long-term bank borrowings were up 28% to S$115.4mn, mainly used to finance the acquisition of the property at 55 Tuas South Avenue 1, renovation and working capital for the co-living business.
Other updates
Strong demand for industrial properties. The Work Plus Store outlets are seeing full occupancy, as demand from e-commerce business owners remains strong. The online retail sales proportion remains elevated at an average of 16% in the first quarter of 2022.
According to Edgeprop, industrial rents in Singapore climbed 1% in the first quarter of 2022, which marks the sixth consecutive quarter of rental increase. Industrial leasing demand is expected to be strong, as demand for logistics remains high, combined with tight supply. Supply chain disruptions and demand for storage requirements from semiconductors, pharmaceutical and biomedical sectors are expected to remain strong.
In 1H22, occupancy rate for LHN's industrial properties inched up 1.9 ppts to 95.4%.
Aggressively expanding Coliwoo portfolio. LHN continues to ride on the promising prospect of the residential rental market in Singapore. Despite hitting a seven-year high, the local private residential property rental index has continued rising, and by 12% YoY in the first quarter of 2022. Amidst the various options, LHN provides flexible and affordable residential offerings. As the Singapore borders reopen, we are expecting stronger demand from expats and international students returning to the country.
In 1H22, the property at 320 Balestier Rd, and a joint venture property at 40 and 42 Amber Road have commenced operations. There are four other residential properties expected to commence operations in 2H22 under the Coliwoo co-living portfolio. In FY22, we expect the six properties to add 250 keys in total, which implies an increase of 30% on a full-year basis.
LHN has also entered into a master lease for a block of serviced residences at 2 Mount Elizabeth Link, Singapore. The company expects operations at this property to commence in 1Q23, which would be adding 411 keys to the portfolio. We are expecting the number of keys to increase by 50% in FY23.
From FY21 to FY23, the number of keys is expected to double.
About the author