Block Inc. - Stock Analyst Research
Target Price*
85.00
Recommendation
BUY

›

BUY

Market Cap*
-
Publication Date
8 Nov 2023
*At the time of publication
Block Inc - Focused on improving earnings
9M23 revenue was within expectations but earnings were ahead. 9M23 revenue/adj. PATMI were 74%/84% of our FY23e forecasts. 3Q23 adj. PATMI spiked 31% YoY to US$346mn driven by higher operating leverage.
For 4Q23e, Block expects consolidated gross profit growth of 19% YoY to US$2bn primarily driven by its Cash App segment led by growth in its monthly transacting active users and higher adoption of its banking products. For FY24e, adj. EBITDA is expected to grow by 44% YoY to US$2.4bn due to continued cost-saving initiatives.
We maintain a BUY recommendation and nudge our DCF target price to US$85 (WACC 7.1%, g 4%), up from US$83. Our FY23e revenue estimates remain unchanged; while we have increased our adj. PATMI by 15% to account for lower expenses. We believe Block is well-positioned to benefit from its diversified portfolio of consumer banking solutions to a lower-income and underbanked demographic, resurgence of discretionary spend, and an ongoing shift to cashless payments.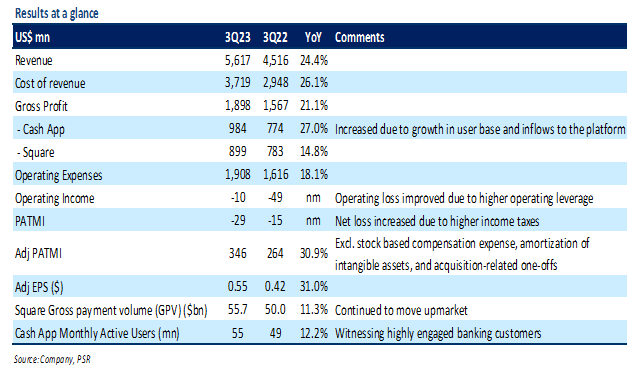 The Positives
+ Cash App posted robust growth. Block's Cash App segment, which mainly offers consumer banking products, reported revenue growth of 34% YoY to US$3.6bn and gross profit growth of 27% YoY to US$984mn. Excluding Bitcoin, Cash App revenue grew by 26% YoY to US$1.2bn. The growth was led by 12% YoY growth in monthly transacting active users to 55mn, of which 22mn used a Cash App debit card. In addition, inflows per active user grew by 8% YoY to US$1,132 leading to wider adoption of its products and services, including debit card, ATM withdrawal, and investing in stocks/bitcoin.
 + Focused on improving earnings. OPEX for 3Q23 grew 18% YoY to US$1.9bn compared with 45% YoY growth in 3Q22. The slower OPEX growth is mainly because the management remains focused on cost controls, including headcount reduction, real estate consolidation, and careful discretionary spends like on travel. Management highlighted that the company plans to reduce the number of employees to 12,000 by the end of FY24e compared with 13,000 currently. 3Q23 adj. PATMI spiked 31% YoY to US$346mn driven by higher operating leverage.
The Negative
– Square segment GPV growth decelerated. The Square segment, which provides merchants with payment services, processed US$55.7bn of gross payment volume (GPV) in 3Q23, an increase of 11% YoY compared with 20% YoY growth in 3Q22. GPV growth slowed further in October to 9% due to lower consumer discretionary spending, particularly in food and beverages, and retail categories.
About the author
Ambrish Shah
US Technology Analyst (Software/Services)
PSR
About the author
Ambrish Shah
US Technology Analyst (Software/Services)
PSR