Asian Pay Television Trust-Free cash flows stable
14 May 2021
1Q21 revenue and EBITDA were within expectations, at 26%/25% of our FY21e forecasts.
Revenue was down S$5mn or 6% YoY, dragged down by a 9.8% contraction in cable TV. Weakness was partly offset by a 9.5% rise in broadband revenue. FCFs rose modestly to S$25mn from a S$4mn decline in capex.
DPU guidance of 0.25 cent/quarter for FY21e maintained. BUY recommendation and target price of S$0.15 unchanged. Stock pegged at 9x FY21e EV/EBITDA, a 20% discount to Taiwanese peers for its smaller scale, higher leverage and weaker growth profile. Annual dividend distribution of S$18mn well supported by FCF of S$77mn. 5G data backhaul to be key component of broadband business in the next few years, though we have yet to model any revenue.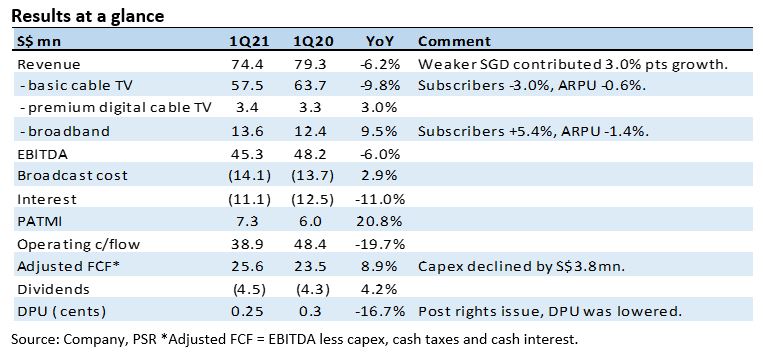 The Positive
+ Growth in broadband. Broadband revenue expanded almost 10% YoY in 1Q21. Net subscriber adds were 5,000, the highest in four quarters with ARPU almost unchanged. APTT has been partnering wireless operator shops to distribute their high-end 500MB/1GB broadband plans since end-2019.
 The Negative
– Cable TV still shrinking. Cable TV revenue declined around 10% YoY in 1Q21. Subscription revenue was stable at S$49mn but non-subscription dropped 43% to S$8.4mn due to an absence of in-house content sales and lower channel leasing revenue. Both were popular during the lockdown in Taiwan.
Outlook
We expect FCF to be stable despite weaker revenue as capex is trending down the next two years. Investments in the past three years have driven homes to fibre node density from 750 to 250 currently. This should be sufficient to meet demand for 5G data backhaul. We lower our FY21e capex by 10% to S$45mn.
Maintain BUY and target price of S$0.15
Current dividend yield of 9% from a S$18mn payout is well supported by FCF of S$77mn. Our FY21e earnings forecast is largely unchanged.
About the author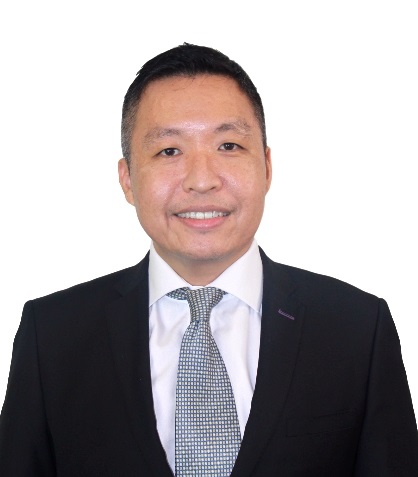 Paul Chew
Head of Research
Phillip Securities Research Pte Ltd
Paul has 20 years of experience as a fund manager and sell-side analyst. During his time as fund manager, he has managed multiple funds and mandates including capital guaranteed, dividend income, renewable energy, single country and regionally focused funds.

He graduated from Monash University and had completed both his Chartered Financial Analyst and Australian CPA programme.