Frasers Centrepoint Trust - Early recovery for suburban malls
29 Oct 2021
FY21 NPI of S$246.6mn (+122.4%) and DPU of 12.085 cents (+33.7%) were in line, forming 96% and 99% of our estimates.
S$9mn in rental rebates provided in FY21, one-third of that provided in FY20.
Occupancy and NPI margins back to pre-pandemic levels, positive reversions at six out of nine malls.
Reiterate BUY, DDM TP (COE 6.38%) lowered from S$2.87 to S$2.83. We lower our FY22e-25e DPU by 5.8%-6.6% to factor in a more conservative pace of rental growth. Catalysts expected from growth in mall catchment, asset enhancement and M&A/collaboration opportunities.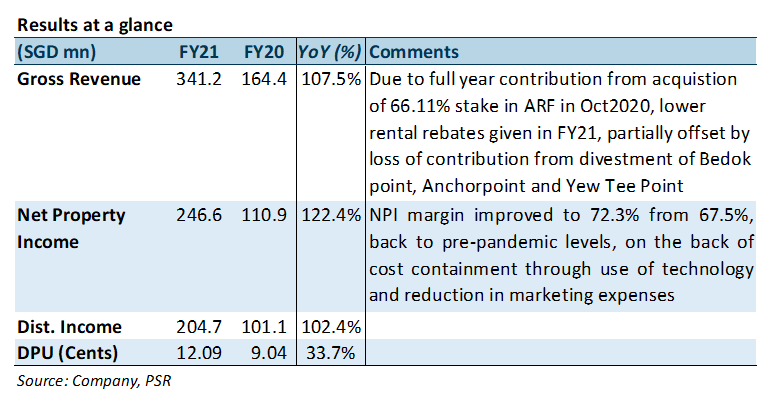 The Positives
+ NPI margin back at pre-pandemic levels.  FY21 NPI margins improved YoY from 67.5% to 72.3% due to cost-containment initiatives and lower marketing cost due to absence of atrium events. Historical NPI margins have tracked between 70%-72%. FCT was able to trim operating cost through various initiatives such as employing central security office to reduce manpower costs. The absence of atrium sales also reduced marketing expense. As restrictions on use of atrium space is lifted, increased marketing cost should be offset by returning atrium revenues, keeping NPI margins stable.
+ Retail occupancy up 0.9ppt YoY to 97.3%. Occupancy has normalised to pre-pandemic levels, up from FCT's low of 94.6% a year ago. Occupancy improved across six out of nine of FCT's malls. FCT has begun renewal discussions the 35.7% of GRI expiring in FY22. c.25% of these leases are currently in advanced stages of negotiation or in the documentation phase.
The Negatives
– Retail reversions landed in the red. Full year reversions were -0.6%, weighed down by negative reversions at Changi City Point, Century Square and Tampines 1 which came in at -9.8%, -2.8% and -0.1% respectively. Changi City Point was affected by weaker demand as the asset is located near business parks and the Singapore Expo and impacted by lower footfall due to the WHF and absence of trade show and events. FY21 expiries for Century Square were high at c.40% as many tenants were signed after the mall was repositioned three years ago. The unfortunate timing of lumpy expiries during the pandemic has led to a slower absorption of space. The remaining six out of nine malls registered positive reversions ranging 0.3% to 2.5%. FCT's only office asset, Central Plaza, also registered positive reversions of 1.9%. As retail leases typically include rental step-ups during the lease term. Reversions on average incoming vs average outgoing rents were +2.1%, implying rental growth over the next three years.
– Slight decline in portfolio valuation. Portfolio valuation dipped S$8mn or 0.1% of AUM YoY. Causeway point registered a $S7mn increase in valuation, 1.1% above its pre-pandemic valuation. Decline in valuation was attributed to two assets – Changi City Point and Yishun 10 Retail podium – due to the pandemic situation. Yishun 10 houses cinema operator Golden Village. Capacity constrains in cinema halls have also reduced the footfall for the asset and could have resulted in weaker leasing. Valuations for the remaining six out of nine malls were unchanged, keeping their pre-pandemic valuations.
– July and September tenant sale dipped to 93% and 98% of 2019 levels due to restrictions on group size and in-restaurant dining. We note that FCT's tenant sales underperform the RSI (ex MV) in periods of tightened restrictions as consumers tend towards e-commerce and avoid crowded places.
Outlook
Stronger demand from F&B retailers. FCT noted strong leasing demand from F&B retailers, stemming from new-to-market brands and expansions. However, care has been taken so as not to crowd the malls with too many F&B offerings in the interest of preserving the retail diversity and preventing cannibalisation amongst F&B tenants. Apart from F&B, FCT has also received interest from fashion retailers and grocers. Consolidation and relocation amongst tenants are par for the course, but FCT has dealt with such circumstances opportunistically. For instance, the exit of a mini-anchor tenants at Waterway Point allowed FCT to relocate Toys R Us to the second floor, creating a kids' zone, while Toys R Us' vacated space was taken up by Don Don Donki, creating a value zone.
Healthy occupancy cost points to sustainability of rents. Occupancy cost measures tenants' cost of maintaining a physical store relative to the amount of revenue generated by the store. It has trended between 15.7% to 17.0% from FY16-19 but spiked to 19% in FY20. Occupancy cost dipped to 17.5% in FY21, implying a more sustainable level of rents to further rental growth as reopening progresses.
Maintain BUY, TP lowered from S$2.87 to S$2.83
We lower our FY22e-25e DPU by 5.8%-6.6% to factor in a more conservative pace of rental growth. We reiterate our BUY recommendation. We believe suburban mall will remain relevant and resilient due to their proximity to household catchments and the resilience of necessity-driven spending. Current price implies FY22e/23e DPU yield of 5.5%/5.7%.
Demand for space in dominant mall remains healthy while sustained reopening visibility should support leasing and rental growth, in our view. FCT's portfolio of well-located suburban malls are expected to draw a disproportionate share of leasing demand.
Catalysts include asset-enhancement initiatives, acquisitions from its sponsor's pipeline of assets, increasing its stake in Waterway Point, or acquiring or partnering companies with only one mall in their portfolios. The cost of implementing and maintaining loyalty programmes or omnichannel retailing is higher for single-mall owners, which may present acquisition opportunities.
About the author