LHN Limited - Optimiser of real-estate trends
7 Jun 2021
Work Plus Stores' industrial space riding on the boom in e-commerce spending. Earnings growth expected to be supported by high occupancy, higher rentals and net lettable area (NLA) CAGR of 12% for next two years.
Demand for co-living space under Coliwoo rising, thanks to flexible lease terms, affordable rents and attractive locations. Occupancy in mid-90s. We expect LHN to add 210 residential keys by end-FY22e, at CAGR of 13%.
Initiate coverage with BUY and TP of S$0.54. Few direct comparables, given LHN's diverse exposure to hospitality, industrial and logistics. Industry is trading at 19x FY21e PE. We apply a 50% discount owing to a lack of comparables and large volatility in historical PE. Historical adjusted PE averaged 32x, with a low of 4x. We peg LHN at 9.5x FY21e PE.
Company background
LHN dates back to 1991, as a real-estate management group with a track record in the re-purpose and re-leasing of real estate to capture trends. LHN takes old, unused and under-utilised industrial, commercial and residential properties and enhance and transform them into thoughtfully designed and highly usable space.
It has three main businesses: space optimisation, consisting of industrial, commercial and residential properties; facility management; and logistics services.
Investment merits
Work Plus Stores to ride the rise of e-commerce. Healthy occupancy rates of about 90% are underpinned by a rapid rise in e-commerce. Online retail sales in Singapore more than doubled from 6.3% of total retail sales in January 2020 to 13.3% in April 2021. Industrial property rents also rose for the second consecutive quarter, by 0.6% QoQ in 1Q21. LHN has nine Work Plus Stores, with one upcoming facility at 202 Kallang Bahru, expected to commence in July 2021. 202 Kallang Bahru will add NLA of 193k sq ft or 14% to its portfolio.
Demand for co-living and serviced residences to rise sustainably. LHN's Coliwoo business is thriving, with an average occupancy of 94%. Tenants are attracted to this segment's flexible leases of a minimum seven days and reasonable rentals of S$1.5k-2.6k per month, depending on location and property type. For properties in operation, as of end-FY20, there were 763 keys in the Coliwoo portfolio. In 1HFY21, 1557 Keppel Road was added, contributing 47 keys. Another four projects are expected to begin operations in FY22e, which would add another 166 keys to expand LHN's co-living space offerings.
Facility management expanded with the acquisition of 33 JTC car parks. LHN acquired 33 JTC car parks as right-of-use assets in February 2021. The total number of car parks in Singapore under its management increased from 54 as at end-FY20 to 74 as at end-1HFY21. Car parks at some newly acquired properties such as its Boon Leat property will also be managed by LHN. The car park at Bukit Timah Shopping Centre was acquired in September 2020 under a joint venture.
COMPANY BACKGROUND
LHN was listed on the Catalist in 2015 and dual-listed on the mainboard of the Hong Kong Stock Exchange in 2017. It is a real-estate management group, generating value through expertise in space optimisation. LHN also provides facility management and logistics services, which complement its space optimisation business.
In Singapore, LHN manages 31 commercial, industrial and residential properties, two container depots and 74 carparks.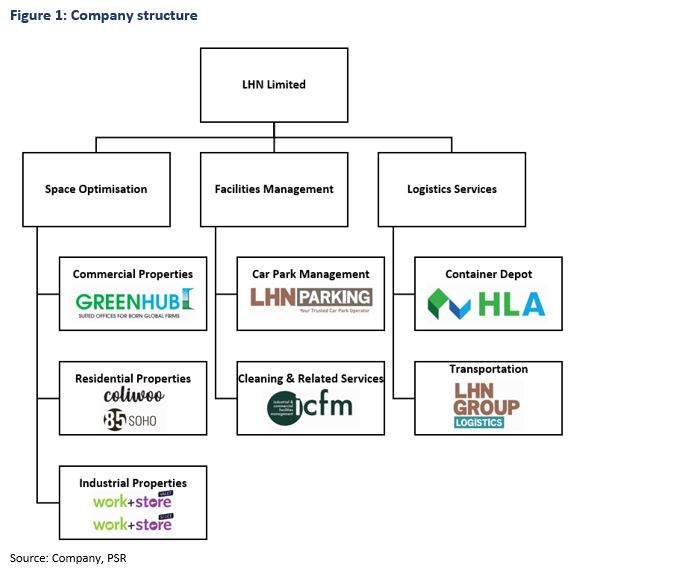 REVENUE
Revenue is derived from three businesses.
Space optimisation. Revenue is primarily generated from rental income, including warehousing service fees, from the following properties:
Industrial properties: warehouses, factories, industrial buildings and land for open storage
Commercial properties: offices and business space
Residential properties: dormitories, HDB and condominium apartments
Facility management. Revenue from building maintenance, security services, cleaning, landscaping and pest control is derived from fees charged to tenants on a cost plus mark-up basis. Revenue from car-park management is derived from car-park rates which are either fixed by LHN for private car parks or regulated by the government for car parks owned by government bodies.
Logistics services. Revenue is derived from charges for the transportation and storage of containers, cargo-handling, service and repair.
An increase in revenue in FY20 stemmed primarily from higher residential revenue under its space optimisation and facility management businesses. The increase in revenue from residential properties was led by: 1) non-recurring revenue of S$16.1mn from its new dormitory business for services provided in 2HFY20; and 2) revenue of S$6.4mn mainly from co-living residences, a new serviced residence project in Myanmar and a new student hostel in Singapore.
Revenue growth was affected by the adoption of IFRS 16, as income and expenses for subleases are now reclassified as interest income and interest expenses respectively. Without the adoption of IFRS 16, FY20 revenue would have been S$151.8mn (Figure 3).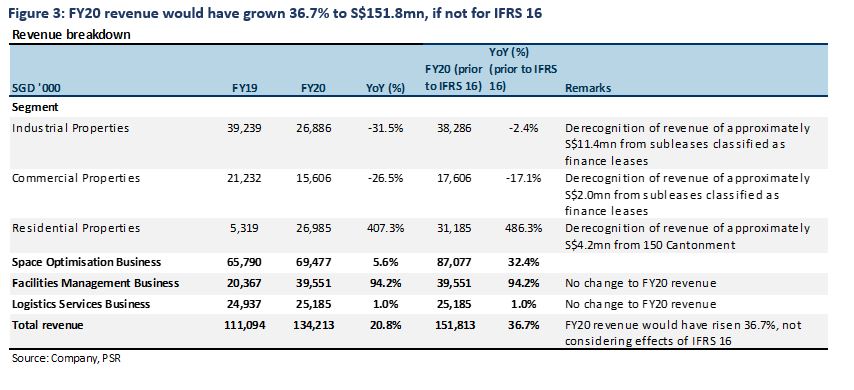 About the author