PayPal Holdings Inc - Cost savings progressing well
11 Nov 2022
3Q22 results were in line with expectations. 9M22 revenue/PATMI was at 71%/67% of our FY22e forecasts. In 3Q22, revenue grew 11% YoY driven by higher transaction revenues. PATMI rose 22% YoY (5% YoY fall normalized) due to cost controls.
Transactions per active account set a new high at 50.1x on an annualized basis. 2.9mn net new active accounts were added in 3Q22, taking the total to 432mn. Total payment volume grew 9% YoY to US$337bn but expected to decelerate to 8.5% YoY in 4Q22.
We maintain a BUY recommendation with a lower DCF target price of US$110 (WACC 7%, g 4%), down from US$116. Our FY22e revenue is lowered 3% due to macro headwinds like weaker spending on discretionary items; while we have increased our PATMI by 8% due to lower expenses. PayPal enjoys tailwinds from a structural shift to digital payments, a strong two-sided network effect, as well as new strategic partnerships with Amazon and Apple to fuel growth.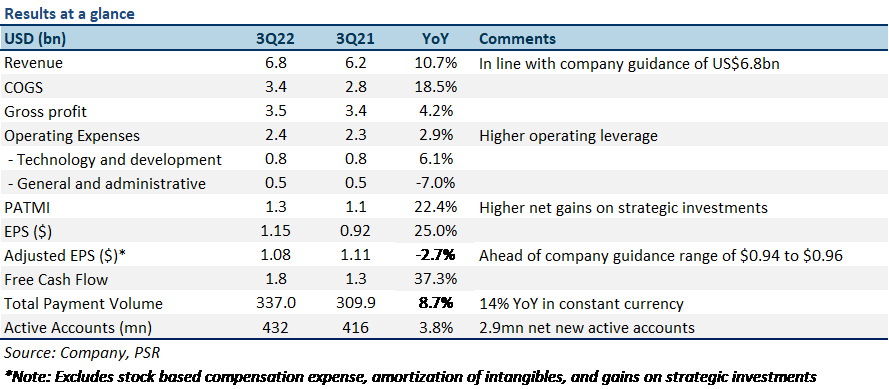 The Positives
+ Rising customer engagement. In 3Q22, PayPal gained traction in its effort to boost user engagement as average transactions per active account grew 13% YoY to 50.1x on an annualized basis. This is a sizable increase as the company is now focusing more on driving user engagement rather than adding more customers. PayPal added 2.9mn net new active accounts in 3Q22, taking its total to 432mn.
+ Cost saving initiatives boost profitability. In 3Q22, total expenses grew just 11.5% YoY, and were 5.2% lower sequentially. PayPal is on track to cut costs by US$900mn in FY22e and US$1.3bn in FY23e, across transaction and operating expenses. The company plans to reduce expenses through job cuts and real estate consolidation.  The cost-cutting measures began in 3Q22 and are expected to ramp up in 4Q22e. Cost savings are expected to boost adj. operating margin to 22.5% in 4Q22e from 21.8% in 4Q21.
+ New strategic initiatives to support growth. PayPal is working with Apple on several new strategic initiatives that could benefit PayPal and Venmo merchants and consumers. PayPal will leverage Apple's Tap to Pay on iPhone functionality for the U.S. merchants to accept contactless debit or credit card payments using an iPhone and the PayPal or Venmo iOS application. Apple Pay will also be added as a payment option in PayPal's checkout flows. Additionally, online retailer Amazon has agreed to accept Venmo payments on its platform. The payment option is likely to be available for all U.S. Amazon customers in time for the peak holiday season.
The Negative
– Decelerating growth in TPV. In 3Q22, PayPal's total payment volume (TPV) grew 9% YoY (14% YoY in constant currency) to US$337bn. The growth rate decelerated significantly from 26% in 3Q21. PayPal expects that slowdown to continue in 4Q22 with just 8.5% TPV growth. The soft guidance reflects continued weakening trends in e-commerce, and an uncertain macroeconomic environment.
Outlook
For 4Q22e, PayPal expects total revenue to grow 7% YoY (9% YoY in constant currency) to US$7.4bn (Figure 1). The management attributes the soft revenue guidance to the slowing e-commerce market and early indications that low/middle-income level consumers are cutting back on their discretionary spending. Additionally, PayPal isn't witnessing signs of an early start to the holiday season as occurred last year. PayPal expects to add 2.3mn to 4.3mn net new active accounts (implied).
For FY23e, PayPal expects e-commerce growth to remain under pressure but highlighted its confidence to deliver 100bps of adj. operating margin improvement and to grow adj. EPS by at least 15% YoY. This is mainly because non-transactional operating expenses are expected to remain flat or fall slightly YoY.
About the author
Ambrish Shah
US Technology Analyst (Software/Services)
PSR
About the author
Ambrish Shah
US Technology Analyst (Software/Services)
PSR