BRC Asia - FY21 profit at record high
9 Dec 2021
4Q21 earnings of S$10.2mn was above our estimates, at 26.9%. The beat came from higher deliveries and the reversal of impairment loss from its associates. FY21 profit of $49.7mn is a record high for the group.
Total dividend for FY21 stands at 12 cents per share, exceeding our forecast of 8 cents, reflecting management's confidence in the construction recovery.
Net gearing inched up to 1.17x from 1.12x as working capital needs increased due to higher inventory costs. We expect net gearing to remain elevated in FY22e-23e to support inventory in anticipation of higher expected deliveries.
Maintain BUY with higher target price of S$1.84, from S$1.79. We revise FY22e earnings by 39% while earnings per share increased by 12.5% as we factor in the higher share float and forecast higher order deliveries in FY22. Our TP is based on 11x FY22e P/E, still at a 15% discount to the 10-year historical average, on account of the uncertain environment. Catalysts expected from higher foreign-worker inflows to Singapore.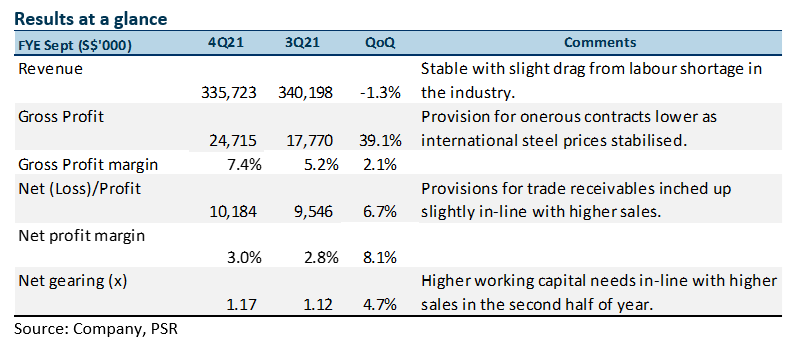 The Positives
+ FY21 net profit exceeded our expectations by 24.2%. In spite of the resurgence of COVID-19 in Singapore, order deliveries went up as disruptions to construction schedules were minimised with more frequent testing. The beat also came from share of results of associates, which generated a profit of $1mn, reversing the $14.5mn loss last year as the Group reversed the impairment loss as a result of improved occupancy in both its hotel and resort following the easing of travel restrictions in the Maldives.
The total contracts awarded for Jan-Sept 2021 in the construction sector were $21.7bn, surpassing 2020's $21bn. BRC has sizeable amount of projects in the pipeline, with its order book steady at about S$1.2bn. We estimate that half of the order book will be fulfilled within the next 12-15 months.
+ Total dividend for FY21 stands at 12 cents/share, exceeding our forecast of 8 cents. On top of the interim dividend of four cents already paid, the company has proposed a final dividend of four cents per share and a special dividend of four cents, bringing full-year dividend to 12 cents per share. This represents approximately 61% of earnings, translating into an 8.1% yield.
+ Gross profit margin and provision for receivables impairment better than expected. With steel prices easing slightly in the last few months, provisions for onerous contracts also eased, resulting in gross profit margins improving QoQ. Total provisions for impairment loss on trade receivables was S$2.7mn in FY21, or 2.3% of total sales. This was lower than our 3% estimate despite the continued challenges faced in the construction industry.
The Negative
– Net gearing inched up to 1.17x from 1.12x as working capital needs increased due to higher inventory costs and sales. Total borrowings increased by another S$40.9mn in 4Q21 as higher sales necessitated higher working capital. Despite steel prices easing slightly in the last few months, they remain elevated. We therefore expect inventory costs and net gearing to remain high in FY22-23e.
Outlook
Easing border restrictions could aid further recovery in the construction sector. With higher vaccination rates (~85%), we believe the government will progressively loosen border restrictions to alleviate the tightness in the labour market. The number of seasonally adjusted job vacancies in the overall economy rose to an all-time high of 92,100 in June 2021. The number of vacancies is especially acute in sectors which rely most on foreign workers, such as construction and manufacturing. In the first half of 2021, the total number of foreign workers declined by 32,600. The seasonally adjusted job vacancy to unemployed person ratio rose to 1.63 in June 2021, exceeding 1 for the first time since March 2019. We therefore believe the government will progressively facilitate the safe inflow of new foreign workers to alleviate the manpower crunch while ensuring that the risk of COVID-19 importation is well-managed to protect public health. The Ministry of Health recently announced the easing of measures for travellers from various countries, including Malaysia.
Construction sector improved marginally in the third quarter of 2021. Based on advance estimates from the Ministry of Trade and Industry, the Singapore economy grew by 0.8% on a QoQ seasonally-adjusted basis in the third quarter of 2021, a reversal from the 1.4% contraction in the preceding quarter. The construction sector shrank by 0.4% QoQ seasonally adjusted, improving from the 2.4% decline in the previous quarter. The Building and Construction Authority expects construction demand to improve to S$23-28bn in 2021 from S$21bn last year. The public sector is expected to contribute 65% of the new contracts or S$15-18bn, to meet stronger demand for public housing and infrastructure.
BCA also forecasts that average construction demand in 2022-2025 will be S$25-32bn per year, excluding the development of Changi Airport Terminal 5 and expansion of the two integrated resorts. The public sector is expected to contribute 56% to the demand.
As our forecasts have not included these projects, there is upside if they go live. In the near term, projects in the pipeline that will likely support the group's growth are the Singapore Science Centre's relocation, the Toa Payoh integrated development, Alexandra Hospital redevelopment, Bedok's new integrated hospital, Phases 2-3 of the Cross Island MRT Line and the Downtown Line's extension to Sungei Kadut.
About the author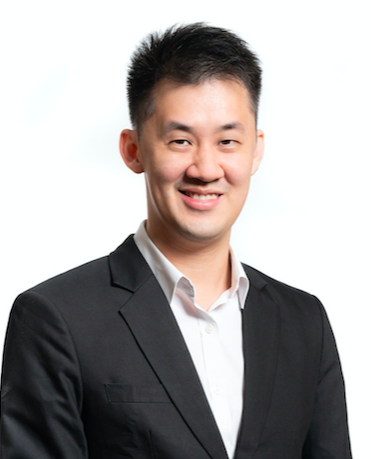 Terence Chua
Senior Research Analyst
Phillip Securities Research
Terence specialises in the consumer, conglomerate and industrials sector. He has over five years of experience as an analyst in the buy- and sell-side. As an institutional fund management analyst, he sat on the China-Hong Kong desk. Terence was ranked top 3 for Best Analyst under the small caps and energy category in the Asia Money poll 2018.

He graduated from the Singapore Management University with a major in Finance (Honours), and is the honoured recipient of the CFA scholarship.