HRnetGroup - Stock Analyst Research
| | |
| --- | --- |
| Target Price* | 1.180 |
| Recommendation | BUY |
| Market Cap* | 768000000 |
| Publication Date | 20 Jun 2022 |
*At the time of publication
HRnetGroup Limited - Resilient demand, buy-backs and more regional expansion
Demand for jobs remains robust in Singapore with record job vacancies.

The franchise is expanding further regionally with new co-owners in Indonesia, Shenzhen, Hong Kong and Shanghai. HRnet announced on 13 June 22 that it is undertaking a S$30mn share buyback, equivalent to almost six months average daily volume.
While the barrier to entry in the recruitment industry may be low, we believe the barriers to scale are immense. HRnet possesses a network of more than 700 recruiters across 14 Asian cities. These barriers allow HRnet to maintain an asset-light model with minimal fixed assets of S$1.5mn. The reported return on equity is 16% but arguably much higher. Total attributable equity is S$370mn, almost equivalent to the net cash of S$327mn. In other words, HRnet could return a large chunk of capital to shareholders and still sustain profitability, especially with S$114mn working capital already tied as trade debtors.
We maintain our BUY recommendation with an unchanged target price of S$1.18. Our valuation is benchmarked to the mid-range of the historical 5-year range, 12x PE FY22e ex-cash. HRnet dividend yield is 5% based on their guided payout of 50% of a recurrent net profit. 
Investment Thesis
Robust demand for jobs in Singapore. Singapore is experiencing a robust recovery in jobs. In 1Q22, employment rose by 42,000. Employment growth was across all sectors including 17,500 from services. Financial and professional services enjoyed the largest growth in employment in more than a decade. PMET vacancies were the highest on record, at around 70,000. A tight labour market and difficulty in sourcing candidates invariably led to higher reliance on recruitment agencies. Hiring managers have no desire to spend hours interviewing and assessing candidates. It is a waste of a hiring manager's precious time. Clients want recruiters to identify the best one or two options for them. The ratio of job vacancies to unemployed persons in 1Q22 was 2.4, the highest since 3Q97.
Figure 1: Surge in vacancies in Singapore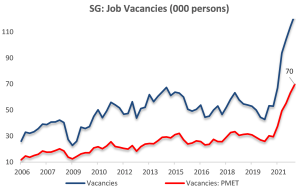 About the author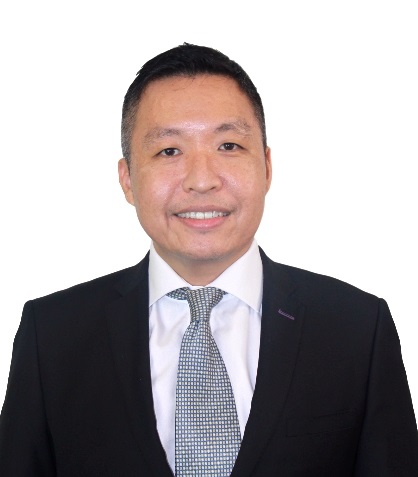 Paul Chew
Head of Research
Phillip Securities Research Pte Ltd
Paul has 20 years of experience as a fund manager and sell-side analyst. During his time as fund manager, he has managed multiple funds and mandates including capital guaranteed, dividend income, renewable energy, single country and regionally focused funds.

He graduated from Monash University and had completed both his Chartered Financial Analyst and Australian CPA programme.