HRnetGroup - Stock Analyst Research
| | |
| --- | --- |
| Target Price* | 1.18 |
| Recommendation | BUY |
| Market Cap* | - |
| Publication Date | 15 Aug 2022 |
*At the time of publication
HRnetGroup Limited - Faster growth outside Singapore
Results were within expectations. 1H22 revenue and PATMI was 51%/48% of our FY22e forecast. 1H22 PATMI grew 12% YoY to S$32.6mn, excluding fair value losses and one-off reversal of trade accruals.
Revenue growth of 14% was from both permanent recruitment (+19% YoY) and flexible staffing (+13% YoY). Maiden interim DPS of 3 cents was announced.
Growth in 1H22 was a mixture of pricing and volumes driven by a 30% revenue growth in Rest of Asia. Expanding the franchise outside Singapore is a key growth driver. Rest of Asia is now 40% of revenue from 28% in FY20. We maintain our FY22e forecast. Our BUY recommendation and target price of S$1.18 is maintained, 12x PE FY22e ex-cash. Flexible staffing demand is driven by new geographies and re-opening sectors. Permanent hiring is supported by the demand for unfilled job vacancies and an increase in full-time consultants.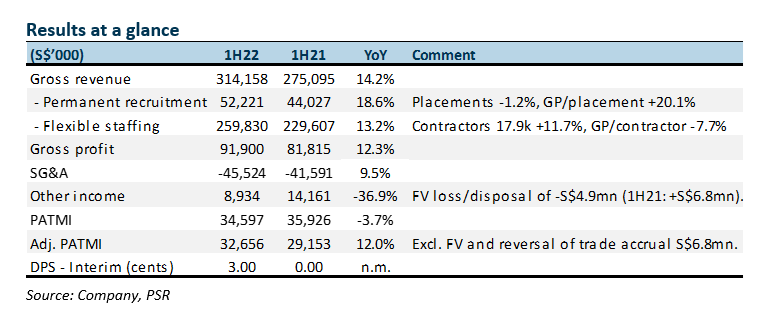 The Positives
+ Strong growth outside Singapore. Revenue from Rest of Asia grew 30% to S$107.8mn. These regions now account for 40% of total revenue, a jump from the 26% in FY18. Revenue has grown in region from increasing the number co-owners to build the franchise and expanding into flexible staffing services.
+ Returning S$100mn cash, as it piles up. FCF generated in 1H22 was S$33.1m (1H21: S$3.5mn). Net cash on the balance sheet is S$312.7mn (1H21: S$297.1mn). HRnet announced a maiden interim dividend of 3 cents per share (S$30mn). Together, with planned share buyback of S$30mn, FY21 final dividend of 3 cent (S$30mn) and special dividend of 1 cent (S$10mn), HRnet is returning around S$100mn to shareholders this year.
The Negative
– Weak equity market hurt book value. In 1H22 there was a decline of S$12.6mn in financial assets, namely equity shares in listed recruitment companies. There was S$5.7mn loss recognised in the income statement and another S$6.9mn in the balance sheet.
Outlook
Weaker economic conditions in the region may have a dampening effect on volume.  In Singapore, we expect the high job vacancy rates and re-opening of borders to drive revenue growth. For instance, there has been a decline in COVID-19 related vaccination roles but replaced but other non-COVID medical needs as foreign tourist and elective procedures return. The sustainability of growth in North Asia can improve if lockdowns ease. Another strength of HRnet is the ability to veer into faster growing segments of the economy. Despite the slower economic growth and lockdown in North Asia in 1H22, revenues expanded 28% YoY in 1H22. HRnet capitalized on the strong demand from semiconductor headcount by local and multinational companies
About the author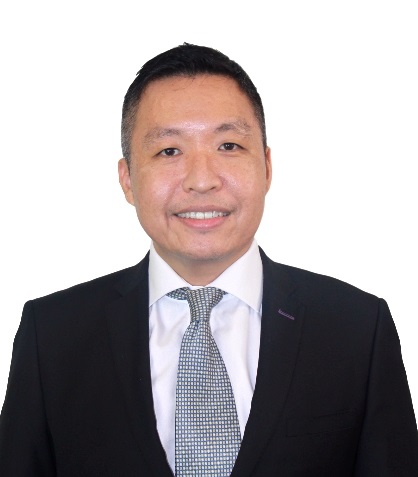 Paul Chew
Head of Research
Phillip Securities Research Pte Ltd
Paul has 20 years of experience as a fund manager and sell-side analyst. During his time as fund manager, he has managed multiple funds and mandates including capital guaranteed, dividend income, renewable energy, single country and regionally focused funds.

He graduated from Monash University and had completed both his Chartered Financial Analyst and Australian CPA programme.