Oversea-Chinese Banking Corp Ltd Emerging with capital strength
1 Mar 2021
FY20 earnings of S$3.69bn beat our expectation by 27% on lower-than-expected credit costs and higher non-interest income.
GP fell to S$48mn for a 7bp credit cost, signalling the end of the crisis.
Strong CET-1 of 15.2% to support pre-COVID DPS of S$0.56 p.a. once restrictions are lifted.
Upgrade to BUY from NEUTRAL with higher GGM TP of S$13.65, up from S$9.68. FY21e earnings raised by 19% for higher insurance and wealth-management income and lower allowances. Cost of equity in GGM lowered to 7.9% from 9.2% on better risk-to-reward. We peg our TP at 1.19x P/BV and 9.0% FY21e ROE to reflect a better credit outlook.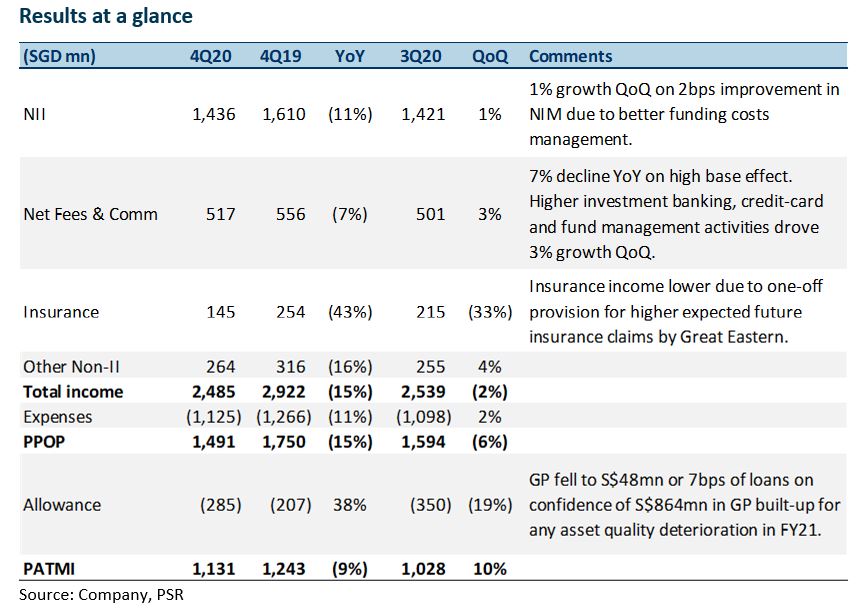 The Positives
+ Stable interest margins
NIM improved 2bps QoQ from 1.54-1.56% on better funding-cost management. Improved margins lifted NII by 1% QoQ. That said, competitive lending limited room for asset repricing, which could bring down FY21e NIM to 1.50-1.55%.
+ Low GPs
Total allowances of S$285mn were made up of S$237mn in SPs and S$48mn in GPs. Its 7bp credit cost signalled the end of the credit crisis. Some of the SPs that the bank has to recognise in FY21e as a result of asset-quality deterioration can be migrated from S$864mn of GPs already expensed in FY20.
Loans under moratorium fell from S$23.8bn in September 2020 to S$5.7bn, or 2% of the total in January. Of these, 91% were secured. Clarity on asset quality gives confidence in built-up reserves. These consist of an excess of S$405mn in management overlays and S$244mn of macroeconomic variables.
+ Strong capital position
CET-1 improved from 14.4% to 15.2% QoQ. Wing Hang Bank's migration to internal ratings contributed to 0.5% of the improvement. Capital strength enabled OCBC to resume pre-COVID-19 DPS of S$0.56 p.a. and opens up possibilities of dividend growth once MAS restrictions are lifted.
The bank has also removed discounts to scrip dividends for distribution of S$0.159 for 2H20.
The Negative
– Weak loan growth
Loans grew 1% YoY from S$264bn to S$267bn in a challenging environment. Nevertheless, with improved business confidence and consumer sentiment as the economy recovers, we are confident of mid-single-digit loan growth, as guided by the bank.
Outlook
Economic recovery to accelerate in 2H21
The bank expects a strong recovery by 2H21. Improved consumer confidence is expected to lift business sentiment.
Existing geopolitical tensions are also not expected to worsen, which should pave the way for strong business flows in the region. This would benefit loan growth and fee income.
Investment Action
Upgrade to BUY with higher GGM target price of S$13.65, up from S$9.68
We raise FY21e earnings by 19% for higher insurance and wealth-management income and lower allowances. We also lower COE from 9.2% to 7.9% on lower risks and forecast a 9% FY21e ROE on better capital efficiency.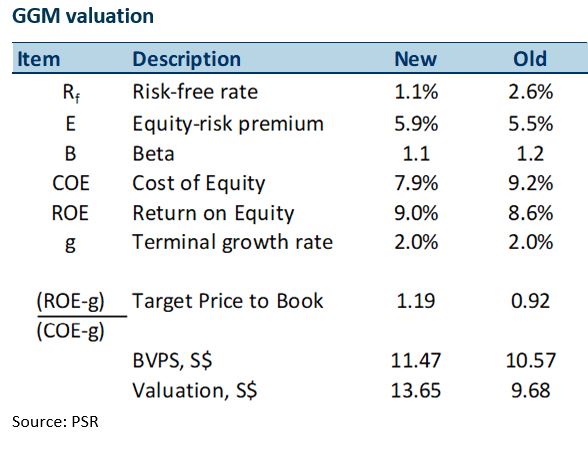 About the author