Raffles Medical Group Ltd. – Downtime ahead
23 Feb 2022
FY21 revenue/PATMI beat our estimates at 104%/111% of our forecast. Earnings beat from higher-than-expected COVID-19-related services and government grants.
FY21 dividend of 2.8 cents is a 12% improvement from a year ago.
We expect FY22e to be a weaker year for the company. COVID-19-related services are expected to decline, full-year losses from RafflesHospitalShanghai and a slower recovery in foreign patients. Foreign patient volume may be softer than pre-pandemic levels due to regional competition and substitution with local healthcare. Our DCF is lowered from S$1.35 to S$1.27. We raised our discount rate from higher risk-free assumptions and cut FY22e earnings by 8%. Our NEUTRAL recommendation is maintained. There will be some downtime in earnings until volume from foreign patients recovers and hospitals in China achieve scale and profitability.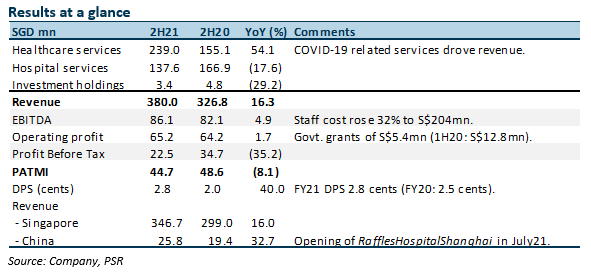 The Positives
+ Pandemic services driving growth. 2H21 revenue jumped 54% YoY. Driving growth were COVID-19-related services such as vaccinations, PCR swab tests and management of community treatment facilities. Contribution from COVID-19 services was not disclosed. However, peer hospitals' contribution from COVID-19-related services is around 20%. Another revenue driver was China, up 33%, but contribution was only 7% of 2H21 revenue.
+ Record cash flows. Free cash flow generated during the year was a record S$110mn (FY20: +S$74.3mn). Net cash improved to S$91mn from S$32mn a year ago. A dividend of 2.8 cents is a 60% payout ratio or S$50mn cash outlay.
The Negative
– Rising staff cost. Staff cost jumped 32% YoY in 2H21 to S$204mn. Staff cost as a percentage of sales in FY21 is around 53.5%. This compares with the pre-pandemic level of 51%. We expect staff costs to remain elevated due to labour shortage and tougher operating conditions. Other cost pressures are from personal protective equipment (such as masks, gowns, etc). The impact of rising electricity costs is less significant. There is a need to raise prices by 3-5% to offset some of these higher costs.
Outlook
We expect earnings to be weaker in FY22e:
COVID-19-related services will decline from reduced PCR swab tests and fewer vaccination programmes;
Recovery in foreign patient volumes will be slower despite borders re-opening. Foreign patients have diverted to neighbouring countries such as Malaysia and Thailand, where prices are more competitive. Foreign patients are also converting to their local healthcare facilities.
We expect losses in China to widen further from an estimated EBITDA loss of S$12mn in FY21 to S$18mn in FY22e. Full-year operations of RafflesHospitalShanghai is the main cause for the widening losses. Since its July 2021 opening, the hospital has operated only at a limited scale, as it is dependent on licensing and arrival of equipment.
Maintain NEUTRAL with a lower TP of S$1.27, from S$1.35
Our FY22e earnings are cut by 8% and our DCF valuation WACC is nudged up from 6.8% to 7.1% due to a higher risk-free rate assumption. 
About the author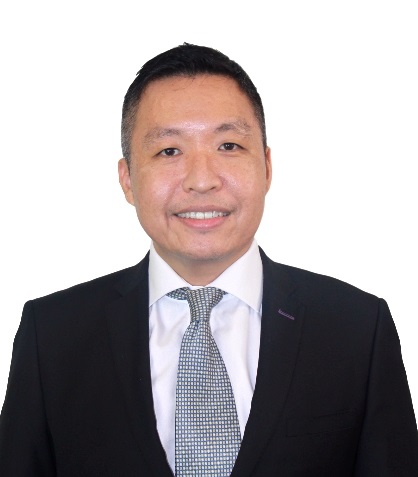 Paul Chew
Head of Research
Phillip Securities Research Pte Ltd
Paul has 20 years of experience as a fund manager and sell-side analyst. During his time as fund manager, he has managed multiple funds and mandates including capital guaranteed, dividend income, renewable energy, single country and regionally focused funds.

He graduated from Monash University and had completed both his Chartered Financial Analyst and Australian CPA programme.